In Indian Cities, Women Travel Slow, Men In A Rush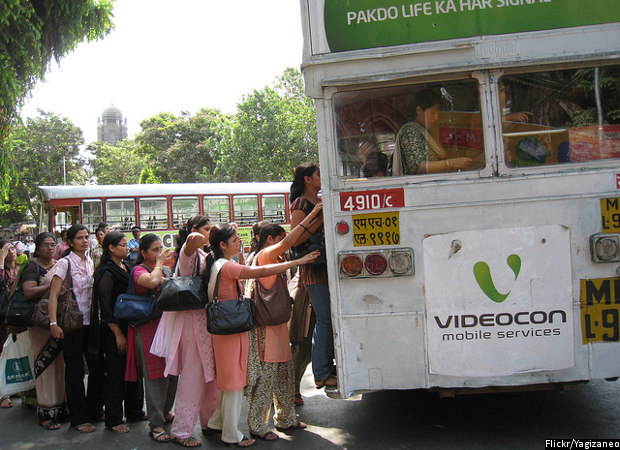 A year ago, I interviewed staff in a mall for a study that analysed how affordable it was to commute by public buses in Bangalore. While the purpose of this was to only understand travel patterns, the data revealed prominent gender differences—women used public transport more than men, and the latter commuted more by two-wheelers.
Gender disaggregated data has been stated as the necessary first step for gender-sensitive urban transport planning and policy making in the World Development Report 2012 on Gender Equality and Development. However, a scan of transport studies or plans of many cities reveals that sex ratio is the only gender-related data disclosed.
This is why the Census of India's recently released data on 'Travel to place of work' for 'other workers'—those engaged in some economic activity but who are not cultivators and agricultural labourers or engaged in household industry—is significant as it provides gender-disaggregated data on how they travel and how far.
Women travel lesser distances than men
The average distances travelled by women are lower than that of men in all major Indian cities, including Delhi, Mumbai, Kolkata, Bangalore and Chennai, the data show. Also, a larger share of women work in jobs requiring no travel—they work from home—when compared to men. Studies have previously attributed this feature to a woman having to strike a balance between her household responsibilities and work.
Women use slower modes for travel
Among those who travel to work, a larger share of women walk and use public transport (particularly public buses) when compared to men. Across cities, on average, 37% of women, compared to 27% of men, walk to work and 30% of women as compared to 25% of men use public transport.
Both these are slower modes of transport with walking being slower than cycling for short distances, and public transport--factoring in waiting time, transfer time, number of bus stops and the absence of priority lanes for buses--being slower than using a private vehicle for longer distances. Bangalore Mobility Indicators 2011 calculated that the travel time for a distance of 9 km by public transport was about 1.5 times that by private vehicles.
These patterns are more pronounced in Delhi, Chennai and Bangalore. Mumbai is an anomaly with relatively similar mode choices between men and women possibly due to the availability of a well-functioning suburban rail system, making it a convenient and faster transport option for both.
Further research could reveal how slow transport limits jobs for women
Correlating these factors—that women travel shorter distances for work and that they travel more by slower modes of transport—could indicate that even when women choose jobs closer to their homes, their commute might take as much time due to using slower modes of transport.
Therefore, it can be argued that women, due to their lack of access to faster modes of transport, are forced to restrict their choice of location of workplace, thereby severely limiting their employment options.
A previous study, based on a limited number of surveys, found similar links between employment and travel among women. The data currently available are very basic; all we can do is infer and argue. But the evidence that travel patterns are different between men and women cannot be ignored. We could push to collect more gender-disaggregated data to identify the causes and implications of such scenarios. A greater insight into the correlation between employability and mobility may provide a key to improving the participation of women in the economy.
(Rao works at the Indian Institute for Human Settlements, Bangalore in the Academics and Research team. Her interest lies in the areas of mobility and urban informatics.)
We welcome feedback. Please write to respond@indiaspend.org. We reserve the right to edit responses for language and grammar.
__________________________________________________________________
Liked this story? Indiaspend.org is a non-profit, and we depend on readers like you to drive our public-interest journalism efforts. Donate Rs 500; Rs 1,000, Rs 2,000.