In Five Months Of 2017, 20% Of Communal Violence Reported In UP
Up to 20% of all communal violence nationwide over the first five months of 2017 occurred in Uttar Pradesh (UP), home to 16% of Indians, or over 200 million people, according to this reply to the Lok Sabha (lower house of Parliament) by the ministry of home affairs on August 8, 2017.
Up to May 2017, 296 incidents of communal violence were recorded across India -- nearly two incidents per day -- the data show. Of this, UP reported 60 incidents this year.
So far, in three years and five months to May 2017, 322 persons have been killed and 7,398 have been injured in communal violence.
While 644 incidents were reported in 2014, 751 cases were reported in 2015 and 703 incidents were reported at the end of 2016, the ministry of home affairs said. UP in 2014 reported 133 incidents of violence which rose to 162 incidents in 2016.
The number of injured in communal violence increased from 1,921 persons in 2014 to 2,321 persons in 2016. The death toll fell slightly from 95 in 2014 to 86 at the end of 2016.
Karnataka reported the second most number of violent incidents (101) in 2016, and 36 incidents up to May 2017.
Since 2014, Assam, Jharkhand and West Bengal have reported the highest rise in violence.
Bengal saw a 100% rise in communal violence from 16 incidents recorded in 2014 to 32 in 2016. This year up to May, the state has already recorded 26 cases of violence.
From one incident in 2014, violence in Assam rose to 12 cases at the end of 2016.
Jharkhand reported 24 incidents at the end of 2016, up from 10 incidents in 2014.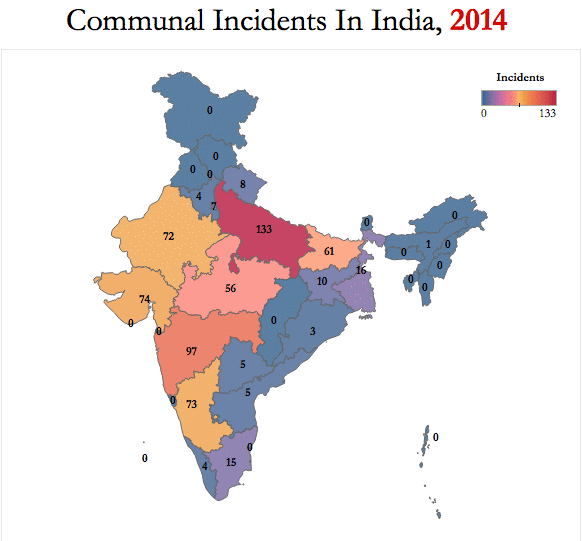 Source: Lok Sabha 2017:Upto May
(Saldanha is an assistant editor with IndiaSpend.)
We welcome feedback. Please write to respond@indiaspend.org. We reserve the right to edit responses for language and grammar.
__________________________________________________________________
"Liked this story? Indiaspend.org is a non-profit, and we depend on readers like you to drive our public-interest journalism efforts. Donate Rs 500; Rs 1,000, Rs 2,000."