In Delhi, Congress Loss BJP's Gain, Not AAP's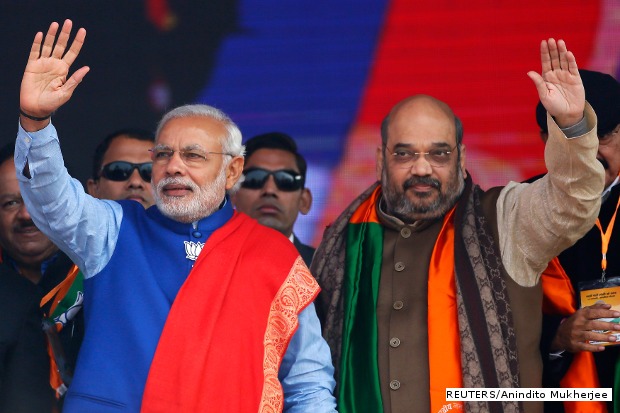 A headline like this usually elicits praise or slander, depending on which camp one belongs to.
So, let's first get done with the caveats and disclaimers–electoral outcomes are a result of various complex factors, and any attempts to boil them down to a simple mathematical equation are both naïve and arrogant.
Any analysis of past outcomes is not an indicator of future trends, neither is this an attempt to posit explanations for electoral results. It is merely to showcase using electoral data and analysis, a certain trend that perhaps runs contrary to the popular narrative.
The general belief among political observers is that with the Congress party set to lose its vote share further in the upcoming Delhi elections, the natural beneficiary of this is the Aam Aadmi Party (AAP), and hence this is turning out to be a tight contest between AAP and the Bharatiya Janata Party (BJP).
An analysis of the trends in each of the 70 assembly segments of Delhi from the 2013 assembly elections to the 2014 Lok Sabha elections reveals otherwise.
The 12-percentage point decline in relative vote share of the Congress from 2013 to 2014 correlated with a 11-percentage point gain by the BJP and a one-percentage point gain by AAP. There could be various explanations for this, such as an assembly election and a Lok Sabha election drawing different voter behaviour and outcomes.
As we explained earlier, whatever the explanation, 92% of the votes lost by Congress in 2014 vis-à-vis 2013 moved to the BJP and only 8% went to AAP. Such an overwhelming shift is unexplainable through simple narratives.
Relative Voteshare % In Delhi For 2013 Assembly (Left) And 2014 Lok Sabha (Right) Polls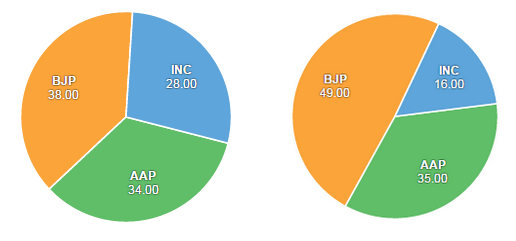 Source: Election Commission
Is it the case that in certain constituencies, the vote share gained by BJP is so huge that it skews the overall metrics? No.
Of the 70 constituencies, Congress lost vote share in 68 and gained in two. The BJP gained vote share in 64 and lost in six. AAP lost vote share in 39 and gained in 31.
So, overwhelmingly, the gains by BJP have been across most constituencies.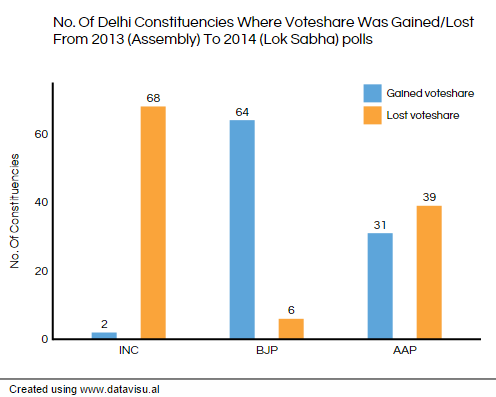 Source: Election Commission
There were 25 constituencies in which Congress lost vote share from 2013 elections to 2014 elections and both the BJP and AAP gained vote share. An analysis of these 25 constituencies will reveal how the Congress votes shifted. It emerges that in 15 of these 25 constituencies, BJP gained more of the Congress votes than AAP. AAP gained more in 9 constituencies, and one was split equally between the two.
However we slice and dice the trends in vote-share in Delhi between the 2013 assembly elections and 2014 Lok Sabha elections, it is abundantly clear that the BJP is the larger beneficiary of Congress' loss and not AAP, as is the popular perception.
Again, there could be various explanations for this but the key question is: Can AAP reverse this trend in the 2015 assembly elections?
(Praveen Chakravarty is an electoral data analyst and Founding Trustee of IndiaSpend – India's first non-profit, data journalism initiative.This article was co-written with Saumya Tewari.)
_________________________________________________________________
"Liked this story? Indiaspend.org is a non-profit, and we depend on readers like you to drive our public-interest journalism efforts. Donate Rs 500; Rs 1,000, Rs 2,000."