In Delhi, BJP On AAP's Heels, Congress Out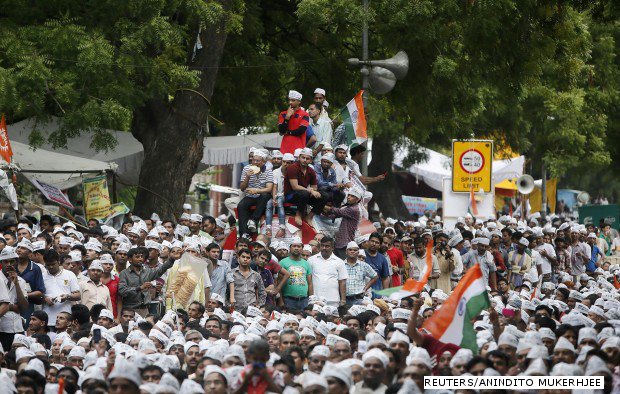 The Election Commission has announced Delhi assembly elections for February 7 with results to be declared on February 10.
The recent assembly elections in Maharashtra were the most recent electoral hammer blow for the Congress in a state where it has ruled almost continuously since its formation in 1960. But the decline of the party started from the Delhi assembly elections in December 2013.
After a groundbreaking win in Delhi, a first-of-its-kind for a new political party in India, the Aam Aadmi Party (AAP) formed the government in 2013. The irony was that they could do it only with outside support from the party they had set to wipe out, the Indian National Congress.
The government lasted only 49 days. Since the assembly has been hung for more than six months and no other coalition could emerge, it has been dissolved for fresh elections.
The demise of the Congress leaves the ground open for two main contenders, AAP and BJP, which has been winning power even in former Congress strongholds like Maharashtra.
Let us look at the performance of the three major parties in the last Delhi elections: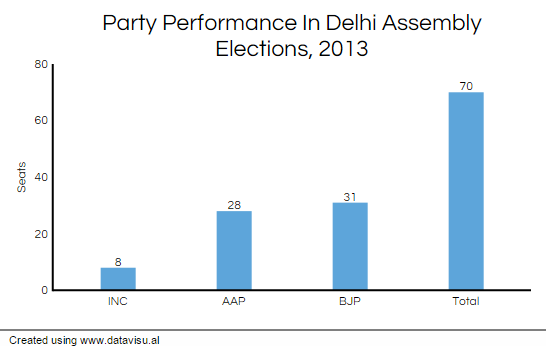 Source: Election Commission
The AAP government fell into multiple controversies and eventually resigned. While the resignation came before national elections were held in May 2014, the party did not win any of Delhi's seven Lok Sabha constituencies.
Let us compare the votes AAP got in the assembly elections and the Lok Sabha elections held earlier this year.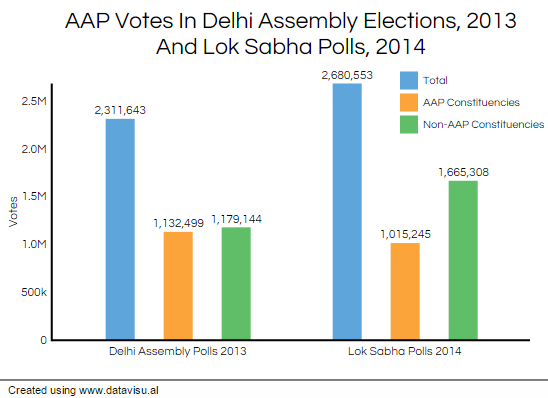 Source: Election Commission
The total vote share of AAP increased in the constituencies where it had lost in the assembly elections, while it declined in constituencies where the party had won the assembly seat.
A closer look at the constituencies where AAP won (28 seats) shows that BJP was the runner-up in 21 seats.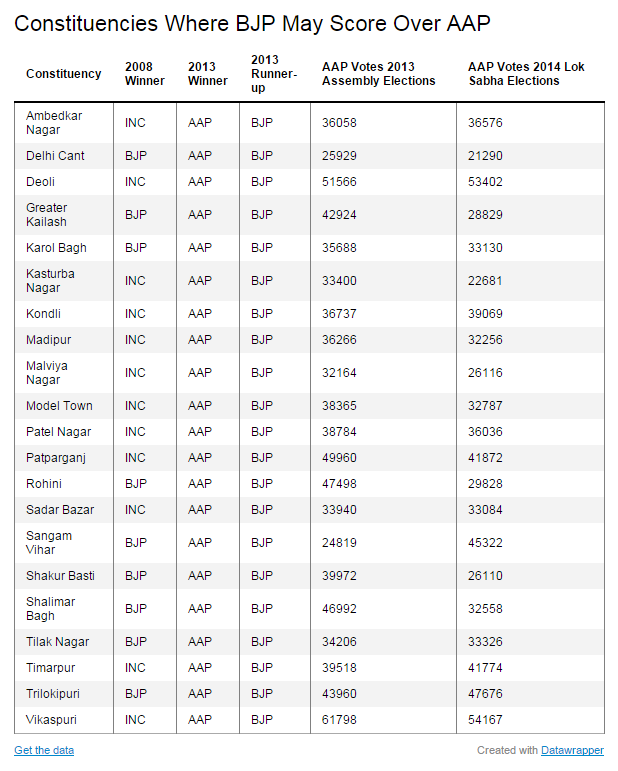 Source: Election Commission
AAP, as we saw earlier, has already lost votes in the constituencies where it had won in the 2013 assembly polls. With BJP's winning feeling continuing, these are the constituencies AAP needs to watch in the forthcoming elections.
_________________________________________________________________
"Liked this story? Indiaspend.org is a non-profit, and we depend on readers like you to drive our public-interest journalism efforts. Donate Rs 500; Rs 1,000, Rs 2,000."