In Bihar's Political Realignment, Women Suffer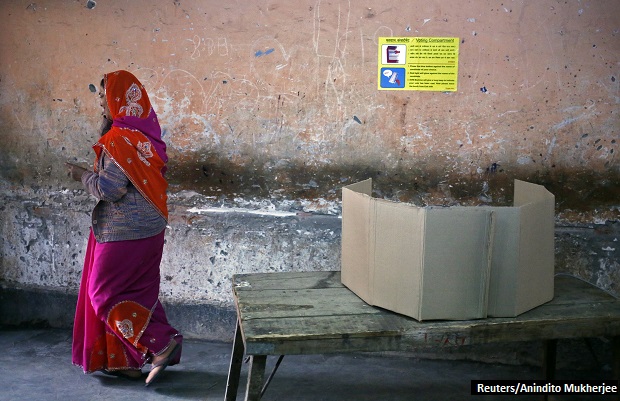 As a first-time member of the legislative assembly (MLA) in Bihar, Jyothi Devi, 46, did well over her five-year term: She had 10 bridges—some of which were demanded since independence—and 3,300 km of roads constructed in her constituency, Barachatti, including several link roads connecting villages to the Grand Trunk Road that cuts across Gaya district, where Barachatti is located.
Jyothi Devi got the NGO that she runs to work with a British-government agency to survey poor homesteads and arranged for 900 families to get land titles. She has been a vocal participant in the legislative assembly, the Vidhan Sabha, asking more than 250 questions. Before she became a legislator, Jyothi Devi was not new to development work, having organised self-help groups and anganwadi (child care) centres for the MahaDalit (most backward), rat-catching Musahar community.
Impressed by her work, Bihar Chief Minister and the Janata Dal (United) leader Nitish Kumar personally asked her to contest the assembly elections in 2010.
Yet, when tickets for the on-going Bihar elections were announced, she was one among many women MLAs not given a ticket.
"Hum toh wait karte rahe ki hamara kaam dekhke humko ticket zaroor milega. Humko Manjhi ji ka samdhan hone ka saza mil raha hai", (I was waiting for a party ticket considering my work. I am being punished for being related to [former Chief Minister Jitan Ram] Manjhi," she said ruefully.
Jyothi Devi, whose daughter is married to Manjhi's son, is a casualty of the fallout between Kumar and Manjhi, who broke away from JD(U) to form the Hindustan Awam Morcha, an alliance partner of the BJP-led National Democratic Alliance (NDA).
However, there are many women MLAs who have been left out and their seats given to male candidates.
Despite female political empowerment, fewer tickets for women
Bihar is one of the states that have shown progress in women's political empowerment over the last decade.
As IndiaSpend reported earlier, the vidhan sabha in 2010 had the highest-ever population of female MLAs (34) in Bihar's history. Women MLAs constituted 14% of MLAs, next only to Haryana (14.4%). Women make up 48% of the state's 104 million people.
Bihar was also the first state to reserve 50% seats for women in panchayats (village councils).
As many as 273 women are contesting the current elections, against 306 women who contested in 2010, according to data compiled by Association of Democratic Reforms, a non-governmental organisation working in the area of electoral and political reforms.
As a proportion of total contestants, women make up 8% of the total contestants as against 8.75% in 2010. Almost all major political parties have distributed fewer tickets to women than in the previous years.
Most parties gave less than 10% of their tickets to women, the exceptions being the Indian National Congress (INC), the Nationalist Congress Party (NCP) and the Hindustani Awam Morcha (HAM).
The Left parties are among the worst in terms of gender parity, with the Communist Party of India (CPI) giving about 2% tickets to women.
The result: These elections--as we explain later in this piece--are seeing more women contesting as independents than ever before.
Women Candidates, Bihar Vidhan Sabha Polls 2015

Party

Tickets to women

Total seats contesting

Percentage of tickets to women

BJP

14

157

8.9%

BSP

17

228

7.5%

SP

8

135

5.9%

INC

4

38

10.5%

NCP

7

41

17.1%

CPI

2

98

2.0%

CPIM

3

43

7.0%

CPI ML

7

98

7.1%

JD(U)

10

101

9.9%

LJP

4

42

9.5%

RJD

10

101

9.9%

RLSP

1

23

4.3%
Source: Association for Democratic Reforms.
While the BJP gave one more ticket to a woman candidate than it did in 2010, the proportion of female candidates fell from 12.8% to 8.9%. Almost all other parties have given fewer tickets --both in absolute and percentage terms.
Women Candidates: Last Three Elections In Bihar

Party

BJP

INC

CPI

CPM

NCP

BSP

JDU

RJD

LJP

2000*

Total seats

168

324

153

107

5

249

87

293

NA

No. of women

9

24

5

7

1

11

2

17

NA

%

5.4

7.4

3.3

6.5

20

4.4

2.3

5.8

NA

2005

Total seats

102

36

35

10

8

212

139

175

203

No. of women

9

1

2

0

0

7

16

13

19

%

8.8

2.8

5.7

0

0

3.3

11.5

7.4

9.4

2010

Total seats

102

243

56

30

171

239

141

168

75

No. of women

13

38

4

3

19

15

24

12

11

%

12.8

15.6

7.1

10

11.1

6.3

17

7.1

14.7
Source: Association for Democratic Reforms.; Note: In 2000, Bihar and Jharkhand had not split and the total assembly seats were 324.
Nitish Kumar's reverse gear after decade of political empowerment
The most notable reversal of female political empowerment comes from a man who has, in the past years, enabled this empowerment: Nitish Kumar.
Kumar's push for gender equality and other gender-friendly policies is well documented: He was the first chief minister in the country to legislate 50% reservation of seats for women in panchayats. His party, the JD(U), had steadily increased female candidates, from 2% in 2000 to 11.5% in 2005. In 2010, 17% of party candidates were women, the highest ever by any political party in Bihar. As we said, that is now down to 10%.
Kumar has given tickets to only nine of 22 women MLAs from the JD(U) and one ticket to a new candidate.
He has replaced six female candidates with male candidates, two of them being husbands of former MLAs. Former deputy chief whip Neeta Chaudhry has been replaced by her husband, Mewalal Chaudhry, from Tarapur while Praveen Shukla is contesting the elections from Lalganj, replacing his wife Annu Shukla, the current MLA.
Political realignment has meant that Kumar had to allocate four of these seats to former chief minister Lalu Prasad Yadav's Rashtriya Janata Dal (RJD) and one to Congress.
The RJD has fielded male candidates in two constituencies--Nawada and Hilsa--and women in the other two--Runsaidpur and Barachatti. The Congress has fielded a male candidate in Govindganj, hitherto held by Meena Dwivedi.
What explains this sharp reversal in Kumar's stand on female political participation?
Some reports suggest the influence of Lalu Yadav, his major alliance partner, who has previously opposed a national law reserving 33% seats for women in Parliament and state assemblies.
While Jyoti Devi does believe that Lalu Yadav influenced overall seat allocation, she is not convinced he was a factor in giving tickets to women candidates.
"Theek hai, Laluji iske khilaf honge, lekin Nitishji ke paas toh 100 seat hai? Kyon nahin woh zyada ticket de rahe hain? (Lalu Prasad may have been against giving more tickets to women but Nitish Kumar has 100 seats at his disposal. What is stopping him from giving more tickets to women?)"
Data disprove the popular myth about Lalu Prasad. The RJD has been steadily increasing the proportion of female candidates since 2000. Indeed, it is the only party to have given a marginally higher proportion of tickets to women in these elections, while the rest have reduced the tickets.
How political realignment has meant fewer tickets for women
The grand political realignment in Bihar has seen fewer tickets to women, with about 10% of female candidates in each major alliance.
Fewer Women Candidates In 2015

Alliance

Total Seats Contesting

Women Candidates

Percentage

NDA

243

23

9.5%

Grand Alliance

243

25

10.3%
Source: Association for Democratic Reforms.
Contrast this with 2010, when the alliances had different constituents and the proportions of tickets to women were higher.
More Women Contested 2010 Elections

Alliance

Total Seats

Women Candidates

Percentage

JD(U)+BJP

243

37

15.2%

RJD+LJP

243

33

13.5%

Left parties

190

28

14.7%
Source: Election Commission of India.
That women are still struggling for increased political participation at national and state level is well established. Parties justify restricted political space by citing "winnability" as an impeding factor. However, data from Bihar tends to put the myth of female "winnability" to rest.
In 2010, 33 of 34 women MLAs belonged to the then ruling combine of JD(U) and BJP, while one was an independent. The JD (U) fielded 24 women, of which 22 were elected to the legislative assembly, the Vidhan Sabha. The BJP fielded 13 women; 11 were elected.
This means 91% of JD (U) and 84% of BJP female contestants won.
In 2005, the JD (U)'s female candidates won 12 of 16 seats they contested, while the BJP's female candidates won four of nine constituencies they contested.
Women Candidates And 'Winnability'

2010

2005

2000

Parties

Total tickets given

Total seats won

Total tickets given

Total seats won

Total tickets given

Total seats won

JD(U)

24

22

16

12

2

0

BJP

13

11

9

4

9

4

RJD

12

0

13

4

17

7
Source: Election Commission of India.
Women voters have been at the forefront of political change and policy change in Bihar over the last two elections. They were largely responsible for Nitish Kumar's victory, ending Lalu Yadav's government in 2005. Voter participation among men declined three percent points; for women it was up two percent points, evident in the October 2005 elections, after a hung assembly that resulted after February polls that year.
"Vote de mahila, lekin avsar mile purush ko. Yeh anyay hai" (Women vote but men get greater opportunity. This is unjust), said Jyothi Devi.
"Election ladne mein kum se kum 50 lakh ka kharcha aata hai. Humare paas itna takat nahin hai. Aur aaj kal to chunaav bahut hi-fi ho gaya hai (It costs at least Rs 50 lakh to fight elections these days, which has become quite sophisticated. It is beyond my capacity)," Jyothi Devi said, asked if she did not consider contesting as an independent, given her popularity in her constituency.
Difficulty in access to campaign finance is one of the impediments to greater female political participation, according to studies worldwide.
The number of independent female candidates has risen in these elections: 81 women are contesting independently—7% of independent candidates—the highest ever in Bihar's history; 31 women contested the 2010 elections as independents.
While Jyothi Devi is disappointed at not being nominated to contest, she is happy that her constituency, Barachatti, has a female candidate, Samata Devi (RJD), strongly tipped to win.
"She will learn on the job," Jyothi Devi said. "Just as I did, when I first became an MLA. And I am more than willing to help her."
Whichever alliance wins, it is certain that the next Bihar vidhan sabha will see fewer women MLAs than the last time.
Political Party Acronyms

BJP

Bharatiya Janata Party

INC

Indian National Congress

NCP

Nationalist Congress Party

BSP

Bahujan Samaj Party

JD(U)

Janata Dal United

RJD

Rashtriya Janata Dal

LJP

Lok Janashakti Party

HAM

Hindustani Awam Morcha

RLSP

Rashtriya Lok Samata Party

CPI

Communist Party of India

CPM

Communist Party of India (Marxist)

CPI (ML)

Communist Party of India (Marxist-Leninist)
(This story is the product of a collaboration between GenderinPolitics, a project that tracks women in politics and governance in India, and IndiaSpend. Bhanupriya Rao is a co-creator of GenderinPolitics. Additional research by Saumya Tewari, IndiaSpend.)
(You might also like to read Gushing Over Female Voter Turnout In Bihar Misplaced, an explanation for Bihar's 'high' female voter turnout.)
(This story is part of IndiaSpend's special analyses of Bihar. You can read the other stories of this series here.)
__________________________________________________________________
"Liked this story? Indiaspend.org is a non-profit, and we depend on readers like you to drive our public-interest journalism efforts. Donate Rs 500; Rs 1,000, Rs 2,000."