In Ahmedabad, India's First Air-Pollution Early Warning System Aims To Cut Deaths, Health Hazards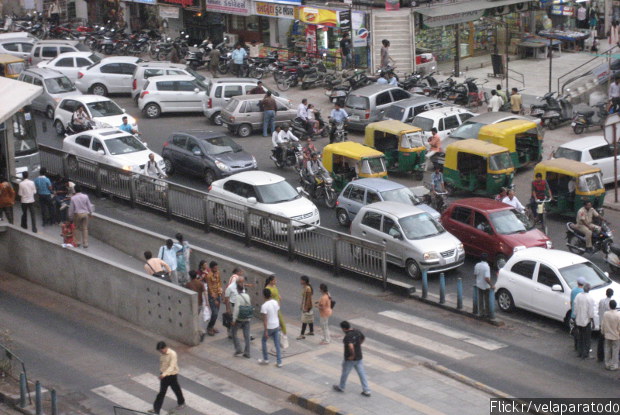 The first Indian monitoring and early warning system for air pollution was launched on May 12, 2017, in the nation's fifth most populous city, with the hope that it will reduce the health impacts and deaths from air pollution, a growing problem in a country with nine of the world's 20 most polluted cities in 2016, according to the World Health Organization (WHO).
Combining the efforts of local government, scientists and nonprofits, eight new air quality monitoring sites across Ahmedabad will produce a daily air quality index (AQI) that will be accessible to citizens through 11 LED screens across the city, as part of what is called the Air Information and Response (AIR) plan.
An early warning system will notify people of excessive pollution days as part of the response plan, while medical professionals will be trained to respond to air-pollution emergencies. The monitors are installed at eight locations (Bopal, Satellite, Pirana, Raikhad, Navrangpura, Rakhiyal, Chandkheda and the airport) in a city of over 5.5 million people.
An AQI is a metric on a sliding scale that tells people about the quality of the air and associated near-term health impacts. It transforms complex air quality data of various pollutants into a single number (index value), nomenclature and colour.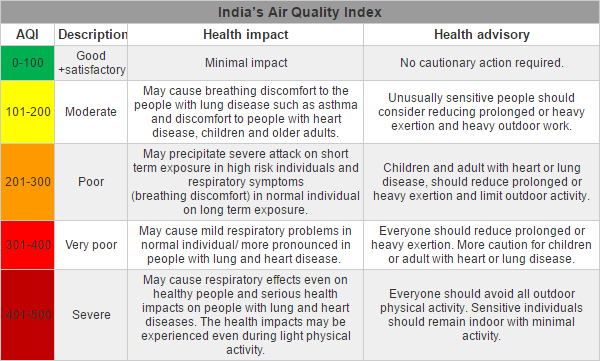 Source: Indian Institute of Tropical Meteorology & Ahmedabad AIR planNote: Each of the AQI categories are decided based on ambient concentration values of air pollutants and their likely health impacts (known as health breakpoints). The eight pollutants measured are PM 10, PM 2.5, NO2, SO2, CO, O3, NH3, and Pb for which short-term (upto 24-hours) National Ambient Air Quality Standards are prescribed.
Ahmedabad was among the five most polluted cities in India in terms of PM 2.5, according to the WHO's 2014 Ambient Air Pollution database.
PM 2.5 is particulate matter finer than 2.5 micro-meters, or about 30 times finer than a human hair. Inhaled deep into the lungs, they can cause heart attacks, strokes, lung cancer and respiratory diseases, and are known to pose the greatest risk to human health. Their measurement is considered to be the best indicator of the level of health risks from air pollution, according to the WHO.
In the footsteps of Beijing
People living in more polluted areas die prematurely after long-term exposure to air pollution, and inconsistent monitoring makes it difficult to assess the threat posed by ambient air pollution.
The AIR plan is a collaborative effort between the Ahmedabad Municipal Corporation (AMC), Indian Institute of Public Health (IIPH), a nonprofit in Gandhinagar, Natural Resources Defense Council (a non-profit head-quartered in New York), Indian Institute of Tropical Meteorology (government institute) and the Indian Meteorological Department's System of Air Quality and Weather Forecasting And Research (SAFAR) network.
The monitoring and warning system will be tried for the first time in India, but follows the successful example of Beijing, that started the program for issuing colour coded pollution alerts in 2013, according to this report by The Scientific American.
However, this warning plan was accompanied by other measures like restricted driving schedules, school closures and reduced industrial production to curb emissions, according to a 2014 paper in the Journal of Epidemiology and Community Health, which is missing in the Ahmedabad plan.
The AMC has set aside a budget of Rs 30 lakh for 2017, Chirag Shah, nodal officer of the AIR plan and the Deputy Health Officer of the West Zone at the AMC, told IndiaSpend.
"All the recurring costs, such as the maintenance of screens and stations, issuing advisories and initiating programs to increase public awareness will also be borne by us," said Shah. "The land for installing the AQI monitors has been provided free of cost to SAFAR by the AMC, and SAFAR has invested about Rs 20 crore to install ten AQI monitors in Gandhinagar and Ahmedabad, eight of which are here."
The AMC had drafted a comprehensive Air Action Plan to combat pollution from construction activities, vehicular emissions and industries in 2016, its second such plan since 2002, but it is yet to be implemented, according to this Times of India report on May 12, 2017.
Forecast air quality, issue early warnings and be better prepared
The AMC Health Department is responsible for coordination of the AQI and AIR Plan. This includes monitoring the daily AQI, issuing alerts and warning on bad air days and disseminating public health messages to local departments and community service providers.
The AIR plan is modelled after Ahmedabad's Heat Action Plan (HAP), launched in 2013 to reduce health impacts and mortality from extreme heat waves through measures that included early warning systems, increased public awareness and training health professionals.
"If people don't go to the highly polluted areas and follow the health advisory to minimise exposure, then symptoms will be reduced and there will also be a cost saving for citizens," Dileep Mavalankar, , Director of IIPH, Gandhinagar, told IndiaSpend. "So, it depends on how effectively we are able to communicate to patients and the people who are vulnerable to avoid exposure."
"Once this plan is implemented we should be able to observe that the admissions to hospitals or mortality from high pollution levels comes down by taking precautions, like we saw after implementing the heat action plan," said Mavalankar.
As part of the AIR plan, the AMC will issue a health alert when the AQI forecast for the next 24 hours is "very poor" (301-400). When the AQI forecast rises to "severe" levels (401-500), a health warning will be issued.
Under the health alert, the nodal officer of the AIR program--Shah, the deputy health officer--will "inform urban health centres as well as private medical practitioners including pulmonologists, paediatricians to alert them to expect and be prepared for more cases of respiratory health effects".
If the AQI exceeds 401 (severe), the nodal officer will inform urban health centres, the local ambulance service, transport, traffic police, the government radio station, schools, colleges, and the estate department--which handles permissions for real estate--in order to control road dust and construction work.
What causes Ahmedabad's air pollution?
"Major contributors to air pollution are population, industries and vehicles. Rate of urbanisation and industrialisation leading to growth of vehicles make cities like Ahmedabad, Surat, Vadodara and Rajkot the hot spots for air pollution," according to this 2012 report by the Gujarat ENVIS centre.
Ambient levels of PM 2.5 from transport sources alone are expected to double by 2030 if no action is taken, according to this 2015 report by the Ministry of Health and Family Welfare.
Between 2000-01 and 2010-11, Ahmedabad's vehicles more than doubled from 1.2 million to over 2.6 million, with two-wheelers forming the largest proportion of the fleet. As of 2014-15, there were 3.4 million vehicles in the city. Ahmedabad also had more than 2,000 industrial air-polluting units as of May 2012, the report stated.
In Ahmedabad, "pollution comes from a variety of sources - power plants and brick kilns surrounding the district. We often believe that vehicles moving in immediate surroundings contribute to the pollution in cities. However, a plant or a kiln away from the city can also affect Ahmedabad considering the wind direction," Sarath Guttikunda, researcher and founder of Urbanemissions.info (a repository of research, and analysis related to air pollution) told the Times of India in this 2012 report. Ahmedabad has two thermal power plants and more than 300 brick kilns, according to this 2012 paper.
"While Chennai has almost the same size and more industries, sea breeze blows PM 10 away from the city, reducing the suspended particulates in the air," said Guttikunda. "Going by the PM 10 levels in Ahmedabad, the estimated premature deaths due to pollution is likely to be 4,950 as compared to 3,950 in Chennai."
The Air Action Plan, if implemented, will reduce pollution from these sources through various measures such as improving fuel quality, phasing out commercial vehicles over 15 years old, traffic management, installing pollution control measures in industries and reducing pollution from thermal power plants.
A part of the plan was also to strengthen the air quality monitoring network and sponsor studies on health impacts of air pollution on the city, which is now underway.
How serious is Ahmedabad's air-pollution problem?
In 2015, 153 of 168 days (93%) monitored for air quality in Ahmedabad remained "good" according to the national air quality index (AQI).
However, in 2016, the annual PM 2.5 average in Ahmedabad was 183.35 µg/m³ (microgram/cubic metre), over 4.5 times the national ambient air quality standard of 40 µg/m³ prescribed by the Central Pollution Control Board (CPCB). In 2017, the monitor installed by the CPCB in Maninagar to provide real-time air-quality data has been working intermittently.
IndiaSpend analysed air quality data from its monitoring systems, collectively called #Breathe, for two devices located in Ahmedabad for the duration March 14 to May 14, 2017, when CPCB data were unavailable.
Source: Data from the #Breathe network
Of the 62 days that IndiaSpend analysed, only six days (9.6%) fell within the WHO guideline of 25 µg/m³. However, only three of 62 days were over the national standard of 60 µg/m³, meaning that 95% of the monitored days fell within the permissible Indian standard for PM 2.5. However, the most severe air-pollution levels occur during the winter months of November, December and January, according to Mavalankar.
Levels of PM 2.5 over 60 may cause breathing discomfort to people with lung disease such as asthma, and discomfort to people with heart disease, children and older adults.
"While we need more data, roughly 40% or Ahmedabad's population will fall within this vulnerable category," Mavalankar said.
(Patil is an analyst with IndiaSpend.)
We welcome feedback. Please write to respond@indiaspend.org. We reserve the right to edit responses for language and grammar.
__________________________________________________________________
"Liked this story? Indiaspend.org is a non-profit, and we depend on readers like you to drive our public-interest journalism efforts. Donate Rs 500; Rs 1,000, Rs 2,000."