In 9 Months To Dec 2015, More Than Half Unemployed Couldn't Find Jobs Fit For Their Skills
In April-December 2015, 58.3% unemployed graduates and 62.4% unemployed post-graduates said they couldn't find a job because the offers they got didn't match with their education/skill and experience, according to the labour and employment ministry's Report on Fifth Annual Employment-Unemployment Survey (2015-16).
Inadequate pay was cited by 22.8% of graduates and 21.5% of post-graduates as the main reason for being out of job, the survey said.
As many as 48.4% of households surveyed had only one employed person, 30.6% households had two employed persons, 10.7% three and 5.2% four or more, according to the report.
The remaining 5.1% of households did not have even a one employed person/earner, the survey revealed. A mean Indian household has about five persons, according to Census 2011.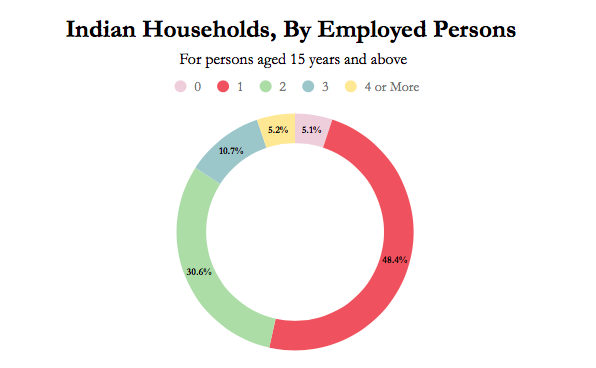 Source: MInistry of Labour & Employment
In the year to April 2015, 5% of those aged 15 and above available for work could not get work. While 4% men were not able to find work, 8.7% women and 4.3% transgenders remained unemployed, according to the survey.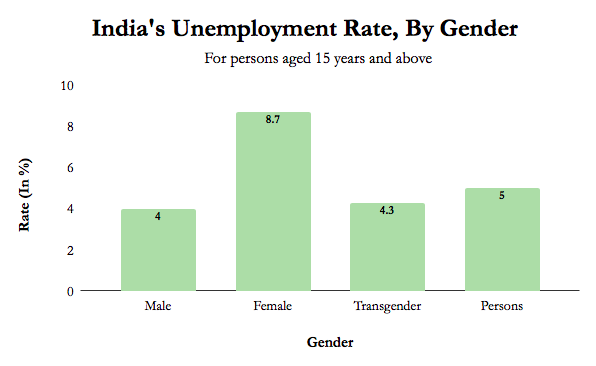 Source: MInistry of Labour & Employment
As many as 46.5% people employed were self-employed for 183 days or more, 32.8% were employed as casual labour, 17% were wage/salary earners and 3.7% were contract workers, according to the report.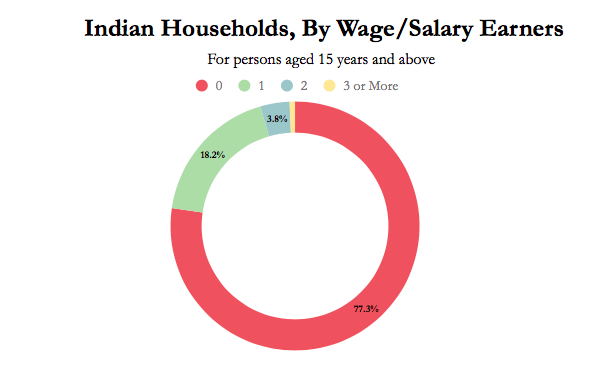 Source: MInistry of Labour & Employment
Only about 61% persons aged 15 and above available for work for all the 12 months in the year up to April 2015 were able to get work throughout the year.
57.2% regular wage/salaried workers had monthly average earnings up to Rs 10,000, and 38.5% of contract workers and 59.3% of casual workers had monthly earnings of up to Rs 5,000.
(Vivek is an analyst with IndiaSpend.)
We welcome feedback. Please write to respond@indiaspend.org. We reserve the right to edit responses for language and grammar.
__________________________________________________________________
"Liked this story? Indiaspend.org is a non-profit, and we depend on readers like you to drive our public-interest journalism efforts. Donate Rs 500; Rs 1,000, Rs 2,000."