A view of a house that was destroyed in Atali village of Haryana's Ballabgarh where communal riots broke in June 2015. The home ministry's records of communal incidents/riots do not match the figures released by the National Crime Records Bureau for 2016–the third year in a row.
In 2016, 869 cases relating to communal riots were recorded by the National Crime Records Bureau (NCRB) compared to 703 communal incidents by the ministry of home affairs, Factly, a data-journalism portal, reported on December 2, 2017.
NCRB reported almost twice the number of incidents compared to the home ministry for 2014. The gap closed in 2015 and widened again in 2016.
NCRB reported 336 cases of "offences promoting enmity between different groups" in 2014, of which 323 are offences for promoting enmity between groups based on–among other things–religion and race. In 2015, the corresponding numbers were 424 and 378, respectively.
In 2016, 478 cases "offences promoting enmity between different groups" were reported by NCRB, of which 447 were offences promoting enmity between groups based–among other things–on religion and race.
If the number of communal riots cases and cases of promoting enmity between groups from the NCRB report are added, then the difference between the NCRB data & MHA data widens further.
NCRB data collection on riots
NCRB, which is part of the home ministry, is tasked with collection and dissemination of a secure national database on crimes, criminals and law-enforcement agencies. Every year, NCRB collects data from the police departments at the state level, and compiles them into a Crime in India report. The report has detailed information on various crimes.
The current template for collection of crime-related data has a section on riots, as defined under Sections 147,148,149,150, 151 and 153A of the Indian Penal Code (IPC).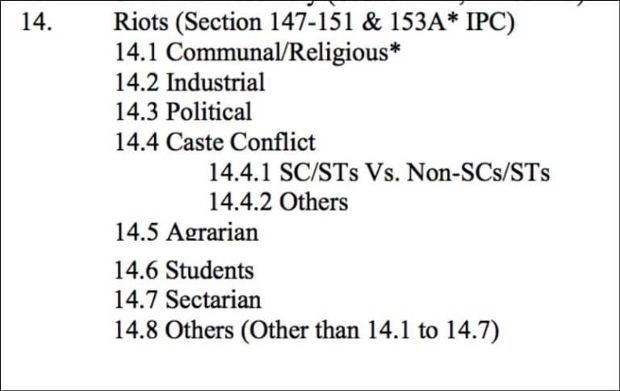 There is also separate section to collect data on offences that promote enmity between different groups as defined under Sections 153A & 153B of the IPC.

The template makes it clear that cases reported under Section 153A with other sections of riots (Section 147 to 151) should be shown in the category of riots whereas cases reported specifically under Sections 153A & 153B should be shown separately.
Before 2014, all the data related to riots used to be collected under one head called 'riots'. From 2014, the data on riots is categorised into sub-heads, namely communal riots, industrial riots and riots for political reasons. There is also a separate section on 'offences promoting enmity between different groups'.
NCRB gets all the data from state police departments, and these data are based on the sections mentioned in the First Information Report (FIR) of the cases filed.
NCRB also follows the 'Principal Offence Rule' for counting of crime. So, among many offences registered in a single case, only the most heinous crime (maximum punishment) will be considered as counting unit, thereby representing one case. Sometimes, it is also possible that multiple cases will be filed for a single incident.
Why government's explanation does not add up
The government, on multiple occasions, maintained that the NCRB collects police-registered communal riots cases (FIRs) from states, and there could be multiple FIRs in a single incident of communal violence. So, NCRB data vary from the ministry data, which are based on communal incidents and not FIRs.
As per the government's explanation, NCRB numbers should be equal to or higher than the ministry's data for every state.
For 2014, in states such as Haryana, Jharkhand, Tamil Nadu and West Bengal, the NCRB numbers were significantly higher than the ones reported by the home ministry. But in states like Karnataka, Madhya Pradesh, Rajasthan, Gujarat & Uttar Pradesh, the home ministry numbers were higher than those reported by NCRB–suggesting FIRs may not have been filed in some incidents.
In the case of Uttar Pradesh in 2014, the NCRB reported 51 communal riots cases and 26 cases of promoting enmity between groups. Together, they add up to 77 cases in NCRB records, while the home ministry reported 133 incidents.
The trend was repeated in 2015, where the discrepancy was observed in as many as 24 states/UTs. In 2016, the discrepancy has been observed in 25 states/UTs.
The home ministry reported 63 communal incidents in Rajasthan in 2016. NCRB did not report a single case in Rajasthan in 2016 while it reported 22 cases of promoting enmity between groups.
The home ministry may also be getting data on communal incidents from the state police in which case, a lower number in NCRB data for a particular state suggests that cases were not filed in some instances of communal incidents. A reconciliation by the home ministry and NCRB could help address such issues.
(Dubbudu has been working on issues related to the Right to Information for a decade. He is a data/information enthusiast and is passionate about governance/policy issues. Factly.in is dedicated to making public data meaningful.)
We welcome feedback. Please write to respond@indiaspend.org. We reserve the right to edit responses for language and grammar.