In 2016-17, Rural Roads Built In Record Time, Less Than Half Of Targeted Habitations Reached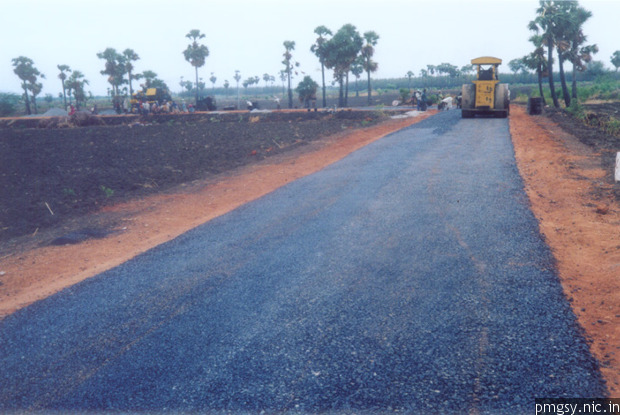 On May 22, 2017, the Bharatiya Janata Party (BJP) tweeted it had ratcheted the pace of rural road construction under the Pradhan Mantri Gram Sadak Yojana (PMGSY) to 133 km a day over the three years to 2016-17, up from 69.35 km a day in 2013-14.
However, compared with the Narendra Modi government's own performance in the first two years, the pace of rural road construction has slackened, connecting, up to January 2017, less than half (46%) of the habitations targeted under PMGSY-I in 2016-17, an IndiaSpend analysis of rural development ministry data shows.
As the BJP government completes three years in office this week, IndiaSpend is analysing five of its key electoral promises–on employment, Swachh Bharat, roads, access to electricity and terrorism. In the third part today, we look at how the BJP government has performed on promises it had made on building roads and improving connectivity in the party's electoral manifesto.
Progress Under Pradhan Mantri Gram Sadak Yojana, 2011-17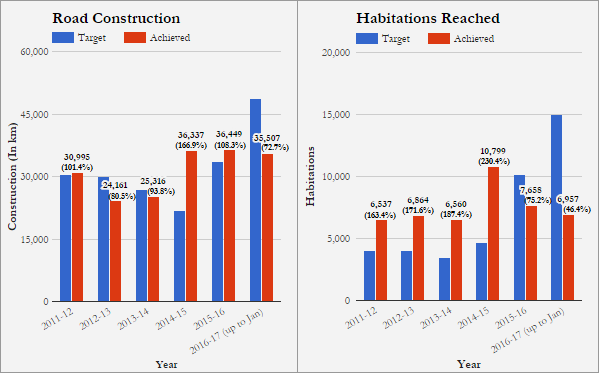 Source: Ministry of Rural Development Annual Report, 2016-17
Roads allocation up, completion time down, but target not met
In its manifesto, the BJP had made three major promises on roads: It would connect tribal hamlets with all-weather roads, improve village-level road infrastructure, and connect ports with roads to the hinterland. While standalone data on roads connecting tribal hamlets are not available, on roads connecting ports to the hinterland, consolidated numbers are available only up to 2013.
In case of rural roads, for which data are available, the pace of construction has slacked off, as stated before. Less than half of the habitations targeted under PMGSY-I for 2016-17 had been connected by January 2017. The length of roads built as a share of the government's target has also dropped from 167% in 2014-15 and 108% in 2015-16 to 73% in 2016-17, according to IndiaSpend's analysis of data available up to January 2017.
PMGSY-I aims to build all-weather roads to habitations with a population of at least 500 in plain areas and at least 250 in "special" areas such as hills or tribal hamlets and located at least 500 m (1.5 km of path distance in case of hills) from an all-weather road or a connected habitation.
The good news is that under Modi, allocation to the rural roads scheme has risen back to the Rs 19,000-crore peak seen under Manmohan Singh's prime ministership--it had subsequently dropped to Rs 9,000 crore during the Congress-led United Progressive Alliance's second term--an analysis by the Centre for Policy Research (CPR) shows.
The time taken to complete a project after sanction under PMGSY has also fallen progressively by 74% to 124 days under Modi, from 474 days under UPA-II's final year 2013-14, according to CPR's analysis. Compared with Modi's first year, the time taken has fallen by 67% in 2016-17, from 374 days in 2014-15.
Pradhan Mantri Gram Sadak Yojana: Allocation Up, Faster Completion Of Projects
Source: Centre for Policy Research
National highways construction slows down
In 2016-17, the pace of construction of national highways has also dropped to 44%, the lowest in this government's three-year rule. This year has seen an average rate of highway construction of 22 km a day, according to information provided to the Rajya Sabha (upper house of parliament) in April 2017.
The government had initially set a target of building 40 km a day. Roads and Transport Minister Nitin Gadkari claimed at an Aaj Tak Editors Roundtable on May 21, 2017, that targets had been intentionally set higher than feasible to "push the bar higher".
Source: Rajya Sabha questions
(Vivek is an analyst with IndiaSpend.)
This is the third of a five-part series tracking the status of the BJP government's promises three years after it was sworn in. You can read the first part here, the second part here, the fourth part here and the fifth part here.
We welcome feedback. Please write to respond@indiaspend.org. We reserve the right to edit responses for language and grammar.
__________________________________________________________________
"Liked this story? Indiaspend.org is a non-profit, and we depend on readers like you to drive our public-interest journalism efforts. Donate Rs 500; Rs 1,000, Rs 2,000."