In 2015-16, 93% Fall In AFSPA Cases Adjudged (Over Previous 3 Years)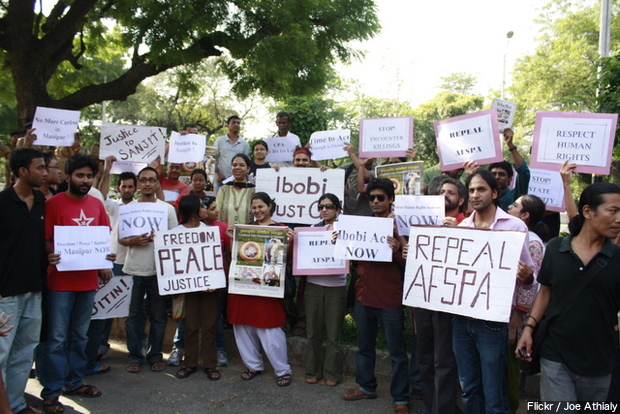 Protesters from the northeast stage demonstrations in Delhi against human rights violations under the Armed Forces (Special Powers) Act. The year 2015-16 saw least number of cases resolved in the last four years.
No more than five human-rights complaints—four in Jammu and Kashmir, one in Tripura—under a controversial law that provides immunity to armed forces from prosecution were judged in 2015-16, a 93% fall over the average of three preceding years, according to new government data submitted to parliament on July 21, 2016.
An average of 69 cases registered under the 58-year-old Armed Forces Special Powers Act (AFSPA) were heard--"disposed" to use government parlance—over the three preceding years, the Lok Sabha, parliament's lower house, was told. Up to 82 complaints were heard in 2012-13, which dropped to 75 in 2013-14 and 49 in 2014-15.
Source: Unstarred Question no.224, 21st July 2015, Lok Sabha
Note: Includes cases disposed under the 'Defence Force Category' as well as the "Para Military Force Category' as specified in the answer in Lok Sabha
Four of the five cases adjudged this year were from Jammu and Kashmir, following the pattern of the preceding three years, when 105 of 186—or 57% of the total—cases disposed were from the state.
The government did not provide details of cases, victims and AFSPA violations and said it did not intend to withdraw the Act from the northeast or J&K.
Recent discussions in the Lok Sabha and the Rajya Sabha (the upper house of parliament) revolved around the abolition of AFSPA, promulgated in 1958 and extended to J&K in 1990. The law is now in force across some regions of J&K, Meghalaya, Arunachal Pradesh and Manipur, and all of Assam—where it was first imposed—and Nagaland.
The July 21, 2016, debate urged the government to send an all-party delegation to Kashmir to address mass unrest that has claimed 45 lives.
The Delhi and Gauhati High Courts have previously held that was not violative of fundamental rights. But the Supreme Court said in July 2016 that the armed forces cannot escape accountability, ruling that "over 1,500 cases of alleged fake encounters in Manipur, over the last 20 years, must be investigated".
Amnesty International, a human-rights advocacy, has said the law contravenes international laws and United Nations humanitarian laws. Amnesty also said the AFSPA violates Article 32 of the Indian Constitution, which gives right to effective remedy to citizens.
In J&K, about 43,000 people—including suspected militants, civilians and security forces—have been killed between 1990 and 2011, according to another Amnesty report quoted in DNA, a newspaper.
Tripura has withdrawn the Act from a limited region of the state.
Note: All figures in this story have been rounded off.
(Waghmare is an analyst with IndiaSpend.)
We welcome feedback. Please write to respond@indiaspend.org. We reserve the right to edit responses for language and grammar.
__________________________________________________________________
Liked this story? Indiaspend.org is a non-profit, and we depend on readers like you to drive our public-interest journalism efforts. Donate Rs 500; Rs 1,000, Rs 2,000.