In 10 Years, Non-Fossil Fuel Sources Will Form Over Half Of India's Energy Capacity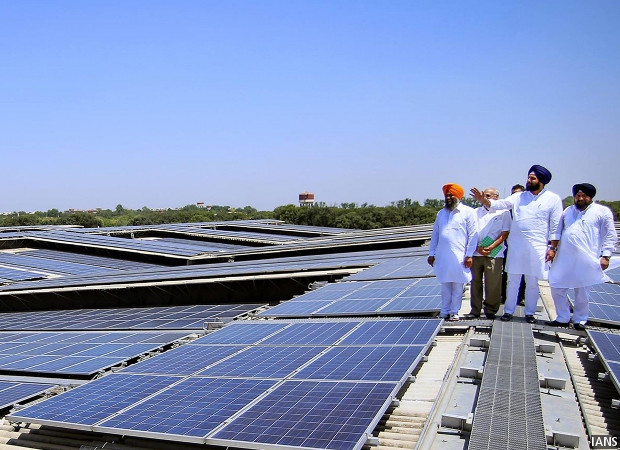 A view of 11.5 MW rooftop solar energy plant at the Radha Soami sect headquarters in Beas near Amritsar.
Non-fossil fuels--renewables, nuclear and large hydroelectric power plants--will account for more than half (56.5%) of India's installed power capacity within the 10 years to 2027, according to a draft of the third National Electricity Plan (NEP3) released in December 2016.
The draft notes that if India achieves its target to install 175 gigawatts (GW, which consists of 1,000 megawatts) of renewable energy capacity by 2022--as it has committed to under the 2015 Paris Agreement--it will not need to install, at least until 2027, any more coal-fired capacity than the 50 GW currently under construction.
The Ministry of Power produces a National Electricity Plan every five years, in which it reviews the progress made over the previous five years, and sets out a detailed action plan for the next 10 with the overarching aim of achieving universal access to electricity across India and ensuring that power is supplied efficiently and at reasonable prices.
NEP3 outlines how the government expects India's electricity sector to develop over the five years from 2017 to 2022, as well as the subsequent five years to 2027.
Renewables will grow faster
When the draft was released in December 2016, India had installed just over 50 GW of renewable power capacity, of which wind energy made up 57.4% and solar 18%. This gave renewables a 15% share in India's total installed capacity of just over 314 GW, while coal made up 60%--the remaining being large hydropower, nuclear, gas and diesel.
Renewables will have to scale rapidly to meet a national target set in 2015 to increase capacity to 175 GW by 2022--100 GW from solar, 60 GW from wind and the remainder from sundry smaller sources such as biofuels and biomass.
NEP3 projects that not only will the 2022 target be achieved, renewable power capacity will reach 275 GW in 2027. This is three times the projection made in NEP2, of 70 GW, and significantly more ambitious than publicly proclaimed targets.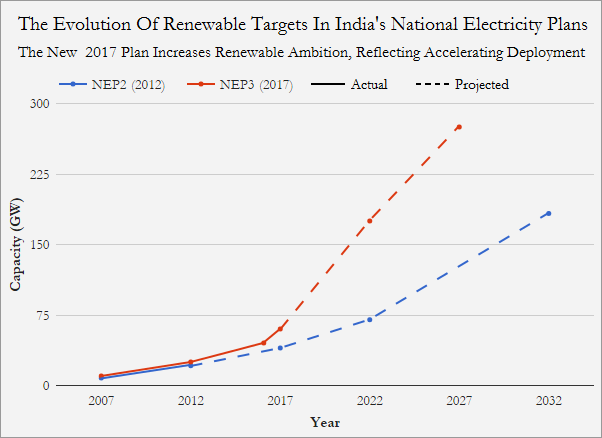 Source:Central Electricity Authority, Draft National Electricity Plan 2016
Comparing NEP3 with India's Intended Nationally Determined Contribution (INDC) under the Paris Agreement reached at the 21st Conference of Parties (COP21) to the United Nations Framework Convention on Climate Change (UNFCCC) in 2015 shows a higher level of ambition to reach a low-carbon economy faster.
In its INDC, India had said it planned to achieve 40% cumulative installed capacity from non-fossil fuel-based energy resources by 2030.
NEP3 is significantly more upbeat, predicting that non-fossil power will make up 46.8% of total installed capacity by 2021-22 and 56.5% by 2027--10 years from now. If the NEP3 target is met as per the projected timelines, total installed renewable capacity in India will surpass coal-based capacity some time around 2024.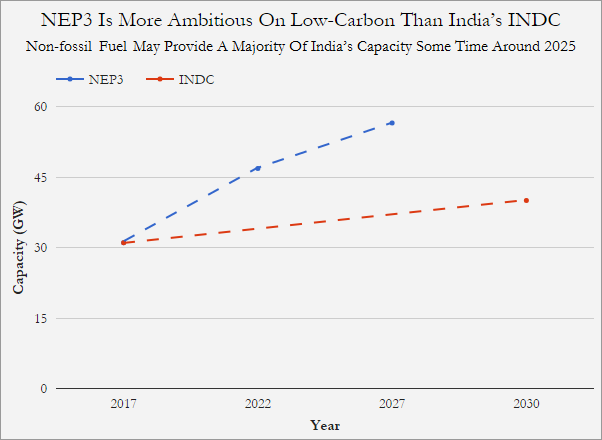 Source: Central Electricity Authority, United Nations Framework Convention on Climate Change
Such ambitions are underpinned by the rapidly changing economics of wind and solar, whose price is falling rapidly. In February 2017, solar power was auctioned at a record low of Rs 2.97-Rs 2.979 per kilowatt-hour (kWh). Soon after, in auctions for wind power projects in March 2017, the winning bid quoted an all-time low price of Rs 3.46/kWh. Solar and wind are expected to reach grid parity--when they cost as much as conventional power--in the near future, perhaps as early as next year, as IndiaSpend reported on 28 January 2017.
As for other zero-emission sources like nuclear and large hydropower, NEP3 projects an addition of 7.6 GW of nuclear and 27.3 GW of large hydroelectricity capacity up to 2027, up from 6.7 GW and 44.4 GW of hydro installed as of March 2016, as ongoing and approved projects come online during 2017-22.
Coal capacity addition will fall
While expecting renewable capacity to surge, NEP3 says no new coal-based capacity addition is required for the 10 years to 2027 beyond the 50 GW under different stages of construction and likely to come online between 2017 and 22.
As per NEP3 projections, the 2022-27 period would require an addition of about 44 GW of coal-based capacity to meet projected demand, a requirement that would be adequately met by the 50 GW that will come online during 2017-22. This leaves India with 6 GW of extra capacity.
The NEP's projections for coal are different from India's INDC, which suggested the country would require 100 GW, and perhaps as much as 300 GW, of additional coal-fired capacity by 2030.
The downgrading of coal expansion is not unexpected because rapid expansion of renewables means fossil fuel-based power plants are already under-utilized. NEP3 shows the average coal plant load factor--a measure of how much plants are used--has fallen from around 70% to just over 62% in the last four years, an "exceptionally low" level, according to the Economic Survey 2016-17.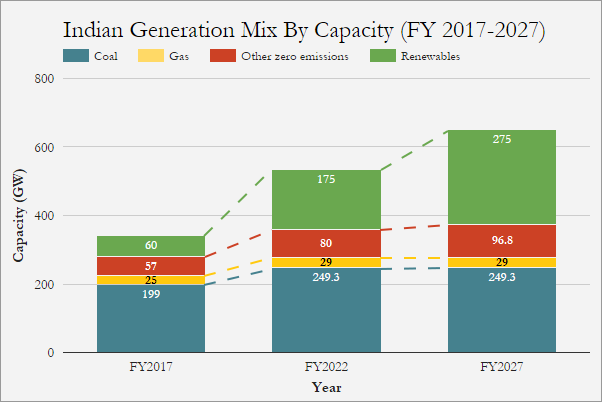 Note: India currently has 50 GW of coal under construction, and this expansion in shown in the 2022 figures. But no additional new coal power stations will be needed before 2027.
Source: Institute for Energy Economics and Financial Analysis, Draft National Electricity Plan 2016
India's coal use might be far less than projected
While renewable capacity is rising globally, developing countries including India are widely expected to continue using cheap coal.
"Surging consumption of coal in power generation and industry makes India, by a distance, the largest source of growth in global coal use," the International Energy Agency, an intergovernmental organization that provides key information and statistics about the international oil and energy markets, emphasized in its 2015 India Energy Outlook. It forecast that India would witness massive growth in coal-fired capacity, with 438 GW of cumulative capacity by 2040, assuming India's power system would quadruple in size to keep up with demand increasing by 5% every year. Currently, India's grid and distribution companies are in no shape to handle such capacity addition, IndiaSpend reported on 13 April 2017.
NEP3 agrees with the IEA's projections about growth in India's coal capacity up to 2022, reflecting the 50 GW of capacity currently under construction, but suggests the IEA's projections for the post-2022 scenario--made just two years ago--may need to be adjusted downwards.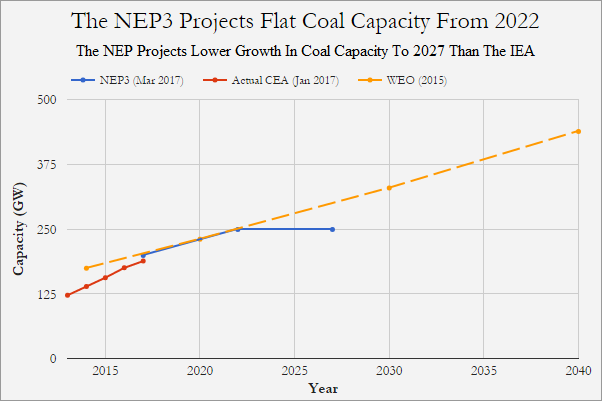 Source: Draft National Electricity Plan 2016, International Energy Agency, Central Electricity Authority
The current NEP concerns itself with the next 10 years only, but if the current trend of falling renewable power prices continues and India remains committed to cutting emissions--prodded, in no small part, by rising concerns about the health impacts of air pollution associated with conventional power plants--India may well beat IEA forecasts while upholding and perhaps surpassing its INDC.
We welcome feedback. Please write to respond@indiaspend.org. We reserve the right to edit responses for language and grammar.
__________________________________________________________________
"Liked this story? Indiaspend.org is a non-profit, and we depend on readers like you to drive our public-interest journalism efforts. Donate Rs 500; Rs 1,000, Rs 2,000."