If India Meets Renewables Target, No Additional Coal Power Needed Till 2027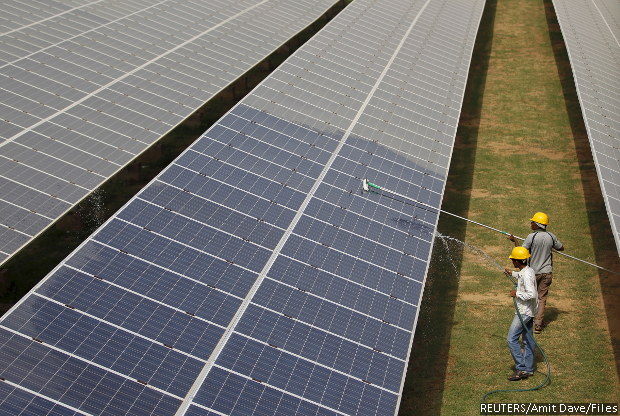 Workers clean photovoltaic panels inside a solar power plant in Gujarat, India, in this July 2, 2015 file photo.
As the prospects for coal-generated electricity recede globally, India is one of the last bastions of the world's oldest, dirtiest energy source--coal--although construction of new coal-fired power plants is faltering.
From January 2016 to January 2017, development of coal-fired power capacity fell around the world--pre-construction activity dropped 48%, start of construction fell 62%, ongoing construction fell 19%, and the number of completed projects fell 29%, according to a March 2017 report, Boom and Bust, released jointly by the Sierra Club (a US-based environmental non-profit), Greenpeace (The Netherlands-based environmental campaigning non-profit) and Coalswarm (an online repository on coal).
Using data from the Global Coal Plant Tracker, an online database developed by Coalswarm that identifies, maps and categorises every known 30-MW and larger coal-fired power generating unit and every new unit proposed since January 1, 2010, the report maps a global move away from coal and towards renewable energy.
In China and India alone, construction activities that would add 68 GW--over a fifth of India's total installed capacity--of additional coal capacity are frozen across 100 project sites, 13 of them in India. The primary reason for the slowdown in India is "reluctance of banks and other financiers to provide further funds", the report said. Over half (56.5%) of India's installed power capacity will be non-fossil fuel-based--renewables, nuclear & large hydroelectric--within 10 years, as IndiaSpend reported on April 19, 2017.
In India, as of February 2017, at least 15 coal-based thermal power projects with an aggregate capacity of 18,420 MW (18.42 GW) were stalled due to financial reasons, the power ministry told the Lok Sabha (lower house of Parliament) on February 9, 2017.
Source: Global Coal Plant Tracker; as of January 2017
NOTE: Announced: Project has appeared in planning documents but not moved forward by applying for any permits.
Pre-permit: Project has actively moved forward in one or more ways: Applying for environmental permits, acquiring land, coal, water rights and/or transmission arrangements, or securing financing.
Permitted: Project has secured all environmental permits but not broken ground.
Under construction: Site preparation and other activities underway.
Shelved: Project no longer moving forward, but not enough evidence to declare it cancelled.
Cancelled: The utility has announced a project cancelled; or the project has disappeared from company documents; or the plant shows no activity over a period of four years. Projects that switch to natural gas are considered "cancelled" as coal plants.
Operating: Project has entered commercial operation.
However, in March 2017, the Cabinet revived some struggling power projects with a cumulative capacity of some 30 GW under a new Mega Power Policy by providing support of about Rs 10,000 crore to the sector, in addition to incentives such as custom duty waiver for import of capital equipment and tax breaks. This was done to relieve the burden of stressed assets on banks, estimated at Rs 1.5 lakh crore, according to this report published in the Times of India on March 31, 2017.
Cabinet clears Rs 10,000 crore lifeline for power projects for ensuring affordable power for all https://t.co/16rvcZydZT pic.twitter.com/XrneF8nEkj

— Piyush Goyal (@PiyushGoyal) April 1, 2017
"The slowdown in the coal power pipeline brings the possibility of holding global warming to below 2°C from pre-industrial levels within feasible reach," the Boom and Bust report stated. However, this hinges on countries such as Vietnam, Indonesia, Turkey and Japan limiting their future coal power development, China and India reinforcing and increasing the slowdown, and developed countries (historically largest emitters) retiring coal-based power plants faster than they have been doing.
To restrict global temperature rise to 1.5°C, the report said, an immediate doubling of the current pace of retirement would be needed, meaning plants as young as 20 or 30 years would have to be retired even though the average lifespan of a coal plant is 40 years.
India does not plan on expanding its coal-fired capacity during 2017-22, according to the Draft National Electricity Plan proposed in December 2016 by the Central Electricity Authority. It bases this projection on the presumption that non-fossil fuel capacity addition will continue as targeted--4.3 GW of gas-fired plants, 15 GW of hydroelectric plants, 2.8 GW of nuclear installations and 115 GW of various renewable sources, which would come online during 2017-22.
The plan, however, does take into account 50 GW of coal-based installations that are currently under different stages of construction and are likely to yield benefits during the 2017-22 period, concluding that no coal-based capacity addition is required until at least 2027, as IndiaSpend reported on April 19, 2017.
Can renewables replace coal?
In 2015, India accounted for 7% of total global emissions, lower only than China (29%), the United States (14%) and the European Union (10%), according to this 2016 joint report by PBL Netherlands Environmental Assessment Agency and the Joint Research Centre of the European Commission. In the same year, the share of coal-fired power plants in India's total CO2 emissions was just short of half at 47%, the report said.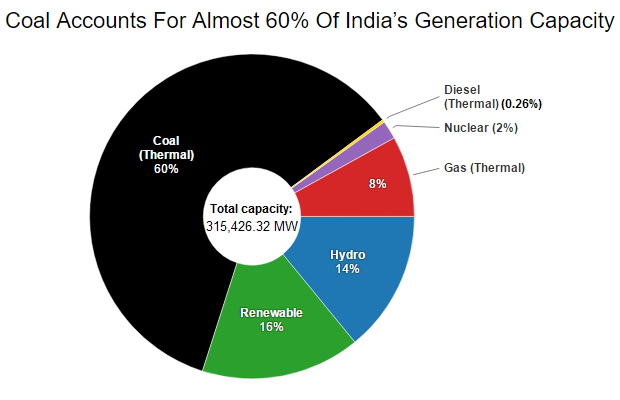 NOTE:*Data as of February 28, 2017
Source: Central Electricity Authority
In 2016-17, India's estimated peak demand of 165.2 GW was significantly lower than total installed capacity of over 300 GW. Coal-fired capacity of over 180 GW alone was higher than the peak demand. Despite this, the country continues to face acute power shortages due to coal supply problems, transmission and distribution losses and poor health of power utilities.
According to government figures, estimated electricity consumption between 2005-06 and 2014-15 increased by a compounded annual growth rate of 8.72%, growing to 948,328 gigawatt-hour, even as an estimated 240 million Indians are still without access to electricity.
Already, use of imported coal is costing the country. In 2014-15, India's coal imports were 212 million tonnes (MT) and cost over Rs 1 lakh crore--up more than five times from 38.5 MT in 2005-06, due largely to poor quality of domestic coal, lack of competition among producers, and insufficient investments.
On the other hand, investing in renewables brings environmental benefits like reduced pollution while creating employment opportunities, as IndiaSpend reported on January 28, 2017. Therefore, renewable energy has the potential to solve the energy trilemma of ensuring energy security, energy access and sustainability, according to this 2015 report by the National Institution for Transforming India (NITI Aayog).
Challenges ahead
To capture the benefits of renewable energy (RE), the NITI Aayog report said, "India would need to make available the necessary capital, and get comfortable with managing the variability and uncertainty of RE generation in conjunction with the existing and planned fossil fuel-based and large power plants".
Tariffs for renewables in India, especially solar, have fallen heavily--by 73% since 2010. In February 2017, at the Rewa solar park auction, a levelised tariff of Rs 3.3/kilowatt-hour was achieved, competitive with the cost of new coal-fired power generation. Wind tariffs, too, fell to a record low of Rs 3.46/unit in the same month. The jury is out on whether these low tariffs are sustainable, but the trend is undoubtedly positive for renewables.
Wind is a gift to mankind by environment & the historic low cost of Rs 3.46/unit wind power shows our commitment to leverage clean energy. pic.twitter.com/z5XFgi8PtK

— Piyush Goyal (@PiyushGoyal) February 24, 2017
India would also need to invest in smart grid systems, storage options and demand-side flexibility to manage the variability of renewables.
The building of a green energy corridor, along with renewable energy management centres, will prove vital for evacuation of power between states, since solar and wind power potential is concentrated in a few states--nine states are expected to account for more than 77% of renewable energy capacity addition by 2022. Yet, progress on this has been slow, with pace of construction not keeping up with the speed at which projects are being commissioned, according to this analysis by Mercom Capital Group, a private consulting firm.
"Grid integration is possible provided efforts are made by the government towards integrated resource planning for power sector keeping renewables as the focus," Deepak Gupta, Senior Program Manager for Power at the Shakti Sustainable Energy Foundation, a New Delhi-based not-for-profit, told IndiaSpend.
Gupta said policy-makers would need to strengthen the Electricity Act, 2003, which governs the generation, distribution, transmission and trading of power in India, to specifically integrate renewables. Else, India should have a separate Renewable Energy Act, he said, adding, this will help the government expand its focus from renewable energy generation to a well-rounded integration of renewables with the country's energy system.
(Patil is an analyst with IndiaSpend.)
We welcome feedback. Please write to respond@indiaspend.org. We reserve the right to edit responses for language and grammar.
__________________________________________________________________
"Liked this story? Indiaspend.org is a non-profit, and we depend on readers like you to drive our public-interest journalism efforts. Donate Rs 500; Rs 1,000, Rs 2,000."