How The Poorest Escaped #NoteBandi: They Don't Have Money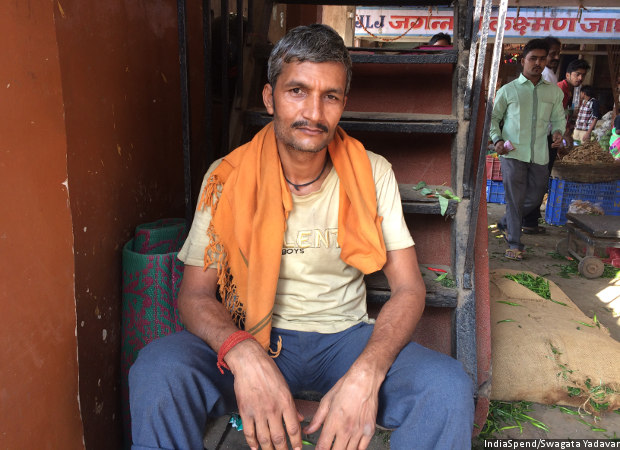 Krishna Shukla, 36, a porter at Vashi's agricultural market, said he rarely sees notes of Rs 500 because his daily income is only Rs 300. The 'demonetisation' exercise led to long queues at the banks and reduced short-term income for many small-scale businessmen. But the poorest appear to have been affected less because they either earn too little to save, or survive on what they themselves grow, IndiaSpend reporters found.
Dressed in a white dhoti or loin cloth, with a bright pink tilak or mark on his forehead, Chandu Kokre shepherded about 60 sheep along national highway 60, 30 km southeast of Mumbai, India's financial capital. "It doesn't matter to us," the thin 28-year-old told IndiaSpend when asked about the Indian government's delegitimising of Rs 500 and Rs 1,000 notes--86% of currency in circulation by value. "We don't have bills that exceed Rs 50 and Rs 100," he explained.
On November 9, 2016, the Indian government scrapped Rs 500 and Rs 1,000 notes, resulting in long queues to exchange these notes or withdraw money in lower denominations and reduced short-term income for many small-scale businessmen. But the poorest labourers, farmers, small business owners and shepherds like Kokre appear to have been affected less by the move because they either earn too little to save, or survive on what they themselves grow, found IndiaSpend reporters in rural areas of Pune, Ahmednagar and Palghar districts, and urban areas in Mumbai and Navi Mumbai.
As many as 269.3 million Indians--equivalent to the population of Indonesia--live below the poverty line of Rs 27 a day in rural areas and Rs 32 in urban areas. About 216.5 million of the poor live in rural areas, as IndiaSpend reported in October 2015. In Maharashtra--India's richest state, by gross state domestic product, and the second most populous--19.7 million (17.35%) of 112 million are poor.
Several farming households told IndiaSpend they were not affected by the government's move because they depended on their own produce for sustenance. That did not appear to be the situation in urban areas, where various media reports--such as this in the Indian Express, and this in the Hindustan Times--reported survival struggles.
As farming recedes across India, poor labourers proliferate
Narayan Deo Rinjad stood in the doorway of his brick house, in the village of Pandre Pade in Palghar district, about 120 km north of Mumbai, as a hen and its chicks explored the surroundings. "It hasn't affected us much because we eat what we grow," said the 43-year-old farmer, who lives below the poverty line, and grows rice, lentils, chillies and cucumbers.
Rinjad said the family buys oil, sugar and spices from the market but stocks up for 15 days to a month as the closest market is 5 km away. When the government announced that old notes would no longer be valid, the family had Rs 5,000 that they deposited in a bank, and withdrew Rs 2,000 . Rinjad added he didn't plan to go the bank anytime soon, because he didn't have an urgent need or time to spare from the sowing season; the last trip to the bank to deposit and withdraw money took four hours.
But the number of farmers in India is falling, while the number of agricultural labourers is increasing. Farmers--known as "cultivators" in census parlance--have reduced by 7%, from 127.6 million in 2001 to 118.6 million in 2011, as IndiaSpend reported in August 2014. Agricultural laborers rose by 36.8 million, or 34.2%, to 144.3 million in 2011 over the decade.
Source: Census of India
Daily labourers who work on farms and rural construction sites also said they had too little money to be affected hugely by the demonetisation of Rs 500 and Rs 1,000 notes, but some said they weren't taking money until their employers gave them small change.
Even if the poor have bank accounts, they may not use them
Krishna Shukla, 36, dressed in a faded shirt, paired with blue pants and an orange scarf, counted his wages for the day, all in denominations below Rs 50, which he had earned as a porter at the agricultural market in Vashi, south of Mumbai. "Where do we get to see a 500 rupee note?" he said wryly, explaining he spends 26% of his daily earning of Rs 300. He gives his savings to a friend who has a bank account to send back home to his village in Bihar.
Krishna Bihari Shukla,36 works as a hamal in the vegetable market, APMC, Vashi, "We hardly ever get 500 notes. So I don't see a change." pic.twitter.com/6MjMyvhoid

— swagata yadavar (@swagata_thinks) November 22, 2016
Even though several laborers and farmers said they had bank accounts, many said they have zero or little money in the account, as they earn just enough for their daily needs. Out of the 25.51 crore new accounts opened under the Pradhan Mantri Jan Dhan Yojana (Prime Minister's People's Wealth Programme), until November 2016, 23% had no money in them, according to finance ministry data.
Further, many still depend on informal family networks or moneylenders to send and borrow money.
Rani Devi, 34, came to Mumbai's Tata Memorial Hospital, two months ago, to treat her rectal cancer. Her husband, a daily labourer in the northern state of Bihar, came with her, and hasn't had a job since. The family spends Rs 200 a day surviving in Mumbai, and borrowed Rs 5,000 from moneylenders in the village, at an interest rate of 36% per annum.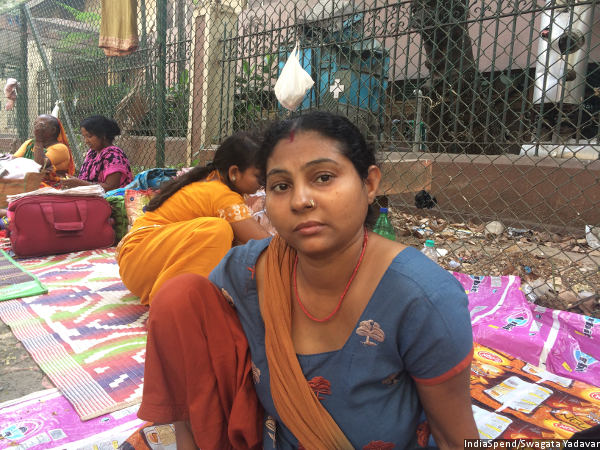 Rani Devi, 34, came to Mumbai's Tata Memorial Hospital, two months ago, to treat her rectal cancer. Her family has a bank account but doesn't earn enough to save.
"We have a bank account but there is hardly anything left to save at the end of the day," said Devi, her back resting on two plastic bags lined against the wall on the footpath outside the hospital--their makeshift home. She was unclear about how the ban of Rs 500 and Rs 1,000 notes has affected their family.
Though some daily wage workers were paid in notes of Rs 100 or less, some weren't. Jitendra Bhurkud, a daily wage farm worker in Palghar district, said his employer didn't have Rs 100 notes, so he continued to work without pay. "We will get (money) once the employer has change," he said.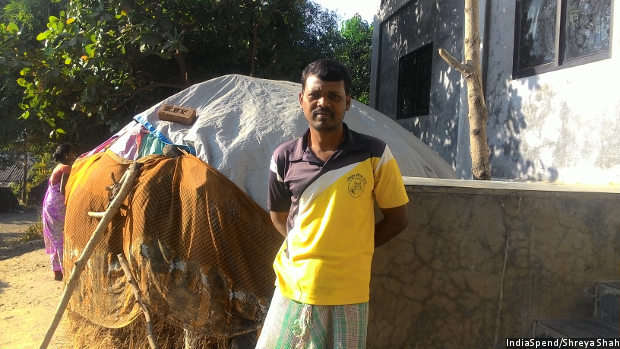 Daily wage labourer Jitendra Bhurkud has worked without pay for the last two weeks. "We will take once the employer has change," he said.
Others said they had too little money to care about the move, but that their businesses were impacted by a paucity of small change. "We don't have money, so it doesn't affect us," said Rasika Lohale, 41, who owns a small store in Wade Pali, in northern Maharashtra, adding that her business has fallen from Rs 500/600 to Rs 300/400 a day. "We don't eat meat nowadays because we don't have the money for it."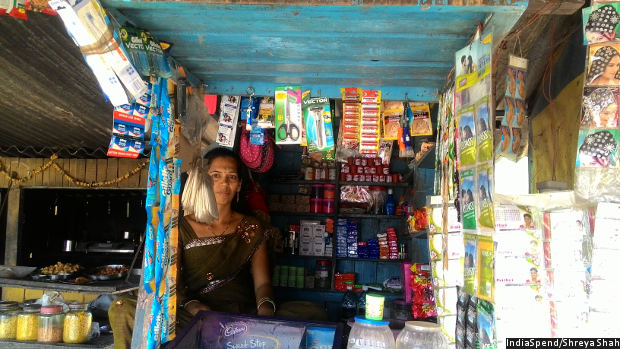 Rasika Lohale, owner of a small shop, says her family hasn't eaten meat in the last few days because her business has reduced about 50% because of a lack of small change.
(Patil, Shah and Yadavar are reporters/analysts with IndiaSpend.)
We welcome feedback. Please write to respond@indiaspend.org. We reserve the right to edit responses for language and grammar.
__________________________________________________________________
"Liked this story? Indiaspend.org is a non-profit, and we depend on readers like you to drive our public-interest journalism efforts. Donate Rs 500; Rs 1,000, Rs 2,000."