How Smaller, Decentralised Solutions Can Help India Meet Its Social-Development Goals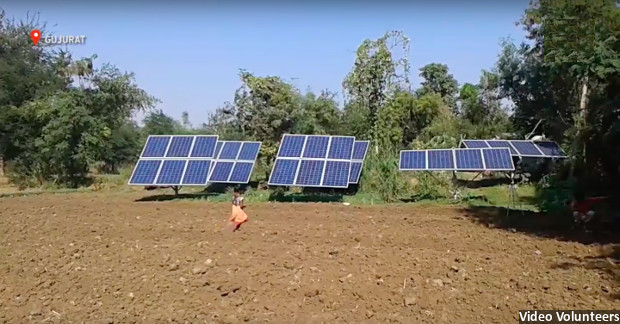 "Indian farmers are dependent on electricity for irrigation. Electricity is mostly available only at night, supply is interrupted and the voltage fluctuates. Solar pumps provide electricity throughout the day and supply is uninterrupted, making them a good alternative to traditional irrigation practices", said Prof. Tushar Shah, Director, International Water Management Institute, Gujarat.
Relying on large, centralised programmes such as Swachh Bharat Mission and National Rural Drinking Water Programme to provide universal access to basic necessities would require 30-40% more government spending than current levels over the next 15 years, an analysis by Dalberg, a global strategy and policy advisory firm focused on social impact, shows.
Instead, Dalberg suggests, decentralised solutions can supplement these efforts and plug the gaps, often at a fraction of the expense and time that conventional methods entail.
Supplementing conventional efforts with smaller, decentralised solutions is imperative when viewed in the light of the fact that India needs to spend Rs 64 lakh crore ($1 trillion) up to 2030 to provide universal access to water, electricity and sanitation--an amount greater than three times the country's total budgeted spending for 2016-17 (Rs 19.78 lakh crore).
The scale of the problem
Millions in India lack access to basic utilities. Between 63.4 million and 78 million Indians--more than in any other country of the world--live without access to safe drinking water, according to various estimates. However, Dalberg believes the real figure is close to a billion--when safe drinking water is taken to mean water treated with proper filtration methods, as against "improved water" that means water safe from contamination by human and animal waste, which may yet be unfit for human consumption.
More than 200 million people have no access to electricity, and more than 500 million Indians practice open defecation.
The economic burden of poor sanitation alone was estimated to be more than Rs 6.4 lakh crore ($100 billion) in 2015, with most of it falling on women and children belonging to the base of the pyramid population, in a report published by the Japanese building material manufacturer LIXIL Group Corporation, UK-based NGO Water Aid, and global advisory firm Oxford Economics.
Government targets and action
The United Nations-led Sustainable Development Goals (SDGs) initiative has set ambitious targets for developing countries to achieve by 2030, among them SDG 6 (to "ensure availability and sustainable management of water and sanitation for all") and SDG 7 (to "ensure access to affordable, reliable, sustainable and modern energy for all") under which India is committed to providing universal access to basic services.
The government has initiated various programmes to this end, including, for example, the Swachh Bharat Mission, the National Rural Drinking Water Programme, and the Grameen Vidyutikaran programme.
Financing shortfall likely
However, given the immense investment required, these efforts are likely to fall short. For instance, a Dalberg analysis of government spending on water and sanitation indicates a financing shortfall of 30-40% until 2030 if the government continues to spend as it is doing currently.
Further, given the constraints of government institutions combined with an expanding population, more than half a billion Indians are likely to still lack access to safe water, electricity, and sanitation services by 2030.
How decentralisation can help
Decentralised solutions can complement centralised utility services--where government systems currently do not exist, they can be the primary service providers; in areas where government services exist but do not perform at desired levels, decentralised systems can be last-mile service delivery providers.
For example, social businesses that operate water kiosks are bringing safe water to communities that lack access to centralised water pipelines. Water purification businesses offer solutions where government pipelines exist but water is not potable.
Decentralised systems are also more cost-effective. For example, Dalberg analysis of primary data collected from seven water-kiosk enterprises across Asia, Africa and Latin America shows that water kiosks require less than 50% of the funding needed to bring safe water to currently underserved households in the conventional manner, which entails laying water distribution pipelines, treatment systems, and connection costs to private/public taps.
Likewise, small mini-grid systems that cost as little as Rs 64,000 ($1,000) can bring electricity to rural villages often located in isolated areas, obviating the need for distribution lines, transformers, switching equipment and last-mile connection such as wiring households. For the sake of comparison, a basic distribution line and transformer cost more than Rs 200,000.
Increasingly, decentralised solutions are finding a way to plug the gaps left by centralized systems across sectors. These solutions offer shorter turnaround times for new setups (e.g., one or two weeks to set up a new solar energy-based micro-utility), and better control over the maintenance and quality of service provided (e.g., through closer engagement and accountability within the local community).
Ecosystem-level challenges
However, private sector efforts face several ecosystem-level challenges that increase business risk and make it difficult to scale delivery. Financing from formal institutions is scarce due to the associated business risks. Limited regulatory controls lead to sub-quality products and cheaper substitutes. The policy environment is uncertain--for example, the future of water kiosks remains uncertain if government pipelines are extended or a tariff ceiling is enforced.
Customer behaviour towards utilities poses further challenges. Field research conducted by Dalberg covering households, service providers and government institutions in Asia, Africa and Latin America throws up a consistent finding: People consider basic services such as water, sanitation and electricity as core government mandates and expect the government to provide and subsidise them.
Therefore, services delivered through decentralised models are not readily accepted. Decentralised service providers face the enormous task of creating a market for their services, while also running and growing their businesses sustainably in a challenging environment.
Designing an optimal mix
How then to design an appropriate mix of centralised and decentralised solutions to ensure universal access to basic services?
Three elements are essential. First, there must be a clear strategy based on complementarities and substitution. For example, delineating the role for mini-utilities in scenarios where centralised government services are present and where they are not.
Second, the operating framework must be clear. For instance, laying out policy and regulatory regimes for decentralised mini-grids will remove business uncertainty and fuel more private investment.
Third, the perspective has to be user-centric and committed to minimum standards, allowing public officials the freedom to stitch together a solution. For example, setting the benchmarks for service levels for faecal sludge management but empowering and encouraging panchayats and urban local bodies to engage the private sector to deliver services.
Update: The story has been updated to include the World Bank's estimate of the number of Indians living without access to safe drinking water.
(Bhatnagar is an Associate Partner and Goyal a Senior Project Manager at Dalberg, a global strategy and policy advisory firm focused on social impact.)
We welcome feedback. Please write to respond@indiaspend.org. We reserve the right to edit responses for language and grammar.
__________________________________________________________________
"Liked this story? Indiaspend.org is a non-profit, and we depend on readers like you to drive our public-interest journalism efforts. Donate Rs 500; Rs 1,000, Rs 2,000."