How Reservations Help Disadvantaged-Caste Students Get Higher Education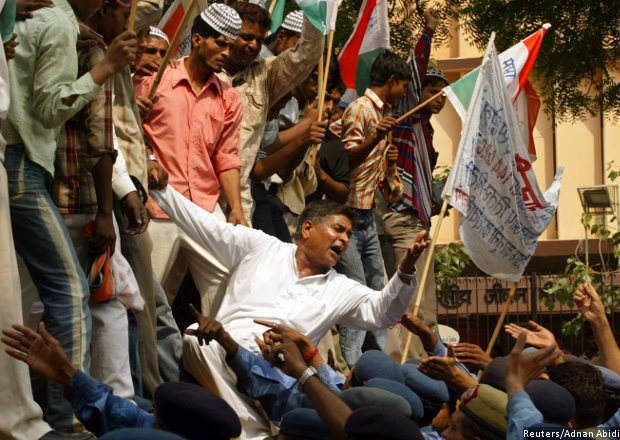 Indian pro-reservation activists scuffle with the police as they try to cross the barricades during a protest in New Delhi. A review of education data confirms a growing tide of scheduled caste and scheduled tribe students in higher education, but their numbers still lag their proportion in the general population.
As many as 26% male and 35% female students from India's most disadvantaged castes and tribes in 245 engineering colleges would not be there without reservation, according to a new study that says affirmative action policy in higher education works largely as intended.
However, reservations do place those who do not qualify for affirmative action at a disadvantage, said the study of 53,374 scheduled caste (SC), scheduled tribe (ST), other backward classes (OBC) and general students by researchers from the US' Carnegie Mellon University, published in the American Economic Review.
In this, the first part of a three-part IndiaSpend series exploring disadvantaged Indian communities in higher education, a review of education data confirmed a growing tide of SC/ST students in higher education, but their numbers still lag their proportion in the general population.
The second part will explain why the government must consider restructuring OBC reservation to benefit OBC students from deprived backgrounds, as the Supreme Court has advised, with their proportion in higher-education institutes nearing their proportion in the general population. The third part will explain how Muslims lag every disadvantaged group in higher education, even SCs and STs.
Source: American Economic ReviewHover over the chart for more details.BC-A, BC-B, BC-C, BC-D refer to sub-categories A, B, C, D of Backward Caste. SC: Scheduled Caste, ST: Scheduled Tribe.
Naveen Gurappu's story: From diffidence to confidence
Naveen Gurappu, 25, an electrical engineer and doctoral student at the Indian Institute of Technology (IIT), Bombay, is an embodiment of India's 34-year-old system of reservation for the most disadvantaged groups.
"I would never have come so far if it had not been for the scheduled caste quota and my dad," said Gurappu, a native of Hyderabad, son of a bank clerk who himself got his job through reservation.
"My dad enrolled me in St Martin's High School in Hyderabad, a good school, because he wanted me to study well," said Gurappu, from a scheduled caste called the Malas. "SBI (State Bank of India) pitched in with a yearly fellowship of Rs 500 for stationary, etc. We could not afford extra tuition or the internet at home, even though I badly needed help. Dad paid for my college, coaching and books, he treated me to my first movie—I was in class 11." The family took a bank loan, which they are repaying, to finance Gurappu's studies at IIT, which charges SC/ST students about Rs 60,000 per annum for the engineering programme and PhD.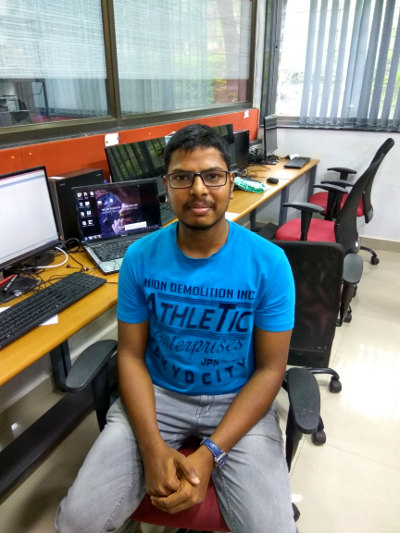 Naveen Gurappu, 25, electrical engineer and doctoral student at IIT Bombay, would not have made it to the Indian Institute of Technology, Gandhinagar, for a graduate engineering degree had it not been for affirmative action. As many as 26% male and 35% female scheduled caste, scheduled tribe and other backward classes students in 245 engineering colleges benefited from reservation in higher education, according to a new study of 53,374 students.
In his first year at IIT, Gurappu struggled to grasp lessons, unlike his upper-caste peers. "Still, I was better off than other disadvantaged caste students because I came from a city," he said.
Reservation helps and motivates the disadvantaged
Affirmative action spurred students from disadvantaged castes--who still lagged upper castes--to perform better in college than in school, said the Carnegie Mellon study which compared the first-year college scores of 42,914 students with their high-school scores.
Gurappu--who struggled to cope initially at IIT Gandhinagar, where he pursued a graduate degree--agreed with that assessment. "In time, I adjusted to the IIT system and standards, and even caught up with toppers in some subjects," he said. "With the right mindset and opportunity, any socially disadvantaged student can excel in higher education."
Disadvantaged-caste students were more likely to choose competitive majors, such as electronics, communication and computer science, than other students.
Reservation is an equaliser, but it does not get enough SC/ST/OBC students into higher education.
"Even with the attendance gains from affirmative action, the most disadvantaged castes still attend in smaller proportions than their population shares," Dennis Epple, co-author of the American Economic Review study and Thomas Lord University Professor of Economics at the Tepper School of Business, Carnegie Mellon University, told IndiaSpend.
"Our work also indicates why affirmative action policies generate debate," said Epple. "We find that improved educational outcomes for disadvantaged students come at a cost to those who do not receive affirmative action."
The bottom line: SCs/STs/OBCs benefit from reservation in higher education, but affirmative action should be carefully implemented, periodically reviewed and adjusted to deliver the best outcomes.
IndiaSpend dissected higher-education enrolment data to determine what reservation is still justified in India.
Reservation and higher education expansion boost SC, ST enrolments, but not enough
India introduced 15% and 7.5% reservations for SC and ST candidates respectively in government-aided educational institutions in 1982. Some states tweaked those percentages to factor in local demographics, which the Constitution allows. So in Tamil Nadu, 18% of higher-education is reserved for SCs, 1% for STs. In some central universities in the tribal-dominated northeast, 60% of seats are reserved for ST students.
Between 2000 and 2014, the Gross Enrolment Rate (GER) of SCs--a measure of the percentage of actual enrolments in higher education, regardless of age, in a given academic year, to the 18- to 23-year-old population eligible for higher education in that year--more than doubled while that of STs doubled.
Source: SAGE Publications, All India Survey on Higher Education, Ministry of Tribal Affairs, Sikh Institute, UNESCO, National Sample Survey Office
Notes:1. Gross Enrolment Ratio for Other Backward Classes and Muslims shown for 2000-01 is from 1999-2000.2. Gross Enrolment Ratio for Other Backward Classes and Muslims shown for 2014-15 is from 2009-10.3. OBC share of population: Kaka Kalelkar Commission estimate. OBC share in population has been variously reported since Independence, with no definite assessment as the last caste census in India was done in 1931.4. SC and ST literacy rates for 2014-2015 are from NSS 55th Round.5. OBC Literacy Rate: 54.8% rural, 75.3% urban6. Muslim Literacy rate: rural male 69.1%, urban male 81%, rural female 47.4%, rural male 65.5%
Reservations have had a domino effect, spurring new generations to educate themselves.
"Reservations in past decades have increased the numbers of SC/ST families with highly-educated members, who can encourage--and provide support for--younger family members to continue their education," said professor emeritus of economics at the University of Michigan, Thomas E Weisskopf, who has argued in favour of reservations for marginalised Indian social groups in higher education.
If parity existed between the share of SCs and STs in the general population and participation in higher education, SCs would occupy a third more seats than they do now, while STs would occupy close to double the seats.
5 ways to increase SC, ST higher-education enrolments
1. Create more infrastructure: Investing in higher education by creating more colleges and universities would help drive SC and ST enrolments, said Sachidanand Sinha of the Centre for the Study of Regional Development, Jawaharlal Nehru University.
SC and ST higher-education enrolments were higher in districts with a higher College-Population Index (C-PI), a measure of the number of colleges in a district for every 100,000 people aged 18 to 23, according to Identification of Educationally Backward Districts, a 2007 study Sinha led for the University Grants Commission.
"Since disadvantaged youth tend to gravitate to government-run and missionary/CSR (corporate social responsibility)-driven institutes, India needs more of those," he said.
Although the number of colleges and universities has expanded 248% since 2000, from 11,146 to 38,813, most new institutes are privately run, which means they are not obliged to reserve seats for SC and ST candidates.
2. Extend affirmative action to private-sector institutions: To drive SC and ST enrolments in private sector institutes, they could be asked to reserve seats for applicants from economically disadvantaged families and offer scholarships, said Bhushan Patwardhan, former vice chancellor, Symbiosis International University, and professor at the Interdisciplinary School of Health Sciences, Savitribai Phule University in Pune.
3. Support students at the intermediate level: "ST and SC candidates need more support at the intermediate level. Scholarships exist for study up to class X and for graduate study but financial assistance for the intermediary expensive preparatory time is missing," said Gurrapu.
Post-matriculation scholarships start after higher-education admission, pointed out Yagati Chinna Rao, chairperson of the Centre for the Study of Discrimination and Exclusion, School of Social Sciences, Jawaharlal Nehru University, New Delhi. "Between school-leaving and admission, students are on their own. Accommodation expenses, travel to a preparatory centre, etc. fall on the family, which most can ill afford. This is when most dalit children who manage to complete school drop out."
4. Counsel students about opportunities: Most children from SC and ST families are unaware of many higher-education opportunities, especially where there is no one who has acquired a graduate degree or more, said Rao.
So, students need counselling to understand it benefits them to study instead of working as soon as possible and to learn about opportunities, said Gurrapu. "Students in cities hear about competitive exams very early, but those from rural backgrounds often get to know about competitive exams only when they are in +2 (10th and 11th standard, or pre-university), when it is too late to start preparing," he said.
5. Encourage CSR initiatives in education for disadvantaged students: "Primary education for all is an objective of many NGOs, higher education for the disadvantaged is not, whereas the latter would help boost primary education too when its beneficiaries raise the next generation," said Gurappu.
Certainly, education begets education, said Sheldon Danziger of the University of Michigan and Jane Waldfogel of the London School of Economics in Securing the Future: Investing in Children from Birth to College.
"Those who complete more education initially are more likely to seek additional education and additional training," wrote Danziger and Waldfogel. "Education begins at home; the educational level of a child's parents is a primary determinant of how much education that child will get and how well she and he will do in school."
This is the first of a three-part series. Next: 1931 Data Muddies Issue Of Backward-Caste Higher-Education Quotas. You can read the third part here.
(Bahri is a freelance writer and editor based in Mount Abu, Rajasthan.)
We welcome feedback. Please write to respond@indiaspend.org. We reserve the right to edit responses for language and grammar.
__________________________________________________________________
Liked this story? Indiaspend.org is a non-profit, and we depend on readers like you to drive our public-interest journalism efforts. Donate Rs 500; Rs 1,000, Rs 2,000.