How Punjab's Fading Prosperity is Fueling Unemployment and Worker Unrest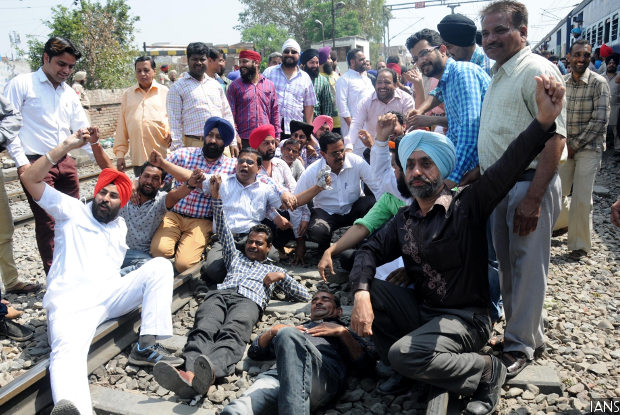 Of all protests by government employees across India in 2015, one-third took place in Punjab. The state witnessed no less than 5,764 protests by government workers that year, in which employees ranging from schoolteachers to sanitation workers took to the streets.
In most cases, the demands were the same: More hiring; 'regularisation' of contract workers--that they be made permanent employees with concomitant benefits such as pension, insurance and leave allowance; or both.
Once among India's wealthiest and fastest-growing states, Punjab ranks a middling 12 in terms of gross state domestic product. The state's agriculture sector has shrunk as the gains from the Green Revolution have dwindled, while manufacturing industry--such as the state's famed sports-goods makers in Jalandhar--has fled the state, unable to meet the onslaught of cheap Chinese imports and finding the business environment more conducive elsewhere in the country.
Increasing numbers of young people who can no longer be absorbed in agricultural or industrial work want government jobs.
The unemployment rate among Punjabi youth--between the ages of 18 and 29--is 16.6% while the Indian average is 10.2%, as IndiaSpend reported in January 2017. Punjab's rural youth joblessness rate in 2015-16 was 16.5%; more than seven percentage points higher than rural India's 9.2%.
The result is that Punjab's young people leave their villages for better prospects and the widespread anger at the rise of drugs, the decline of jobs, and the failure of aspirations is now an electoral issue, as IndiaSpend reported in February 2017.
This anger is apparently spilling into the streets.
Anger on the streets
There were more than 25,000 protests across Punjab in the seven years to 2015--that is, 15-18 protests a day--according to data collected by the Bureau of Police Research & Development (BPRD), a national agency.
Source: Bureau of Police Research & Development
Punjab also reported the second-highest labour-related protests--1,388 protests in 2015, 2,854 in 2014 and 848 in 2013, according to BPRD data. Labour-related agitations in the state had jumped 3.5 times in one year from 2013 to 2014, IndiaSpend reported in November 2016.
Source: Bureau of Police Research & Development
On February 11, 2017, members of the Mid-Day Meal Cook Workers Union and workers under the Sarva Shiksha Abhiyan and the Rashtriya Madhyamik Shiksha Abhiyan announced they would protest against the Punjab government's delay in implementing legislation enacted to regularise 27,000 contractual hires. They claimed the government had not issued them appointment letters two months after the state assembly passed the Bill.
On November 18, 2016, health department workers were joined by workers from the departments of education, irrigation, industrial training and the treasury on a 'dharna' (strike) demanding a hike in retirement age from 58 to 60, as promised by the government in 2012.
The same day, 300 members of the Punjab Safai Mazdoor Federation--including sweepers, sewage workers, gardeners and drivers--staged a dharna outside the municipal corporation office in Jalandhar as garbage rotted across the city. They were demanding recruitment of 2,000 'safai' (sanitation) workers and 500 sewage workers, as well as regularisation of 180 sanitation and 65 sewage workers.
Contractualisation has become a norm for Punjab government over the last two decades, Amarjeet Kaur, an activist with the All India Trade Unions Congress, said. When the government refuses to renew contracts, the workers protest. "Interestingly," she said, "these outsourcing agencies [who hire contract workers for the government] keep changing their names to prevent facing workers' ire and renew with another title and thus, continue to hire new workforce."
Perhaps sensing the growing discontent, in 2011, the then Punjab Chief Secretary, SC Aggrawal, had instructed all government departments to ensure that contract employees get the minimum wages, provident fund and employees' state insurance benefits as per law. In his letter, he had noted that contractors were not paying the entire amount of salary released by the government for contract employees, and were also not giving contract employees their bonus, gratuity, maternity leave and sanctioned holidays.
In October 2016, the Supreme Court ruled on numerous appeals filed by contractual workers from Punjab to say contractual hires are entitled to wages at par with permanent employees and the principle of 'equal pay for equal work' must apply.
Slowing economy, fewer jobs
The demand for government jobs has been driven by a decline in employment in all sectors of the economy. Punjab has an unemployment rate at 16.8% in 2015-16--higher than national average of 11.6%.
One of the key reasons is that the state's largest employer, the agriculture sector, has been absorbing fewer and fewer workers. Agricultural workers formed 62% of all workers in Punjab in 1971, but they comprised only 36% of the workforce in 2011--a decline of 26 percentage points--according to Census 2011 data.
The reasons included mechanisation of agriculture and a declining rate of growth in the farm sector. Agriculture growth rate declined over nine years, from 0.95% in 2005-06 to (-)3.40% in 2014-15, according to Punjab government data.
At the same time, the state has been unable to encourage ancillary units such as agro-processors, which could have created jobs. This is seen to be a failure at both the policy and operational levels.
In any case, rural youth are increasingly averse to working on the farm, preferring instead to go abroad. "Migration of rural folks is a well-known phenomenon of Punjab," said Vikram Chadha, senior faculty at the Punjab School of Economics at Guru Nanak Dev University. "These youths compel their families to sell their landholdings and raise funds for their foreign venture. The practice has drastically reduced agricultural activities of the state." The vacuum is being filled by migrants labour from Bihar and Uttar Pradesh, he said.
Meanwhile, manufacturing jobs, considered more prestigious and lucrative than farm jobs, are becoming scarce due to a slow, prolonged decline. "Punjab's manufacturing sector slumped after militancy demanding Khalistan broke out in the region [in the 1980s and 1990s]," Chadha said. "Unit holders fled the state… At the same time, rising manufacturing sector in neighboring Himachal Pradesh wooed the investors there." He said heavy taxation during the 1990s and 2000s--part of measures to fight a steep fiscal deficit--further squeezed the sector.
The number of factories in Punjab has continued to fall in the present decade--from 12,770 in 2010-11 to 12,278 in 2013-14, according to the Reserve Bank of India data. The number of non-operating textile units in the state grew to 227 from 11 between 2000-01 and 2010-11, a study by industry body ASSOCHAM said.
In this bleak employment situation, government jobs are much sought after. More than 7 lakh people had applied for the 7,418 constable posts in Punjab Police, Outlook reported in September 2016. Of these, 1.5 lakh were graduates, postgraduates or had professional postgraduate degrees such as in business administration or accountancy.
"Educated" job-seekers--those who passed the tenth grade--form 72% of all jobseekers in Punjab, the 68th round survey of the National Sample Survey Office (NSSO), conducted during 2011-12, said.
However, the government is employing fewer people too: The number of government employees fell from 3.7 lakh in 2004 to 3.1 lakh in 2015--a 15% fall--according to Census data.
"Between 2006 and 2013, the government ordered closure of 18,000 industrial units across Punjab," Ranjit Singh Ghuman, professor at the Centre for Research in Rural and Industrial Development (CRRID), told IndiaSpend, adding that recently the government has rendered 3,500 contractual employees jobless by closing public sector ventures like thermal plants. "Rather than addressing the issue, the government is only escalating it," he said.
Politics as usual?
Heading into state elections, the ruling Shiromani Akali Dal-Bharatiya Janata Party (SAD-BJP) government approved nine bills in a span of 39 minutes on December 19, 2016, in the absence of Chief Minister Parkash Singh Badal. The bills were aimed at regularising contractual jobs, and were passed after a failed attempt to issue ordinances.
The Aam Aadmi Party promised in its manifesto that it would be "ending the system of contractual hiring, reviving the pensions for government departments and board corporation employees". The Congress promised doles to unemployed youths.
What no party provided, however, was a clear policy roadmap for generating more jobs, upskilling the workforce and reviving the economy.
(Handoo is a New Delhi based independent journalist and a member of 101Reporters.com, a pan-India network of grassroots reporters.)
We welcome feedback. Please write to respond@indiaspend.org. We reserve the right to edit responses for language and grammar.
__________________________________________________________________
"Liked this story? Indiaspend.org is a non-profit, and we depend on readers like you to drive our public-interest journalism efforts. Donate Rs 500; Rs 1,000, Rs 2,000."