How Maharashtra Water Plan Fails 10 Million Farmers
Jairam Jadhav's well in the central Maharashtra region of Marathwada has been recharged after streams alongside were broadened and de-silted as part of the Maharashtra government's (Jalyukt Shivar Abhiyan) Irrigated Farmlands Programme, which aims to make Maharashtra drought-free by 2019. In December 2014, the well was almost empty.
Beed and Washim (Maharashtra): You would not think there was a worsening farm crisis in India's second-largest agricultural economy if you met Jairam Jadhav in the central region of Marathwada, one of the areas facing a drought that equals the worst in a century.
Jadhav, 35, is a happy man. Despite two seasons of truant rains, his well has enough water to supply his 20-acres of sugarcane, cotton and pigeon pea with water for three hours a day. Last year, this time, he could do no better than an hour.
Thanks to the Maharashtra government's ambitious Jalyukt Shivar Abhiyan (Irrigated Farmlands Programme), streams flowing through Jadhav's village of Pandharwadi in the district of Beed were broadened, deepened and de-silted before the monsoons. His land is next to one of these refurbished streams, which allow more water to percolate through to his well.
About 250 km to the northeast in Vidarbha's Washim district, Ramesh Marge, 35, is also pleased with the government's efforts. His 45 acres of soya bean and cotton--he's planted some pulses and vegetables also--in Gayaval village are flourishing.
Marge is acutely aware, though, of the great dry that has descended on the lives of farmers.
"When I was a kid, I used to bathe buffaloes in plenty of water in January and February. We do not see water in our village in October now," said Marge. "Last year, we did not have enough water to wash our cattle during the pola (the summer harvest's farm festivities, usually in October)."
In the same village, Shankar Choure showed IndiaSpend how his decade-old orange orchard is blooming. Thanks to a bund--built under the Jalyukt Shivar Abhiyan--that traps water, he runs four pumps to irrigate his 100 acres of farmland.
Choure, Marge and Jadhav have one thing in common--they are prosperous farmers with comparatively vast landholdings in a state where the average landholding is 1.44 acres, down from 1.86 acres two decades ago, according to Agricultural Census of India.
The proportion of small farmers (owning less than 5 acres) increased from 70% to 79% over the period 1995 to 2011.
So, while the Jalyukt Shivar Abhiyan intends to make Maharashtra drought-free by 2019, it appears to have worked mainly for prosperous farmers. As the first part of this series showed, a piecemeal approach of random work that ignores the geological water cycle of an area--a watershed--and spreads itself thin as the drought's ravages spread is not helping millions of smaller farms.
In Choure's village of Gayaval--a village with most number of Jalyukt Shivar projects in the taluka--about 60% of farmers own less than five acres of land. More than 10.7 million of the state's 13.7 million farmers (or 79%) own less than 5 acres of land, according to the Agricultural Census of India. It is these farmers who bear the brunt of the drought.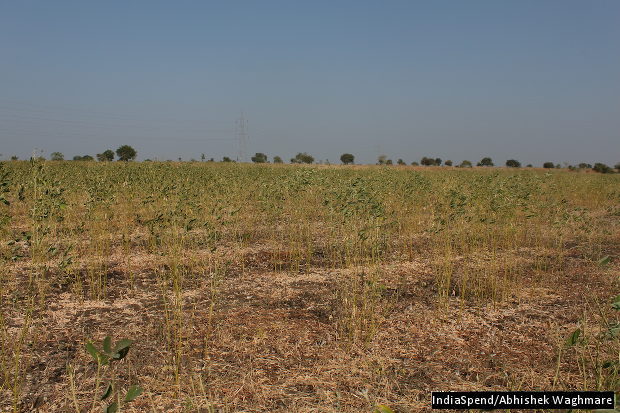 A withering pigeon-pea field--a common sight for 60% of farmers who own less than five acres of land in Gayaval (Washim)--lies less than 500 metres from a stream rejuvenated by Jalyukt Shivar, the ambitious Maharashtra programme to make the state drought-free.
12 times as many tankers roam 16 times as many villages
The Jalyukt Shivar Abhiyan is nothing if not ambitious: It aims to irrigate 19,059 of 40,000 villages in Maharashtra in 22 drought-affected districts by 2019. As many as 41,000 of proposed 0.14 million watershed projects have been completed in one year, according to the government.
Around 24 TMC feet (thousand million cubic feet) water-storage capacity has been added in the state due to the Jalyukt Shivar Abhiyan, Chief Minister Devendra Fadnavis told Economic Times in this interview.
On the ground, the drought's effects grow, and more villages struggle.
Over the last annual farming season in 2014, 1,377 villages from Beed in central Maharashtra were declared water-scarce; this year 1,403 villages are on that list. The government also declared as water-scarce 2,050 and 793 villages in the eastern districts of Yavatmal and Washim respectively in 2014, while no district was declared water-scarce over the 2015 kharif (monsoon) season.
In 2014, as a consequence of mostly adequate rainfall the previous year, 13 tankers supplied drinking water to 15 villages in Beed district. In 2015, two consecutive droughts compelled the administration to send more than 12 times the number of tankers to 16 times as many villages: 162 tankers roam 243 villages.
In spite of consecutive droughts, Yavatmal and Washim districts have sent no tankers out. That may happen in the summer months of April, May and June, when the scarcity deepens, as the chart below shows.
A group of middle-aged farmers in the Beed village of Georai were sad over what had come to be. One of them, speaking for all, told IndiaSpend: "Tanker? 2012 chya adhi gavaat tanker kadhich navhata. He first time ahe ya chaar varshat. Amchya gavat tanker ahe mhanje bakichya gavanchi lai bekar paristhiti ahe. (Tanker? Before 2012, our village had never seen one. If in these four years tankers visit us, it means the situation in other villages is very bad)."
New programme is a repackaged scheme; like older ones, it fails the weakest
Although it is often presented as unique, the Jalyukt Shivar Abhiyan is hardly the first to attempt drought-proofing the state.
The first employment guarantee scheme dates back to 1972, the year of a devastating drought that forced even prosperous farmers to become farm labourers.
Many Jalyukt Shivar projects are inspired by various programmes of previous governments, including the Integrated Watershed Development Program, Vidarbha Intensive Irrigation Development Program, Mahatma Phule Jal Bhumi Abhiyan (Mahatma Phule Water And Soil Conservation Programme) and Dry Land Farming Mission.
Small and marginal farmers, defined as those with less than 5 acres of land, need Jalyukt Shivar the most. From the observations that IndiaSpend made, this is why the scheme is failing them:
In a typical village with 250 houses, only 30 to 50 benefit from the scheme, which is no more than 10% to 20%, while the percentage of those with small farms is 80%.
Prosperous farmers tend to be near streams and wells, so they mainly benefit from the broadening and deepening. Wells in the same village located away from these streams have run dry, the inadequate attention to geological detail and local needs evident.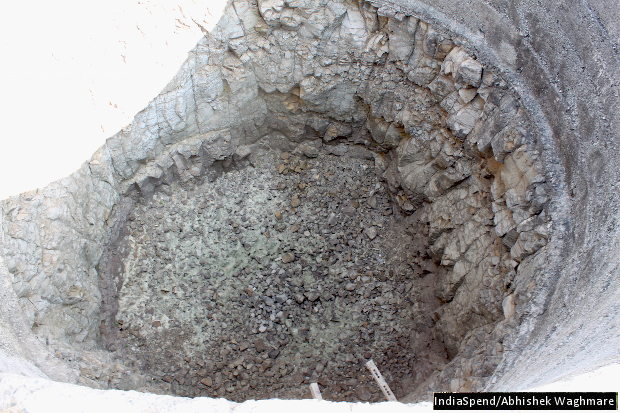 A dried well in Gayaval, a village in Vidarbha. Located in a farm a mile away from the main village stream, it has been effectively left out of the ambit of the Jalyukt Shivar Abhiyan, although the village saw the most projects undertaken in the taluka.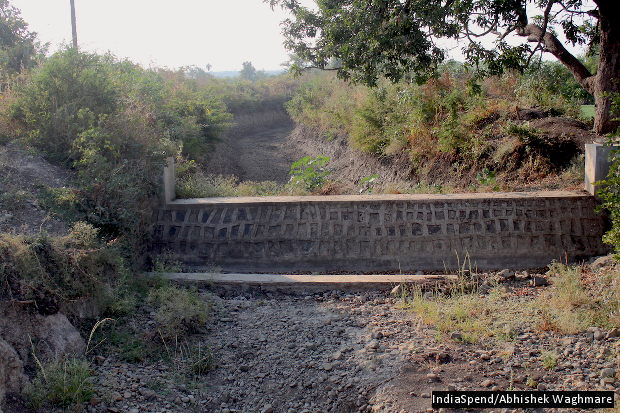 This partially broadened and deepened stream in Pasarani is in the eastern district of Washim. The village head says the breadth and depth are insufficient, and the stream is not rejuvenated from its source.
Peeran Garve, the sarpanch (head) of Pasarani village in the eastern district of Washim, said his area needed a recently broadened stream to be at least 10-metres broad and 20-feet deep. The Jalyukt Shivar delivered a stream that is 5-metres broad and 8-feet deep.
Malampatti (band-aid) cannot offer lasting solutions to irrigation crisis
Here is how a village watershed typically works. The big red spot is a village. The small red spots are the origins of the streams.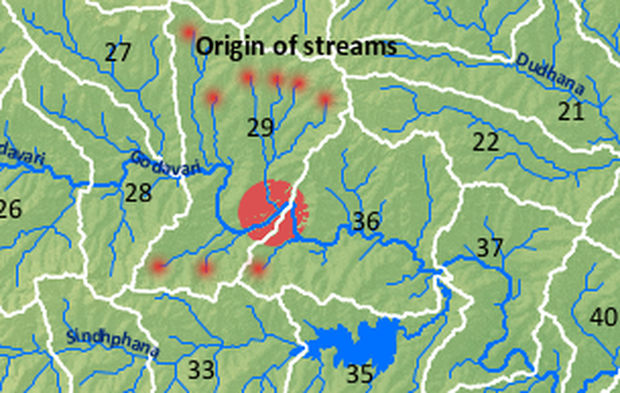 This river basin map is shown as a representation of a local watershed network, where the big red circle represents a village, through which natural streams flow. In this typical village watershed, the Jalyukt Shivar fails because it rejuvenates only part of a stream, the bit that flows through the village. To have a more lasting effect, the broadening and deepening must be done from the origin to the confluence with a larger stream or river. The numbers represent watershed codes of Maharashtra. The numbers along with names of rivers should be ignored as irrelevant in this analysis.
Image: Clipped part of Godavari Middle Sub-basin
Image courtesy: Watershed Sub-basin Atlas, Water Resources Information System, National Remote Sensing Centre, India
"Although short-term measures are needed, that is only malampatti (band-aid solutions)," said Suresh Khanapurkar, the brain behind what is called the Shirpur Model for water conservation in the northern district of Dhule.
"There is no doubt that the depth and breadth of streams needs to be increased," he said, "but the broadening and deepening must be carried out from the origin to end (where it meets a river)."
As we reported in part one of this series, Maharashtra has some of India's most generous irrigation facilities. But the water distribution is lopsided--in large part because of powerful, politically-mobilised farmers--resulting in one of the lowest percentages of irrigated area-to-cropped areas, according to a 2005 Maharashtra State Development Report by the erstwhile Planning Commission.
For instance, sugarcane occupies a million hectares, about 5% of farm land, but it consumes 700 TMC or more than half of available water annually, made possible only by large dams.
The total storage capacity in Maharashtra is around 1,340 TMC, of which 930 TMC is stored in large dams, 170 TMC each in medium and minor storage dams. Water storage in the state is thus heavily tilted toward large dams.
With the Chief Minister himself criticising large dams for their ineffectiveness in mitigating the drought's effect, Jalyukt Shivar will need to play an important role in rescuing the livelihoods of 10 million farmers with holdings of five-acre or less.
Robert Browning, a 19th century English poet, said of human aspirations: "Man's reach should exceed his grasp." Jalyukt Shivar has grasped the need, but its reach is inadequate.
(Waghmare is an analyst with IndiaSpend.)
This is the second part of a two-part series. Please read the first part here.
We welcome feedback. Please write to respond@indiaspend.org. We reserve the right to edit responses for language and grammar.
__________________________________________________________________
"Liked this story? Indiaspend.org is a non-profit, and we depend on readers like you to drive our public-interest journalism efforts. Donate Rs 500; Rs 1,000, Rs 2,000."