How Indonesian Fires Are Affecting Global Climate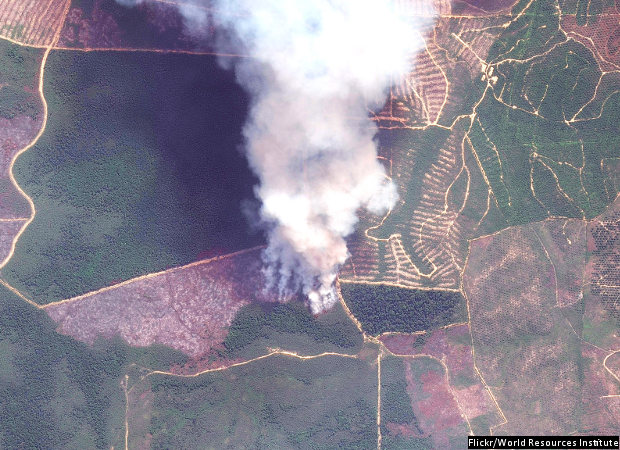 Illegal agricultural fire in Tesso Nilo National Park, Sumatra, Indonesia. The haze from Indonesia's forest and land fires remains an acute environmental and public heath crisis.
Raging fires in Indonesia's forests and peat lands since July this year are precipitating a climate and public-health catastrophe with repercussions across local, regional and global levels, experts told IndiaSpend.
Acrid smoke and haze have enveloped Indonesia, Singapore and Malaysia, and have reached Thailand, choking people, reducing visibility and spiking respiratory illnesses, according to Susan Minnemeyer, Mapping and Data Manager for Washington-based World Resources Institute's (WRI) Global Forest Watch Fires initiative.
While nobody knows the extent of loss of species and biodiversity, as much as 2 million hectares of land (about the size of Mizoram) have burned, according to David Gaveau, a scientist at the Center for International Forestry Research in Indonesia.
Daily carbon emissions from the fires now exceed the daily carbon-dioxide (CO2) output from the US economy and emissions were in excess of Germany's annual CO2 yield earlier in the year and is now more than those of Japan, according to new calculations (see latter half of this story).
"The ecological cost is incommensurable," Gaveau said in an e-mail interview with IndiaSpend. "These fires are the symptom of a land-transformation process: once lush biodiversity-rich forests transforming into unproductive degraded land with poor biodiversity over time. Of course, 90% of fires are started by people."
It is the soil -- the peat soil--that's burning. This smoke is deadly; the first time I experienced the haze was in Palangkaraya last October. Particulate matter readings were breaking world records, and we were in this city, turning yellow and dark at mid-day. Once, we saw the thick dark smoke plume coming towards us like a storm in the desert."
The fires are expected to triple Indonesia's annual greenhouse gas (GHG) emissions, and increase global GHG emissions for 2015 by 3%, according to the data analysed by WRI researchers.
Started by people, fueled by El Nino
Fires occur every year in Indonesia but 2015 has been a particularly bad year due to the unusually strong El Nino, according to Minnemeyer. El Nino is a periodic warming of the Pacific Ocean along the equator that occur every 2-10 years and causes unusual weather phenomena.
More than 130,000 fires have occurred this year. The Indonesian provinces of Southern Sumatra and Southern Kalimantan are the worst affected.
"Fires (sic) in Indonesia are not a natural occurrence; the fires are started by people," said Minnemeyer.
Indonesia was once covered by vast stretches of tropical rainforest and is home to many rare animal species such as the Sumatran tiger and orangutans.
Former Indonesian dictator Suharto embarked on a drive to grow rice by clearing forests and draining peat swamps. Beginning in the 1990s, Indonesia's deforestation rate began to rise sharply, and much of the forest has been replaced by agriculture and large industrial plantations for oil palm and wood fibre.
Indonesia's deforestation rate has now exceeded Brazil's, and it is the largest contributor to deforestation in the tropics, Minnemeyer said.
Indonesia now leads the world in palm oil production. Expansion of oil palm and wood fibre (used in paper production) plantations are the main drivers of recent forest loss.
This year, the fires started in July, but grew to crisis levels around the beginning of September. Fires peaked in mid-October but are currently at less than 10% of peak levels as rains have begun in many parts of Indonesia.
It is, however, expected that additional fire outbreaks may occur in early 2016 because of the strong El Nino lengthening the dry season.
The current El Nino is one of the three strongest since 1950 and caused the very bad fire season over Indonesia, said Andrew Robertson, a climate scientist at the International Research Institute for Climate and Society (IRI), at Lamont-Doherty Earth Observatory, Columbia University.
"El Nino events cause the onset of the monsoonal rainy season (typically September-November) over southern Sumatra, southern and central Borneo, Java, and southern Indonesia in general to be delayed, and the dry season in those regions to be even dryer," said Robertson. "This makes the fire season longer and more severe."
Guido van der Werf, a researcher at VU University in Netherlands and who provides the latest updates on fire emissions on the Global Fire Emissions Database, said without El Nino, these fires would be much smaller.
"Without humans cutting forests or starting fires in peat lands, there would not be any fires here anyway," van der Werf said. "So, it is the combination of the two that made this possible."
"In the early 2000s, there were pretty bad fire years (also associated with deforestation) in South America but the fires in Indonesia are unique in the sense that it is mostly peat burning, which leads to very poor air quality," he said.
IndiaSpend had earlier reported how Punjab's fires imperil Delhi's air quality.
Last month's carbon emissions from fires exceed Germany's annual CO2 release
The fires contribute to global warming as they burn the carbon-laden peat lands and release carbon dioxide into atmosphere.
The emissions from fires last month crossed Germany's annual carbon dioxide emissions from burning fossil fuels, according to van der Werf's calculations (with a caveat that there are uncertainties).
Since September, the fires have, each day, generated emissions exceeding the average daily emissions from all U.S. economic activity, according to an estimate by researchers at WRI.
The emissions are now higher than Japan's, according to van der Werf's latest updates.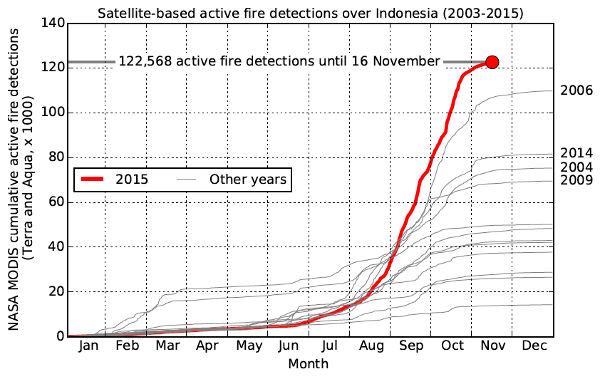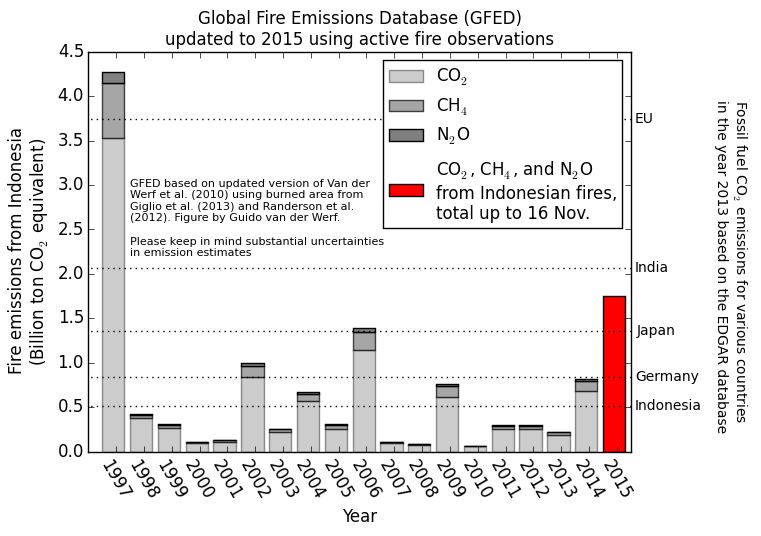 Source: Guido van der Werf
Researchers at WRI stress that the impacts of the fires on climate are also devastating. In addition to carbon dioxide, the fires also emit methane, which, according to this report, maybe 10 times more than from fires on other types of land.
"The impact of peat fires on global warming may be more than 200 times greater than fires on other lands," said this report.
Peat lands also store vast amount of carbon in organic matter in the soil, built up over thousands of years. Draining and burning peat lands are one of the most damaging land-use change activities in terms of the effect on climate.
Rain brings relief, but when dry season returns, so will fires
Although the El Nino effect is expected to remain strong over the next few months, Indonesia's normally wetter climate in December and January (compared with October and November) will bring relief to the extreme dryness (and therefore, the fires), according to Tony Barnston, Chief Forecaster at IRI.
"So in the next several weeks, you should notice a pickup in rainfall and some easing of problems associated with the fires."
The amount of fires is levelling off sharply now that rains have begun, although if the dry season in January-March is strong again, as predicted with the El Nino, additional fire outbreaks are expected, Barnston added.
The Indonesian government, assisted by Australia and other countries, is battling the fires, an endeavour that will cost billions.
Gaveau said if not for the rain, the fires could have spread deeper into national parks where orangutans reside. "Our preliminary analysis suggests that about 10-20% of burning was in remaining forests," he said.
Experts agreed that the smoke won't affect India because of the distance from the epicentre of fires (the air distance from Sumatra to Delhi is more than 2,500 miles). However--with all the caveats in place and still more analysis needed—the haze has the potential to affect regional atmospheric circulations, such as monsoon patterns.
(Varma is a freelance journalist based in Andhra Pradesh. He writes on science, with a special interest in climate science, environment and ecology.)
(The copy has been updated to show that the air distance from Sumatra to Delhi is more than 2,500 miles instead of the earlier mention that the smoke won't affect India because it is about 13,230 KM away from the epicentre of fires.)
---
"Liked this story? IndiaSpend.org is a non-profit, and we depend on readers like you to drive our public-interest journalism efforts. Donate Rs 500; Rs 1,000, Rs 2,000."