How India's Sunny, Solar Forecast Could Become Reality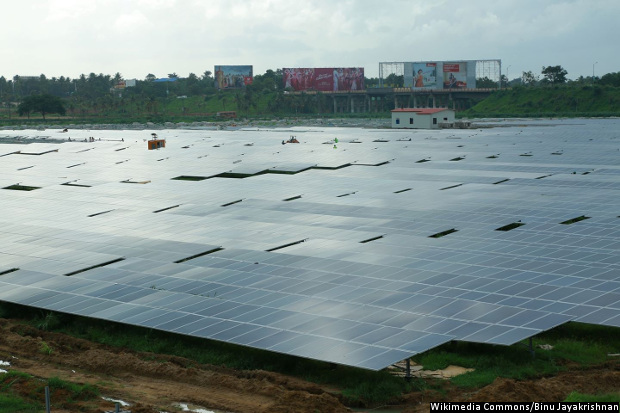 On May 12, 2017, India recorded its lowest-ever solar tariff of Rs 2.44/unit of electricity. That is a 73% fall since 2010, and compares favourably with India's cheapest power source--coal, electricity from which now ranges between Rs 3/unit and Rs 5/unit.
The new low solar cost was announced at a reverse auction--in which the role of buyer and seller is reversed and the seller with the lowest bid obtains the business--by the state-owned Solar Energy Corporation of India Limited (SECI) at the Bhadla solar park in north-west Rajasthan. This was mainly possible due to a drop in the cost of solar modules (largely due to technology advances), the prices for which fell 29% in India in the first quarter of 2017 over the previous year.
Renewable energy could generate 49% of electricity in India by 2040 because more efficient batteries--to store electricity when the sun does not shine--will provide flexibility of use and boost the reach of renewables, cutting the cost of solar energy by a further 66% over current costs, according to the Bloomberg New Energy Outlook 2017 report.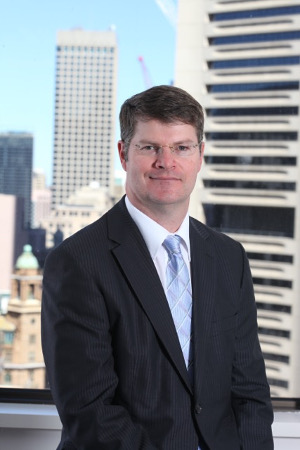 Tim Buckley, Director of Energy Finance Studies at the Institute for Energy Economics and Financial Analysis, a think tank based in the US.
In an email interview with IndiaSpend, Tim Buckley, Director of Energy Finance Studies at the Institute for Energy Economics and Financial Analysis, (IEEFA), a think tank based in the US, acknowledges the sunny investment climate for solar technology in India but warns that a failure to honour legal and policy commitments could destabilise investor confidence in the whole solar programme.
Buckley, 50, has been a financial analyst through his career, 17 years of which were spent as a managing director at Citigroup, a bank. A long-distance runner in his private life, Buckley became involved with the energy sector a decade ago after a discussion with his then Chairman, Chris Cuffe (an Australian financial markets leader). Buckley asked Cuffe why he was interested in the technology development of renewable energy and his reply stuck: Along with food and water security, energy security drives strategic thinking in all nations.
Buckley believes that the rise of technology innovation in energy markets is driving "profound change" globally, and he is "fascinated" by India's commitment to pursue an energy transformation that aims at increasing non-fossil fuel capacity in its generation mix from about 33% currently to 40% by 2030.
Q: What is causing the cost of solar-cell technology to drop so drastically and how much of a contributor is this to the drop in price of solar power?
The cost of solar modules is free falling due to rapid and sustained technology improvements adding to the massive economies of scale being achieved. Production volumes globally are growing 10-30% annually for the last decade. By selling at close to zero profit margins, China continues to subsidise the production and exporting of solar modules to gain global market share, and India is a key beneficiary of this.
Solar's sustained volume growth is driving the construction of whole new plants every month, and this is accelerating the deployment of the latest technology at very fast rates, and makes old solar module manufacturing plants of just four to five years of age to be outdated. The only choice the plant owner has is to upgrade the technology employed or heavily discount the price of old module production. So module prices have halved in the last two years, and IEEFA expects this decline to continue over the coming decade.
This is a key contributor, but not the only one. India has a very strong, clear and transparent renewable energy policy framework, and this provides investors the certainty to invest.
Indian solar has also benefited from the falling cost of debt (from 12-14% per annum two years ago to 8.5-9.5% today), following exchange rate stability, falling inflation rates and the government's provision of strong counterparty risk management on renewable tariffs (through NTPC, India's largest power utility, and the central government's SECI).
The cost of debt is a major input into the cost of solar generation, given the operating costs are near zero once built. The rapid upscaling of investment has also encouraged learning by doing, driving the costs of implementing solar down along the entire value chain from finance, regulatory approval, engineering, procurement and construction (EPC), and land acquisition to grid connection.
Global capital flows into India are playing a key role as well, endorsing, supporting and encouraging the positive policy moves of the Indian government. Energy Minister Piyush Goyal is also taking the learnings of each solar tender and replicating the factors that are driving down tendering prices. For example, land acquisition, grid connections and payment certainty are all major risk factors affecting power sector investment in India, so the latest solar tenders provide clarity on all of these pre-bidding. Tenders also have 12-18 month time limits and performance requirements to ensure the state governments get clarity and on-time project delivery in return.
Q: How sustainable is this trend of dropping prices? Do you expect prices to fall further or have they reached the lowest point, staying steady now?
IEEFA would expect some stabilisation of solar tariffs around these record lows of Rs 2.44-2.62/kWh (kiloWatt hour, a unit of energy) seen in May 2017. These new low prices are truly phenomenal, prices don't need to go lower, at these levels solar is the low cost solution for India's growing electricity needs. A major long term win for Indian electricity consumers, is also that these solar tariffs are fixed in nominal terms for the 25-year contract duration. This means contracted solar prices will fall some 5% annually in real terms over the long term. Electricity's long history of inflationary pressures is now looking to a future of sustained deflation, a powerful added incentive for India.
But at US$38-40/MWh (Megawatt hour, which is 1000 kWh), Indian solar is still 20-30% above the record low global prices seen in 2016 of US$24-30/MWh in the UAE, Mexico and South America. Chilean solar prices have also come in lower than in India. So, as Indian borrowing costs continue to fall, and technology advances, medium term, IEEFA would expect India will see even lower solar prices.
Q: Will falling prices make developers wary of further investment in the sector, and if so, to keep the momentum going, what kind of policy interventions might be required?
The bids of May 2017 were extremely competitive with a multitude of global and Indian majors tendering into the very transparent bidding process; they all went in with their eyes open.
But investors will be alarmed that solar tenders signed off and won back in 2016 are now being stalled by lack of approval progress from the state governments, who are questioning if they should honour solar contracts entered into 12-24 months ago at tariffs that were commercial back then i.e. Rs 4-7/kWh, but now in hindsight look expensive. Failure to honour legal and policy commitments could destabilize investor confidence in the whole solar programme.
Given targets of 100GW of solar by 2022, catalyzing US$100 billion of investment requires global investor confidence. Moves by state governments to undermine the rules of engagement could damage this. Short term penny pinching undermines massive transformational long term gains for the people of India and the economy overall.
Q: The levelised cost of electricity from solar photovoltaics (now almost a quarter of what it was in 2009), will become cheaper than coal in China, India, Mexico, the U.K. and Brazil by 2021. It is already at least as cheap as coal in Germany, Australia, the U.S., Spain and Italy. (Levelized cost of electricity is all expenses of generation from a power generating plant, including site development, permitting, equipment and civil works, finance, operations and maintenance) But if we count the price of solar power and storage together, it is far higher than thermal (coal) power, so can we really say that cost of solar generation has fallen below or is at par with coal powered electricity?
Solar today represents only 3% of installed capacity and just 1% of total Indian electricity generation, so there is no storage cost involved, solar helps solve the peak power shortages evident in the middle of the day when industry is operating.
When we fast forward to solar being 10-20% of generation across the whole of India – say in five to eight years time, then grid integration and supply/demand balancing will really become a material barrier to ever more solar additions. That is why it is important that India also continue to develop other generation capacities, eg. biomass, wind and hydro, particularly pumped hydro storage capacity, and invest aggressively in both expanding overall national grid capacity and modernising the grid infrastructure. International grid connectivity (Bhutan, Bangladesh, Nepal, Sri Lanka) can also play a larger role in the next decade, as it already does across Europe.
The grid system also needs to become smart – so storage costs will rise, but if there is a smart grid system, pricing signals will improve – the development of time of use pricing structures will then incentivise all electricity producers to generate and/or supply electricity at times of peak demand. These technologies already exist, and are getting cheaper by the month. So India's grid will need to expand and transform, along with generation. PowerGrid Corp of India (the state-owned electric utilities company) is leading well, but sustained state-owned electricity distribution company reforms are a critical prerequisite to India's successful electricity transformation.
Looking at solar and storage costs combined means looking at the cost and more importantly the value of peak electricity demand – best served by a time of use tariff to address the evolution and modernisation of the Indian grid. Entirely manageable with the right regulatory signal and leadership.
Q: How will the solar renewable sector be affected when subsidies are removed or reduced gradually, say, in five years time?
The solar sector in India is not based on massive subsidies. That is one of the great positives that Energy Minister Piyush Goyal has achieved. Any subsidies are generally available to all power generator technologies, for example, tax holidays and accelerated depreciation. So any gradual move to level the playing field and remove all subsidies for power generation will actually help drive solar investment, given coal fired power generation has the most subsidies of all – that being the right to externalize many of their operating costs in terms of air, particulates, carbon and water pollution, and insufficient coal ash waste disposal compliance.
(Patil is an analyst with IndiaSpend.)
We welcome feedback. Please write to respond@indiaspend.org. We reserve the right to edit responses for language and grammar.
__________________________________________________________________
"Liked this story? Indiaspend.org is a non-profit, and we depend on readers like you to drive our public-interest journalism efforts. Donate Rs 500; Rs 1,000, Rs 2,000."