How India's Rail Ministry Has Nothing To Do With Rs 100K Crore Worth Of Rail Projects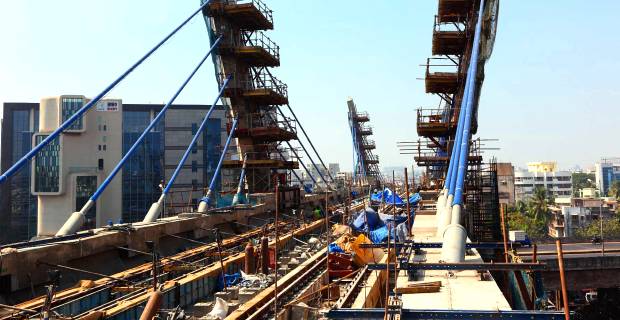 The Railway Budget on 12 February, 2014 was largely seen as a non-event – not only because it was an interim budget but also because the action on rails seems to be happening outside the Railway Ministry.
Metro rail projects, which come under the Ministry of Urban Development, with track length of nearly 400 km and worth over Rs 100,000 crore are currently under execution across nine metropolitan cities. At least two of these projects are set to be operational in the next few months while others are expected to be over by 2016 – if things go according to plan.
Bangalore, Chennai, Hyderabad and Jaipur – among India's largest and most congested cities –will finally see a modern urban mass transit system while Delhi and Mumbai will see additions to their existing transport networks. In an earlier article, IndiaSpend had identified mass transit projects as the key to reducing traffic congestion in large cities. Mumbai, with its extensive local trains system, has far fewer vehicles on the road than Delhi – which is of comparable size or even smaller cities like Bangalore, Chennai, Hyderabad or Jaipur.
Bangalore's metro project has been operational for some time now – though on a very limited scale. Jaipur Metro is over 85% complete and trial runs for part of the route had started in September 2013. Mumbai Metro Rail's first phase is currently the one closest to completion with over 98% of the work done and with test runs being carried out over the entire 11 km stretch.
Other projects in Chennai, Hyderabad and Kochi still have a long way to go, and are likely to be operational only by 2016. The Union Government has also received proposals for metro rail projects in Pune, Ahmedabad, Ludhiana and Lucknow. Delhi NCR seems to be getting the lion's share of spending here with a large existing network and a 40% share in the on-going spends.
Table 1: India's most congested cities (with million plus 2-wheelers)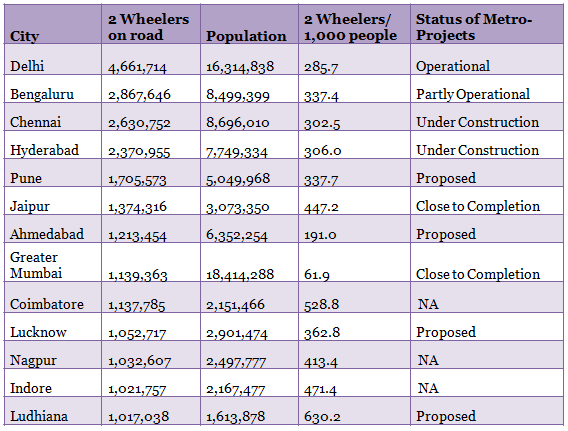 Source: Ministry of Road Transport & Highways, Census 2011, Ministry of Urban Development
The metro projects will be particularly welcome for Bangalore, Chennai and Hyderabad, which have the maximum number of private vehicles on roads after Delhi. All the three cities have more than 300 two-wheelers for every 1,000 residents.
Jaipur is a bit smaller than these three but what it lacks in size, it makes up for in congestion with a jaw dropping 447 two-wheelers for every 1,000 residents. One caveat here though - while an operational mass transit will help bring down traffic, impact on vehicle numbers will be visible after a much longer period as existing vehicles start getting off the roads (due to age) and new vehicles don't replace them.
In case of Delhi, for instance, the metro rail project has been operational for some years now and the city's vehicle density is only a tad less than other major metros.