How India Will Protect Nuclear Liabilities Of US Firms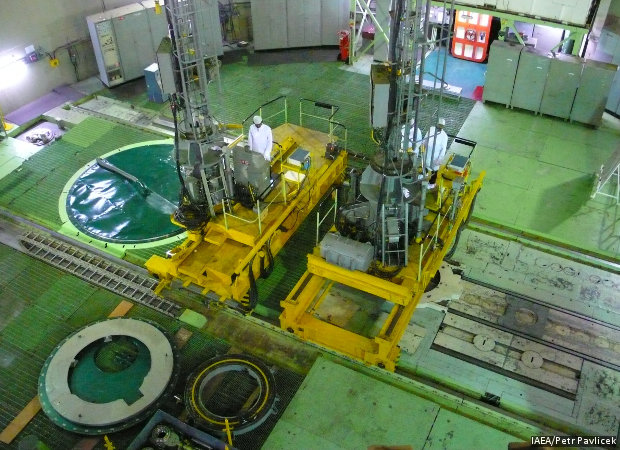 A $48-billion (Rs 3.26 lakh crore) penalty claimed by the US government from Volkswagen for cheating on diesel-car emissions is about 200 times as large as the $225 million (Rs 1,500 crore) insurance pool set up by Indian insurance companies to compensate US nuclear companies for mishaps in India.
If a US nuclear company were to build a reactor in India that suffered a catastrophe, and people were to die in India, the US Government's position seems to be that American suppliers shouldn't face civil or criminal liability. The US believes the Indian civil nuclear liability law, which calls for both penalties, is unduly harsh. Rather than say so directly, US officials keep repeating that the "Indian law is inconsistent with the international liability regime."
The Indian civil nuclear liability law holds the equipment supplier responsible for any incident caused by the supplier or its employees. The Indian liability law differs from those of other countries because it was drafted keeping in mind the 1984 Bhopal tragedy--where despite 5,000 deaths and effects across generations, no one was held criminally liable.
The penalty demanded in the Volkswagen case is about 100 times the compensation of $470 million--($907 million in 2014 dollars)--paid by US firm Union Carbide after the Bhopal Gas tragedy, which also left 70,000 people maimed or injured. Volkswagen's cover-up caused no injuries or deaths.
Although the Indian government wants to protect US nuclear companies against the Indian liability law, critics argued that these companies are using India's eagerness to avoid any liability, if something goes wrong.
India wants to build more nuclear power plants in an attempt to reduce the share of coal in electricity generation. Increasing the use of nuclear power is also a part of the country's strategy to tackle climate change.
India currently has 5,780 mega watts (MW) of nuclear power in operation and plans to add another 17,400 MW of capacity, making it possibly the largest market for nuclear power after China, and a financially lucrative prospect for Western firms faced with limited domestic sales.
However, the 2011 Fukushima nuclear disaster, caused by an earthquake, followed by a tsunami, has heightened concerns of nuclear safety and accident costs. The fallout of that disaster will also make it hard to change India's liability laws.
The US' large settlements extend to corporate wrong-doing beyond its borders
Large settlements paid out in the US are a regular feature. In October 2015, the US Justice Department arrived at a settlement with oil major BP, which will pay a penalty of $20.8 billion to cover the economic and environmental damage arising from a 2010 oil spill in the Gulf of Mexico.
Volkswagen--the company allegedly installed devices that sidestep emission norms in 600,000 cars--could, in theory, face fines of as much as $37,500 per vehicle for each of two violations of the law; up to $3,750 per "defeat device"; and another $37,500 for each day of violation, a Reuters report said.
In April 2010, a deepwater oil-drilling rig operated by BP, the Deepwater Horizon, suffered an explosion which killed 11 men, and the well it was drilling leaked over five million barrels of oil in the Gulf of Mexico (Refer Table 1).
This was the largest-ever settlement in the history of the Department; the Volkswagen penalty could be larger.
A number of companies have paid tens of billions of dollars in fines over the past decade for breaking US law.
Top US banks, such as Bank of America, JP Morgan, Citigroup and Morgan Stanley, have paid multi-billion dollar fines for their roles in the 2008 global financial crisis, caused by reckless business practices of large Western banks.
The remit of the US Justice Department extends beyond its borders and to foreign firms as well. In May 2015, five global banks--Citicorp, JP Morgan, Barclays, UBS and the Royal Bank of Scotland--agreed to pay fines adding up to $2.5 billion, for manipulating a widely-used financial benchmark set in London. This brings the total penalty paid by these banks for their role in this manipulation to $9 billion.
UK-based HSBC was fined for "illegally conducting transactions on behalf of customers in Cuba, Iran, Libya, Sudan and Burma"--countries under US economic sanctions.
During the financial year 2015, the US justice department collected $23 billion in penalties in various civil and criminal cases, slightly lower than the collection for 2013 (Refer Table 2), when it had a record haul.
Indian firms also fined in the US
While the US nuclear industry wants to avoid any liability in India for acts of omission or commission, Indian companies have often been slapped with large fines for violations of US law.
Drug manufacturer Ranbaxy paid penalties of $500 million (Rs 3,400 crore) in 2013 for falsifying data about its drugs and for not following proper manufacturing practices--more than twice the value of the nuclear liability insurance pool to be created in India.
In 2013, tech firm Infosys paid a $35 million penalty in a civil settlement on allegations of visa misuse; the firm maintained that the "claims are untrue and remain unproven".
India has started levying penalties too
India, too, has started levying big fines. For instance, in 2013, a group of Indian cement companies was fined Rs 6,698 crore by the Competition Commission of India for working as a cartel and over-charging consumers. This amount, levied for unfair business practices rather than causing deaths and injuries, is 4.4 times the proposed liability cap for nuclear incidents.
Similarly, Delhi-based real estate firm DLF has been recently ordered to pay a penalty of Rs 630 crore for unfair business practices.
(Bhandari is a media, research and finance professional. He holds a B-Tech from IIT-BHU and an MBA from IIM-Ahmedabad.)
We welcome feedback. Please write to respond@indiaspend.org. We reserve the right to edit responses for language and grammar.
__________________________________________________________________
Liked this story? Indiaspend.org is a non-profit, and we depend on readers like you to drive our public-interest journalism efforts. Donate Rs 500; Rs 1,000, Rs 2,000.