How India Lags China In Submarine Race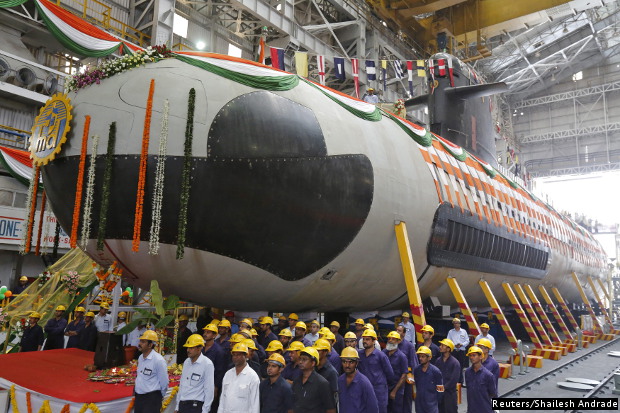 INS Kalvari, the Indian Navy's first Scorpene-class submarine, before it was undocked in Mumbai on April 6, 2015.
A recent visit by an advanced Chinese Yuan-class submarine to Karachi, Pakistan, after traversing the Arabian Sea, worried Indian authorities concerned about China's growing undersea-warfare capabilities—more than four times as large as India's.
The submarine, with 65 crew, spent a week in Pakistan, refuelling and restocking, before sailing back to China. Yuan-class submarines are diesel-electric, but unlike Indian conventional submarines, which must surface to "breathe" and charge batteries, they are capable of staying submerged for weeks.
India now plans to lease a second nuclear attack submarine from Russia and the government has just approved a Rs 90,000-crore ($14 billion) plan to build six nuclear attack submarines in Vishakapatnam. But as Admiral P Murugesan, vice chief of naval staff, told The Economic Times last week: "We have started work, but we are still at the pen-to-paper stage."
India is rushing to counter China by building conventional and nuclear submarines with German, French and Russian help. But China's lead is large, growing and it plans to export its undersea expertise.
Particularly disconcerting for India are reports that China plans to sell eight Yuan-class submarines to Pakistan, at a time when Indian submarine forces are, according to this report, in "a state of crisis" and the country jittery about Chinese submarine power.
A conventional Chinese submarine berthed at Colombo's port twice during 2014, sparking concern in India, leading to a Sri Lankan assurance it would not do anything against Indian interests.
Chinese Navy clearly ahead of India
India has 14 submarines—including one nuclear attack submarine, INS Chakra, leased from Russia in 2012 for 10 years—against China's 68 and Pakistan's five.
Most of India's conventional submarines are more than 20 years old and are reaching the end of their service life, according to this report by the Parliamentary Standing Committee on Defence (2014-15), which said it was "dismayed" at the "snail-pace" of commissioning naval vessels.
The Indian Navy has commissioned two submarines and decommissioned five submarines over the last 15 years, Defence Minister Manohar Parikkar said in a reply to the Rajya Sabha.
China launched or commissioned more than 60 naval ships and crafts in 2014. A similar number is expected through the end of 2015.
The Indian Navy has 141 vessels, including 127 surface ships and 14 submarines. The Chinese Navy has more than 300 surface combatants, submarines, amphibious ships and missile-armed patrol craft.
Sources: (1) for India, (2) for China, (3) for Pakistan
Under the sea too, Chinese superiority
The Chinese submarine force currently includes 59 conventional or diesel-electric attack submarines and nine nuclear submarines. Of the nine nuclear submarines, five are nuclear attack submarines and four are ballistic-missile submarines.
Nuclear-powered submarines are of two types: attack submarines (SSN) and fleet ballistic missile submarines (SSBN).
Attack submarines are smaller and faster compared to their ballistic-missile counterparts. SSNs are designed to attack enemy ships and submarines using torpedoes and shore facilities with cruise missiles with conventional high-explosive warheads. SSBNs carry ballistic missiles with nuclear warheads.
India's Active Submarine Fleet

Name

Date of Commission

Type/Class

Chakra

04-Apr-2012

Nuclear Powered/Chakra (Akula) Class

Sindhugosh

30-Apr-1986

Diesel-electric/ Sindhughosh (Kilo) Class

Sindhudhvaj

12-Jun-1987

Diesel-electric/ Sindhughosh (Kilo) Class

Sindhuraj

20-Oct-1987

Diesel-electric/ Sindhughosh (Kilo) Class

Sindhuvir

26-Aug-1988

Diesel-electric/ Sindhughosh (Kilo) Class

Sindhuratna

22-Dec-1988

Diesel-electric/ Sindhughosh (Kilo) Class

Sindhukesari

16-Feb-1989

Diesel-electric/ Sindhughosh (Kilo) Class

Sindhukirti

04-Jan-1990

Diesel-electric/ Sindhughosh (Kilo) Class

Sindhuvijay

08-Mar-1991

Diesel-electric/ Sindhughosh (Kilo) Class

Sindhushashtra

19-Jul-2000

Diesel-electric/ Sindhughosh (Kilo) Class

Shishumar

22-Sep-1986

Diesel-electric/ Shishumar Class (Type-1500)

Shankush

20-Nov-1986

Diesel-electric/ Shishumar Class (Type-1500)

Shalki

07-Feb-1992

Diesel-electric/ Shishumar Class (Type-1500)

Shankul

28-May-1994

Diesel-electric/ Shishumar Class (Type-1500)
Source: Indian Navy
India's first nuclear submarine was leased in 1988 from the Russian Navy and returned in 1991. The present nuclear submarine, INS Chakra, is considered one of the deadliest non-American attack boats in the world.
India has 9 Sindhughosh-class or Kilo-class diesel-electric submarines. They were built under a contract between Russia's Rosvooruzhenie and the Indian Ministry of Defence. The other four are German-made Shishumar-class diesel-electric submarines (Type 1500).
India strives to expand submarine fleet
India plans to add 15 submarines: six conventional French-designed submarines, build six nuclear attack submarines (as we said earlier) and three nuclear ballistic-missile submarines.
The plan to build six French-designed Scorpene-class submarines is called Project 75. The first diesel-electric submarine of this class—INS Kalvari—was launched on April 6 2015 and is expected to be inducted into the Navy by 2016. The other five will be delivered to the Navy by 2020.
The Scorpene is a state-of-the-art conventional submarine, which incorporates advanced stealth characteristics that make detection difficult. The submarine features anti-ship missiles and advanced torpedoes.
Under Project 75 (I), two submarines are to be built at the collaborator's yard abroad (DCNS, France) and four within the country (three at Mazgaon Dock, Mumbai and one at Hindustan Shipyard, Vishakapatnam).
India's first indigenously built nuclear-propelled strategic submarine, INS Arihant (Destroyer of the enemy), was launched in 2009 and is currently under trial. The SSBN gives India a nuclear triad of missiles that can be launched by air, from land and under the sea.
Another indigenous SSBN, INS Aridhaman, is also under construction, and work on a third will start soon, according to this report.
China already has three Jin-class SSBNs in service, according to this report, and may have eight in service by 2020.
A cheaper, quicker option: grow anti-submarine capabilities
To counter China's growing submarine clout, the defence ministry on July 14, 2015, cleared a proposal to purchase four US-built P-8I long-range, anti-submarine warfare (ASW) maritime patrol aircraft.
India already has five such aircraft, according to this report.
In May 2015, INS Kavaratti, a fourth indigenously-built ASW corvette, was launched. It has state-of-art weapons and sensors, including a medium-range gun, torpedo tube, rocket launchers and a helicopter.
India is in the process of finalising a contract with the US' Sikorsky Aircraft Corporation for 16 S-70B ASW choppers. The deal has been pending for the last 15 years.
Most Indian ships lack ASW helicopters at a time of China's growing under-sea dominance.
Update: The story has been updated with details of a scorpene submarine manufacturing project.
(Mallapur is a policy analyst with IndiaSpend.)
---
"Liked this story? IndiaSpend.com is a non-profit, and we depend on readers like you to drive our public-interest journalism efforts. Donate Rs 500; Rs 1,000, Rs 2,000."