How Fixing Air India Can Help India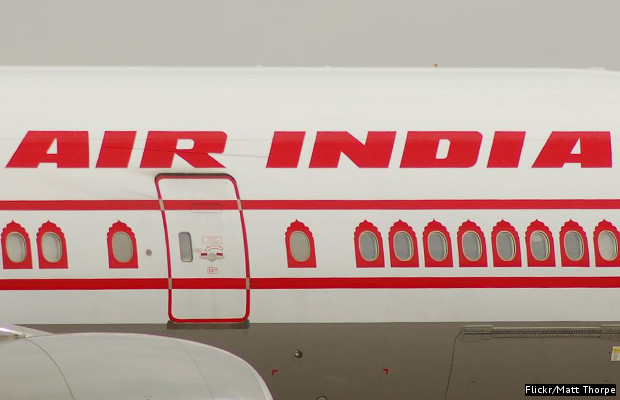 New Delhi: India's national carrier Air India, the brand that today encompasses both the erstwhile Indian Airlines and Air India, has posted a loss (Rs 5,547 crore) for the eighth successive year since its merger in March 2007.
The accumulated loss is now more than Rs 44,000 crore ($7.3 billion)--equal to India's annual health budget--and borrowing has grown to more than Rs 38,000 crore ($6.3 billion), according to data compiled by IndiaSpend from the Department of Public Enterprises.
As the first part of this series explained, Air India accounts for 25% of the Rs 20,000-crore loss showed by 71 PSUs in 2013-14 (BSNL accounts for 35% of that loss, as the second part of this series detailed). If Air India's losses can be stemmed, the Indian government will have more money to spend on everything from clinics to highways.
Analysts often cite reasons related to the post-merger era, including poor management, competition after aviation-sector liberalisation in 2004--after which its market share shrank from 50% to 17%--and a workforce that has grown 66% in 10 years.
But the downslide began before 2007. Between 1996 and 2006, Air India lost money in five of 10 years, and Indian Airlines in four. The accumulated loss of the companies when they merged was Rs 1,111 crore.
A merger was supposed to save about Rs 996 crore over a period of two years.
However, the merger coincided with a global recession and rising fuel prices. The next year Air India lost Rs 2,200 crore. In the second year after merger, losses swelled to Rs 5,548 crore. There has been no recovery since, and the company's debt now stands at Rs 38,000 crore ($6.3 billion).
Air India's basic problem appears to be that it added 111 planes since 2007 at a cost of Rs 44,000 crore and grew its operation in an era of intense competition.
The result is that only nine of the airline's 370 routes make profits, according to a written reply to Parliament from Minister of State for Civil Aviation Mahesh Sharma in November 2014.
Despite repeated reminders over 10 days, Air India did not respond to IndiaSpend's questions, emailed to Chairman and Managing Director, board member Gargi Kaul and civil aviation ministry joint secretary Balwinder Singh Bhullar.
Both the United Progressive Alliance (UPA) and the successor NDA government, which provided Rs 2,500 crore in its 2015-16 budget, have continued to fund the national carrier piecemeal, with most of the money going to keep it afloat.
"The government must lay down a road map for liquidating the liability to get it rid of heavy interest payments," said Mumbai-based aviation expert Vipul Saxena.
Here are three reasons for the fall of the national carrier.
1) 'A recipe for disaster': More planes and more destinations
In 2005-06, Air India and Indian Airlines decided to buy 111 planes at an estimated cost of about Rs 44,000 crore, mainly by borrowing money, except for an equity infusion of Rs 325 crore.
"A recipe for disaster," said a Comptroller and Auditor General (CAG) report. This great plane purchase led to acute cash-flow problems.
When the airlines decided to buy the planes, the debt-equity ratio of Air India was very high and negative in case of Indian Airlines, said the CAG report. Within three years the effects were obvious.
Financing costs began to increase as interest rates and depreciation charges--which rose five times over three years--went up, as other costs remained constant during 2005-10.
From an annual average of Rs 985 crore in 2006-07, the charges towards interest and depreciation increased to Rs 5,016 crore by 2009-10.
"Air India did not need the 111 airplanes," said George Abraham, general secretary of the Aviation Industry Employees Guild.
Air India did need new planes, but not 111 and paying for them with loans was a bad idea, said Saxena. "Lack of trained staff to maintain and deploy the aircraft led to a crisis," he said.
2) Routes picked for 'social obligations', other pressures
Air India is not obliged to fly loss-making routes, according to government regulations.
However, since it is government owned, it does receive many "suggestions" from ministers, members of parliament, industries and others who can--and do--influence Air India's route decisions, as Air India officials have acknowledged before the parliamentary standing committee on public undertakings (COPU). Its 2010 report explains how the national carrier operates loss-making routes under "social-sector routes".
For instance, Air India deploys almost double the capacity on routes in the North-East, Jammu and Kashmir, Port Blair and the Lakshadweep region than the Directorate General of Civil Aviation (DGCA) requires: 18% of the airline's flights run on what are called "social-sector routes" against DGCA guidelines of 10%.
Sometimes, the aviation ministry forces Air India to provide services to certain locations. Flights from Delhi to Agatti (in the Lakshadweep islands) and Cochin to Agatti link started after a ministry order, said the COPU report.
By 2010, 29 international routes were losing money as well, including those to North America, UK, South East Asia and Middle-east routes, were losing money, according to the CAG report.
"It is unclear why the management continued to operate these routes and increase the number of flights despite huge losses," said Saxena. A fair review and assessment of operational routes could have reduced losses to a great extent, he added.
To worsen matters, Air India surrendered some of the profitable routes for unknown reasons. "Purchasing aircraft on the one hand and then surrendering or bartering away routes which have been doing well, do not correlate or collaborate to each other," said the COPU report.
3) Liberalisation: How Air India got the wrong end of the stick
Nine years ago, the government launched its open-sky policy of unrestricted competition. It crippled Air India, in part because some of it did not appear fair.
The liberalisation of bilateral entitlements, notably the Gulf, Southeast Asia and Europe from 2004-05 onwards, "left much to be desired", said a 2012 CAG report.
Bilateral entitlements are agreements between countries about flights, seats, destinations and related issues. Between 2005 and 2009, Air India surrendered about 16 lakh seats to foreign airlines over and above the agreed numbers, said Abraham.
Despite Air India's reservations, entitlements to foreign and Indian carriers during 2004 to 2010 rose from 51 million to 180 million seats per annum, about 253%, said the CAG report.
The timing of the liberalisation did not provide a level playing field to Air India and Indian Airlines. Air India's great plane purchase was scheduled only after 2006, when India had no international airports to use entitlements. Foreign airlines used 65% of their entitlement, while Indian airlines used about a third of theirs.
This is the last of a three-part series . You can read the first part here and the second part here.
(Patil is a New Delhi-based freelance journalist. He has worked with The Economic Times, DNA and The New Indian Express.)
---
"Liked this story? IndiaSpend.org is a non-profit, and we depend on readers like you to drive our public-interest journalism efforts. Donate Rs 500; Rs 1,000, Rs 2,000."