How A New Heating Stove Could Reduce Chopping Of Trees, Melting Of Glaciers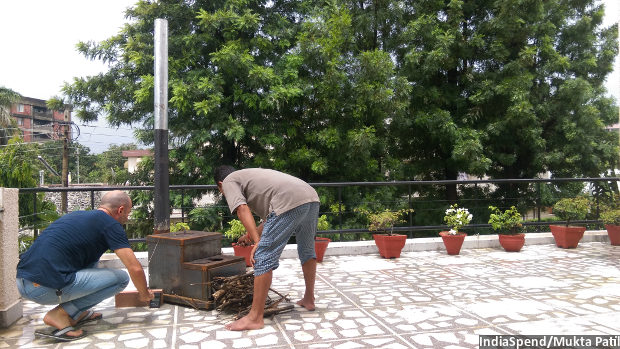 Chandigarh: Collecting and storing firewood for the cruel winter months is a year-long pursuit across the Himalayan region, where homes have traditionally used primitive stoves and fireplaces for cooking and heating.
Now, an Australian entrepreneur based in Chandigarh has remodelled existing clean-burning stove technology to create bukharis (wood-fired heaters) suited to Himalayan conditions, and will soon be rolling them out commercially in parts of Himachal Pradesh and Ladakh.
Clean-burning or 'rocket stoves' have been shown to reduce firewood use by at least 50% and increase heating efficiency by 70%. However, the technology has not previously been applied to the Himalayan context as a heating unit in any meaningful way, Russell Collins, the inventor of Himalayan Rocket Stove, told IndiaSpend.
Most significantly, this clean technology reduces the emission of black carbon--a part of soot, and the second strongest contributor to current global warming after carbon dioxide emissions--by 80-90%, Collins said.
Black carbon is implicated in accelerated glacier melt and altered rainfall patterns, which threaten South Asia's water and food security.
How the stove works
To reduce emissions from combustion, the Himalayan Rocket Stove uses a two-box, double-burner system. The first fuel box is a conventional wood-burning chamber which produces heat and releases smoke. This smoke is funneled into a secondary, insulated combustion chamber, then spiraled and combined with oxygen, capturing the remaining combustible matter and burning it fully. This way, not only does the stove produce more energy per unit of fuel, it also emits a negligible amount of smoke. Traditional bukharis have only the first box.
Collins says a basic space heater will cost Rs 15,000. In contrast, the commonly used sheet-metal bukhari costs Rs 2,000, but it lasts only a season. Firewood costs range from Rs 5,000-40,000 depending on location, which the rocket stove would cut down by half, although the majority of people who use firewood procure it from forests.
Collins expects to sell more than 2,000 units in 2017-18, many of which have already been pre-ordered. Collins is also in preliminary talks with the government of Himachal Pradesh for subsidies to defuse the high upfront cost.
Chozhang Namgial, a resident of Leh who tested the Himalayan Rocket Stove through the winter of 2016, said the rocket stove emitted visibly less smoke, while providing more consistent heating. "There is some smoke only at the beginning when the wood is catching fire. After the first two-three minutes it becomes very clear, no black or grey smoke is seen," Namgial told IndiaSpend in a telephonic interview.
Worldwide, 4 million people die prematurely due to indoor smoke and soot, as per the World Health Organization, which says "50% of premature deaths due to pneumonia among children under 5 are caused by the particulate matter (soot) inhaled from household air pollution".
By replacing traditional bukharis, the Himalayan Rocket Stove will also solve an impending problem: The shortage of firewood. This shortage has made firewood collection more time-consuming, disproportionately affecting women and children and limiting their opportunities to obtain an education and undertake income-generating activities.
Source: NITI Aayog
Efficient burners are also important given the near-constant need for indoor heating across the Himalayan states--running all the way from Jammu & Kashmir through Himachal Pradesh, Uttarakhand, Nepal, Sikkim, Bhutan and parts of West Bengal, Assam and Arunachal Pradesh, home to more than 30.8 million people.
"At the moment there is no viable alternative for heating in these cold regions other than biomass, which includes dry dung, pellets, wood," said Collins, who adapted the rocket stove technology (which is open source) for the Himalayan region.
Cleaner stoves among many urgently-needed solutions
Widespread biomass burning shares part of the blame for India's black carbon emissions increasing by 2.5% each year between 1996 and 2010, and is responsible for about half the black carbon emissions found in the Himalayas--the other half coming from diesel burning in automobiles, power generation and industry--according to a 2016 paper published in Nature Communications, an open-access online journal.
Black carbon absorbs visible sunlight and converts it into heat; in the Himalayan context, this solar heating at high elevations may be as important a reason as carbon dioxide for the melting of snowpacks and glaciers, a 2008 Nature report said.
Black carbon is also known to disrupt annual monsoons. Its fine particles prevent condensation in clouds and reduce rainfall, P C S Devara, Director at the Amity Centre for Atmospheric & Science Technology in Gurgaon, Haryana, told IndiaSpend.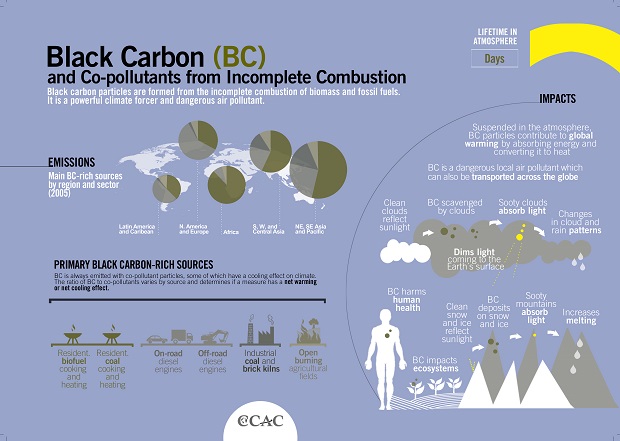 Source: Climate and Clean Air Coalition
Reducing black carbon emissions can halt its global warming effect quickly and even offset some of the effects of longer-lived greenhouse gases like carbon dioxide (CO2), according to the US Environmental Protection Agency.
For South Asia, this is an imperative.
The 60,000 sq km of ice housed in the glaciers of the Hindu Kush-Karakoram-Himalayan ranges are a source of water for a quarter of the world's population that lives in South Asia.
Accelerated glacier melt threatens water availability and, in turn, food security, for millions in the region. High-altitude towns and villages are also susceptible to flooding caused by glacial lake outburst--when glaciers melt and create lakes that are blocked behind unstable debris, eventually dislodging it and bursting out in a flood.
As countries prepare their arsenals against climate change, big and small weapons alike must be deployed.
"Preventive measures like more efficient wood burning stoves that use modern techniques to burn smoke, and allow very little soot to escape, can reasonably reduce the amount of black carbon in the ambient environment," said J C Kuniyal, a scientist at the G B Pant National Institute of Himalayan Environment and Sustainable Development, a government institute.
However, he said other sources of black carbon, such as forest fires, open burning of waste and vehicular emissions, must also be controlled.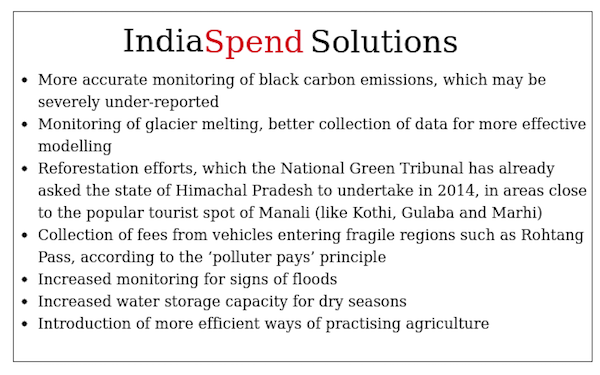 Source: Nature, National Green Tribunal (India)
(Patil is an analyst with IndiaSpend.)
We welcome feedback. Please write to respond@indiaspend.org. We reserve the right to edit responses for language and grammar.
__________________________________________________________________
"Liked this story? Indiaspend.org is a non-profit, and we depend on readers like you to drive our public-interest journalism efforts. Donate Rs 500; Rs 1,000, Rs 2,000."