How A Leaf Could Change The Fortunes Of India's Poorest Communities
The forest in Moorpar in Gondia district, Maharashtra, where villagers extract tendu leaves. After the implementation of the Forest Rights Act, 18 villages here took over the management of the tendu trade.
Dhamadi Tola, Gondia district, Maharashtra: One nippy November morning, Gopal Kumeti picked up a brown, rough fruit from the ground, resembling chickoo (sapodilla). "This is the fruit of the tendu tree. When dried, it remains good for 4-5 months. People who did not have enough grain, used to survive on this. It has become a rarity in the last 30-35 years because tendu is not allowed to grow like this," said Kumeti, head of a federation of gram sabhas (village committees) in eastern Maharashtra, pointing to the tall tendu tree with a distinctively black bark. Then Kumeti pointed towards the younger plants, some reaching a height of 6 feet, and shorter grass that reach his shins. "We are bringing this change," he said proudly.
We were in a patch of forest in Dhamadi Tola village in Gondia district of eastern Maharashtra, around 40 km from the national highway that connects Nagpur with Raipur in Chhattisgarh. Here 18 villages have proved their business acumen by creating a thriving trade in tendu leaves, while conserving the species which were once disappearing from this forest, all through the efficient management of natural resources. Along the way, they have earned enough money to appoint teachers, repair ponds, plant trees and take up cleanliness drives.
Local community ownership of the tendu leaf and other forest produce, otherwise controlled by the forest department, private contractors, state federations and, in some case, naxals, could help conserve natural resources, while also providing livelihood opportunities to mostly poor tribal villagers--45.3 % of whom live under the poverty line in India.
Source: Ministry of Tribal Affairs; Data as of August 31, 2017
How the Forest Rights Act could help tribals
The tendu leaf, mostly used to roll bidis (hand-rolled cigarettes popular in India), is a major income source, especially in central India. Madhya Pradesh, Chhattisgarh, Odisha and Maharashtra sold Rs 1,900 crore worth of tendu leaves in 2012, said a study by the Ashoka Trust for Research in Ecology and the Environment, a research institution on biodiversity conservation and sustainable development.
Control over tendu leaves is also a politically charged subject. For instance, the Chhattisgarh government recently announced a Rs 274 crore bonus to leaf collectors in Naxal-dominated areas of the state to win over local people, especially as Naxals often dictate terms to tendu leaf traders.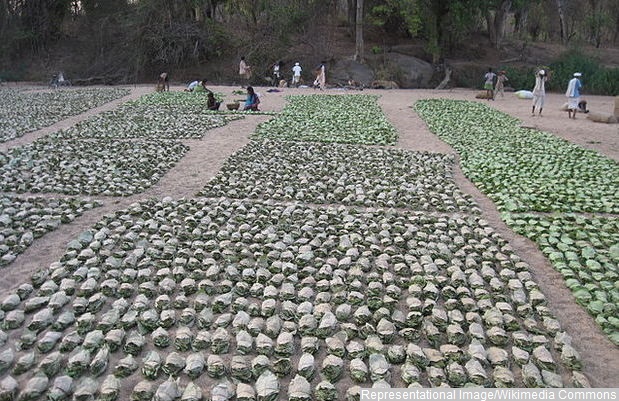 Tendu leaves are plucked, dried and bundled in many parts of India in summer season. These leaves are used to make bidis--hand-rolled cigarettes popular in India.
In all this, local inhabitants have little say in deciding collection wages and the bonus distributed after sale of leaves. States such as Madhya Pradesh hold back part of the bonus, and promise to spend it on the development of the villages through welfare schemes. The process, however, has led to embezzlement of these funds in the past, with Madhya Pradesh's Minor Forest Produce Federation accused of siphoning off Rs 365 crore meant for development projects for tribals.
In 2011-12, in India, 45.3% of over 93.8 million tribals lived under the rural poverty line of Rs 27, while 24.1% of 10.4 million tribals lived under the urban poverty line of Rs 33, according to information provided by Ministry of Tribal Affairs in the Lok Sabha.
Community ownership of resources could change this, and benefit tribal villagers, many of whom are from the scheduled tribes, while conserving resources.
For instance, in Maharashtra, members of gram sabhas, empowered to manage forests under the Forest Rights Act, have also changed the way tendu leaves are collected. They have banned pruning and cutting of bushes, and burning of the forest floor--methods used by traders to advance the fresh flush of leaves.
In 2012, the forest department had mandated that the auction of tendu leaves be cancelled if a fire was lit, provoking a boycott of the tendering process by traders. Now with people getting community rights, the traders have no say in how the leaves are extracted.
"Fire damages other plants, vines and medicinal herbs, which are commonly used by us. Cutting of bushes also reduced the availability (of tendu leaves) the following year. By letting them grow, we are not only getting more leaves per plant but also a healthier forest," said Kumeti of Dhamadi Tola village, whom we met in the beginning of the story.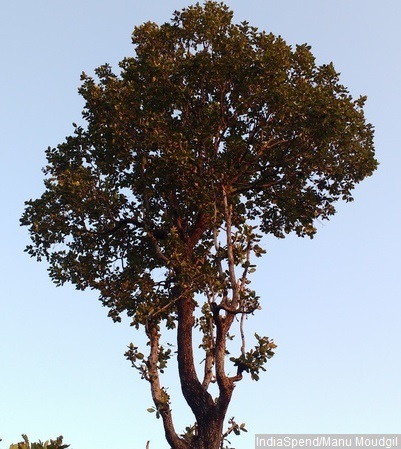 A tree of tendu is a rare sight as most of the bushes are cut for leaves, and trees aren't allowed to thrive. Conservation efforts by villagers in Maharashtra, under the Forest Rights Act, have led to regeneration of many disappearing species.
"Earlier, we never bothered when traders asked us to cut or prune trees and light a fire as we used to think forest is of the forest department. Now, with a legal document proving our rights, we feel responsible for the forest."
104 villages in Maharashtra earn Rs 9.8 crore through the tendu trade
About 9.4% of the population in Maharashtra is tribal, and 42.4% of these tribals live below the poverty line, according to information provided by ministry of tribal affairs to the Lok Sabha, parliament's lower house.
Around 440,000 families collected tendu leaves in Maharashtra in 2012, according to records of the Maharashtra State Forest Department.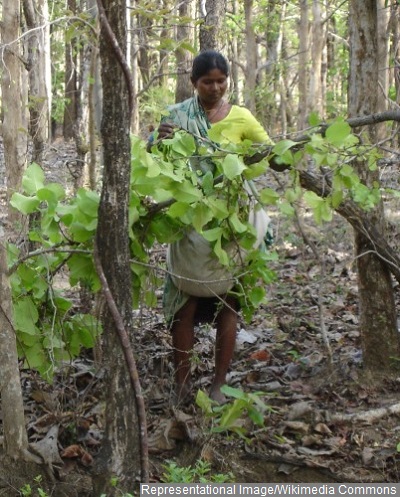 A tribal woman collects tendu leaves from a forest area. The leaf is a major income source, especially in central India. Madhya Pradesh, Chhattisgarh, Odisha and Maharashtra sold Rs 1,900 crore worth of tendu leaves in 2012.
By August 2017, Maharashtra had allotted over 4.43 million acres of forest land--290 times size of Mumbai, the state's capital--largest among all states, under community forest rights that allow forest dwellers to not only use and sell minor forest produce on their own, but also manage and protect its natural resources. Around 104 villages earned Rs 9.8 crore by selling tendu leaves under community forest rights in 2017, according to this report in the Times of India.
Source: Maharashtra Forest Department
In predominantly tribal areas, gram sabhas are also allowed to sell minor forest produce, such as tendu leaves, under the Panchayats (Extension to Scheduled Areas) Act (PESA). Although the Act was enacted by Parliament in 1996, it was in 2014 that Maharashtra notified the rules under which a gram sabha can either ask the forest department to carry on the sale of tendu or can manage the sale on its own with support from various government departments. Many villages, especially those in Gadchiroli district, are using PESA to auction tendu leaves.
Tendu Production Area Under Community Forest Rights In Maharashtra
Circle
Villages
Forest Area (In hectare)
Notified Yield (In standard bags)
Gadchiroli
58
8732.46
2438
Chandrapur
5
1378.546
475
Nagpur
472
44632.067
12825
Yavatmal
363
85317.75
11849.16
Amravati
4
990.354
80
Total State
902
141051.177
27667.16
Source: Maharashtra Forest Department
It was in 2013 that villagers in four Maharashtra villages in Deori taluka (block) of Gondia, including Dhamadi Tola, took over the collection and sale of the most lucrative minor forest produce in the village--the tendu leaf--after they gained community rights over the forest, under the Scheduled Tribes and Other Traditional forest Dwellers (Recognition of Forest Right) Act, 2006 (FRA). Earlier, the forest department would engage the villagers as labourers, and sell the produce to traders.
The experiment was so popular that the number of villages in the federation rose from four in 2013 to 18 in 2017.
In 2017, the 18 gram sabhas earned Rs 5.07 crore by selling 5,458 standard bags--each bag has 70,000 leaves of tendu. The villagers earned Rs 3,000 as collection wage and Rs 5,000 bonus (given after the sale of produce) per bag. Around 5% of the revenue was kept aside for a village development fund to be spent by the gram sabha.
Each gram sabha got about Rs 2-2.5 lakh in its development fund depending on the number of bags deposited. Dhamadi Tola used this money to appoint two teachers in its primary school, while other villages organised cleanliness drives or local festivals. In Gadchiroli's Bhamragad and Dhanora taluka, villages repaired ponds and planted bamboo from the development fund.
"Until now, middlemen would buy tendu leaves and sell it in the market paying a meagre amount as labour cost to the villagers. Now villagers are the owners and get better returns from the produce," said Dilip Gode of Vidarbha Nature Conservation Society (VNCS), a non-profit that guided the gram sabhas in attaining community forest rights and trade of tendu leaves.
The federation now has Rs 17 lakh in its bank account.
When the villagers first started selling tendu leaves, no buyers showed up
But this prosperity was hard won, especially as villagers had to learn about a market they knew little about.
In the first year of taking over the management of the tendu trade, the four gram sabhas were joined by 12 villages of Gadchiroli and two villages of Amravati district. When the villages put out tenders for the sale of tendu leaves, no trader bid. The state government's tribal development department stepped in, and agreed to buy the produce and extended an advance of Rs 1.20 crore for procuring the leaves.
This was the push the gram sabhas needed. They appointed a munshi (manager), a checker who oversees the quality and quantity of leaves, and helpers. They sent verbal and written notices about the phadis (leaf collection centres), trained people to collect leaves without affecting its quality, and sought technical inputs from retired forest officials.
After 2,076 bags were collected, the tribal development department refused to buy the produce at the agreed rate and the gram sabhas had to look for another buyer. The long wait to find a trader willing to pay Rs 3,600 per bag, affected the produce but the gram sabhas were still able to return the department's money in the very first year.
By 2015, the gram sabhas were financially independent. "Over the last three years, the federation has also gained enough knowledge of the field and built a network of market contacts that helps fetch a good price," Narayan Salame, general secretary of Dhamadi Tola gram sabha, told IndiaSpend. Similar federations have also been established in Gadchiroli and Amravati districts.
Earlier, traders used to dictate collection rates by moving collection centres from one village to another every three to four days. They would force us "to go for distress sale", said Gangadhar Mishra, the president of federation of gram sabhas in Sadak Arjuni taluka. Now, because the community together is responsible for the produce, they've negotiated with the traders that a collection centre operate until the target of leaves the trader had agreed to is met, usually 10-15 days. "The fresh flush of leaves, which comes after 8-10 days of removal of the first leaf, also gets sold," Mishra said. This benefits the trader too as villagers ensure quality of leaves unlike middlemen.
"People faced problems in the initial two years, but now many gram sabhas have gained knowledge and confidence in trade management which is a good sign," said P K Khade, the divisional forest officer in Gadchiroli.
The trade has also become more transparent. "Earlier, the traders would often exploit people and hand over less than deserved money claiming poor quality of leaves," said Purnima Upadhyay of non-profit Khoj, that guided 28 villages of Amravati district in selling tendu leaves. "Since gram sabhas pay the wages now, everyone gets equally paid and they are also able to access the account books."
Not all traders are on board with the new process
Some local traders believe there is more corruption now. "The federations are dominated by people with vested interests and they are not following a transparent processes like tendering. In this process, common villagers get cheated," said Jayesh Patel, the president of the Gondia Beedi Leaves Contractors' Association, which had complained against two federations in Gondia district. The district collector ordered federations to re-auction the produce but gram sabhas refused to obey the order. Finally, the Mumbai-based secretary of Maharashtra's tribal development department went through the details of the complaint, and concluded that there were no irregularities.
"When there's no objection from the villagers, who are these outsiders (traders) to question our procedure? The traders boycotted our tenders for last three years and we had to bear losses. Since the decision making now lies with gram sabha, let us determine what's good for us," said Kumeti, the federation head of 18 gram sabhas in Deori taluka.
"We don't intend to hinder the progress that has been made so far. We just want to ensure that the system is transparent and beneficial to villagers," Manisha Verma, the secretary of the tribal development department told IndiaSpend.
Further, many gram sabhas still find it difficult to get the traders on board. Around 28 villages of Bhamragad taluka (block) of Gadchiroli district, which entered the trade this year, are yet to find a buyer. "The local traders refused to buy the produce even though they used to compete with each other until last year. We are now looking for a buyer from other areas," said Lalsu Soma Nagoti, a resident of Bhamragad and member of the Gadchiroli Zila Parishad.
Different villages follow different models of tendu trade
According to forest department records, around 902 villages in Maharashtra have community rights over tendu leaves in over 141,000 hectares of land with the production potential of 27,667 standard bags. But not all of these villages have taken over the trade, and some still opt for the old arrangement by asking the forest department to manage the sale.
"We don't have segregated data but around 90% of the villages which have got community rights over tendu leaves must be managing on their own," said Verma.
Gram sabhas also use different methods to sell the produce. "A few went for tendering, others called for open bids through newspaper advertisements, some also fixed a base price for such bids," said Mahesh Raut, a social activist who guided villages in Gadchiroli in PESA, forest rights and the sale of minor forest produce. "These diverse models will help people learn and then adopt the best one that works for them."
Rajagopal Devara, former secretary of the tribal development department, under whom the process started, is currently studying the difference in income generation of villages trading on their own and where the forest department is operating. "The shift in the power equation has done wonders. The new model seems to be doing far better than the traditional one," he told IndiaSpend.
This has inspired other states, with Odisha allowing six gram sabhas to sell tendu leaves, in November 2017, albeit with conditions such as the forest department continue to run its collection centres, issue transit permit books for sale and transport and assess, and decide how many leaves can be plucked, according to this article in the Times of India.
(Moudgil is an independent journalist. This story is published with support from the Trans Disciplinary University (TDU)-Nature India Media Fellowship. Views expressed are personal and do not necessarily represent views of TDU or Nature India.)
We welcome feedback. Please write to respond@indiaspend.org. We reserve the right to edit responses for language and grammar.