History Made In Assam, Repeated In Kerala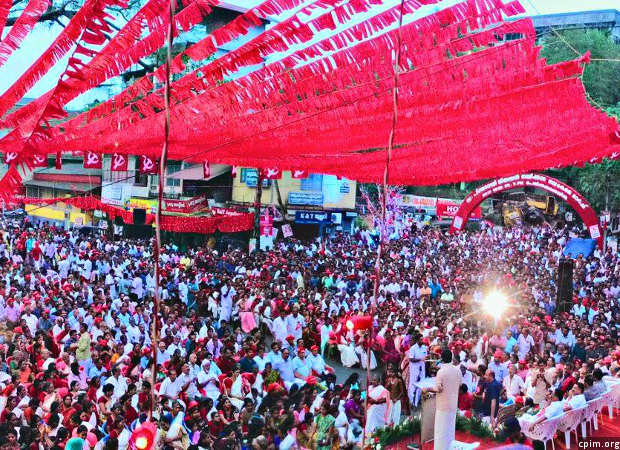 Two incumbents thundered back to power, the Bharatiya Janata Party (BJP) made history in Assam, and the Left Democratic Front (LDF) swept Kerala, returning to power after five years. That's the story of the recently concluded assembly elections.
1. Three factors worked for the BJP in Assam
The results declared today were an affirmation of BJP president Amit Shah's campaign strategy and a revival of the national party in the state assembly elections after the Bihar and Delhi debacles.
The BJP, along with its ally Asom Gana Parishad (AGP), swept the state by winning 60 and 14 seats, respectively, in the 126-person assembly.
The Congress was a distant second with 26 seats, losing 52 seats (down from 78) after being in power for 15 years. Here's what did them in:
A wave of anti-incumbency: The wave ended the three-term rule of Tarun Gogoi's Congress government. Few chief ministers have governed for more than three terms, West Bengal's Jyoti Basu and Sikkim's Pawan Chamling among them. Assam witnessed a high turnout of 84.7% in elections, a strong signal that the state wanted change, IndiaSpend reported earlier.
Pre-poll alliances worked: An alliance with AGP and Bodoland People's Front (BOPF) also helped the BJP. With the Congress and the All India United Democratic Front (AIUDF) fighting elections independently, Muslim votes were divided, and a communal polarisation appears to have worked for the BJP. Strong campaigning by the Rashtriya Swayamsevak Sangh (RSS) in Upper Assam on careful designing of campaign strategies after analysis of the strengths and weaknesses in each constituency appears to have helped the BJP.
Infiltration- and corruption-vexed voters: The BJP tapped into a widespread desire among Hindu voters that illegal migration from Bangladesh cease. Additionally, inner-party politics and corruption charges may have been a contributing reason for the Congress' defeat. The BJP's victory in Assam establishes the desire for development and change.
2. In West Bengal, Mamata gets a long rope; Congress alliance damages Left
Over the last 40 years, only twice have incumbent governments been unseated in West Bengal, 1977 and 2011.
In 1977, the Left Front ousted the Congress and held ground for the next 34 years.
In 2011, Mamata Banerjee's Trinamool Congress (TMC) dominated the election, winning 81.4% of the seats it contested (184 of 226 seats) and had a contested vote-share of 50%.
Riding on its success in the 2011 assembly elections, the TMC went solo in the 2014 Lok Sabha elections, where it won 80.9% of the seats it contested, with a vote-share of 39%.
TMC vote-share declined from 2011 to 2014, a result of the Narendra-Modi phenomenon underway across India.
Today's results make it clear that none of the recent incidents--a sting operation or a financial scam or the collapse of a flyover in Kolkata--affected TMC's fortunes.
This is testimony to the fact that West Bengal's voters allow their leaders to make mistakes.
Source: Election Commission of India and authors' calculationsStrike rate is the ratio of seats won to seats contested.
The alliance that failed: Traditional enemies-turned-allies, the Left and the Congress, put aside their ideological differences and stitched together an alliance, although they were opponents in Kerala.
The alliance may have appeared surprising, but it was based on vote-share arithmetic from the last election: their combined vote-share in West Bengal was 35%, compared to the TMC's 39%.
This election did not see a consolidation of Congress and Left voters or the "shift voters of 2014" (i.e. those who moved from TMC to BJP). The Left-Congress alliance got 71 of 294 seats.
The BJP's lost opportunity: The party's contested vote-share in West Bengal was 17% in 2014, compared with 4% in 2011, the jump attributed to the Modi wave.
The BJP could have swayed voters from the TMC--as it did in 2014--but by not having a clear strategy and not putting up a local face for the party, it appeared to have lost the plot.
Source: Election Commission of India
3. Jayalalithaa's dominance continues but declines in Tamil Nadu
The victory of J Jayalalithaa's All India Anna Dravida Munnetra Kazhakam (AIADMK) signals her dominance. AIADMK has now won the state four times under Jayalalithaa: 1991, 2001, 2011 and 2016.
However, the gap between the AIADMK alliance and the alliance headed by runner-up DMK is closing: They were separated by 218 seats in 1991; that's down to 37 seats in 2016, indicating a decline in popular sentiment.
Source: Election Commission of India
Two-party regime continues: It was a six-cornered fight in Tamil Nadu for the first time. Apart from the two big parties--AIADMK and DMK--there was the Vijaykanth-led Third Front (including Desiya Murpokku Dravida Kazhagam (DMDK), Tamil Maanila Congress and People's Welfare Front (PWF)), the BJP and its minor allies and finally the Pattali Makkal Katchi (PMK), which contested all the 234 constituencies. Their loss reinforces the fact that Tamil Nadu continues to be a two-party state.
4. Kerala continues history of voting out incumbent governments
Approximately 20 million voters voted in Kerala to decide the fate of 140 legislators in the state assembly (there were 1,203 candidates).
The Communist Party of India (Marxist)-led Left Front defeated the Congress-led United Democratic Front (UDF) with a clear majority, 91 seats to 48 in the 140-seat assembly. The UDF had won 72 seats in 2011.
The BJP, which contested 51 seats, won its first seat ever with O Rajagopal's victory in Nemom constituency.
Source: Election Commission of India
Rotational pattern in Kerala: Kerala voters continued the pattern of alternatively bringing LDF and UDF coalitions to power. Since 1980, neither coalition has managed two consecutive terms.
Vote-split continues: Bipolar contests divide votes between Hindus, Muslims and Christians. Community leaders in each religion have considerable influence on voting patterns.
The UDF's ally in this election, the Indian Union Muslim League (IUML), has a strong influence on Muslim voters which may have helped the UDF coalition in garnering votes, but the party won in only 18 out of the 24 seats it contested.
Alliances with strong independents helped the LDF.
(Kumar and Bhandari are senior analyst and associate at IDFC Institute, a Mumbai based think-tank. With help from Rishab Devnani.)
We welcome feedback. Please write to respond@indiaspend.org. We reserve the right to edit responses for language and grammar.
__________________________________________________________________
Liked this story? Indiaspend.org is a non-profit, and we depend on readers like you to drive our public-interest journalism efforts. Donate Rs 500; Rs 1,000, Rs 2,000.