Higher Family Income & Education See Lesser Women Working In India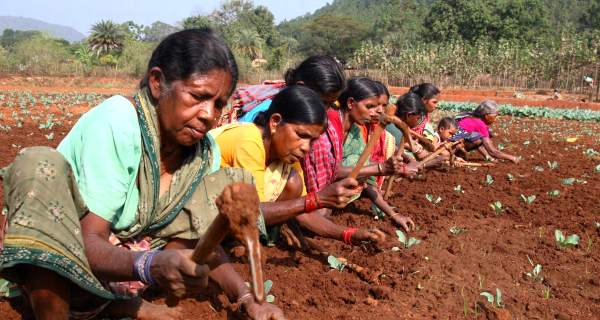 Highlights
* 20 million women stopped working between 2004 and 2010.
* Recession had no impact on jobs, 6.4 million people added to workforce between 2004 and 2010.
* Young population of rural India progressively participating in education rather than looking for jobs.
Amazing as it may sound, the rate of women employed in India has declined 3% between 2004 and 2010. This is despite general economic progress, inclusion of women in workforce or at least the perception of it.
This is also despite a rash of women-focussed, employment-generation programmes like the Mahatma Gandhi National Rural Employment Guarantee Act (MGNREGA) and Swarnajayanti Gram SwarozgarYojana (SGSY).
We had earlier written that women participation in MGNREGA has increased over the years, specifically from 40% in 2006-07 to 48% in 2008-09 and has largely remained the same till 2010-11. Incidentally, the idea behind MGNREGA was to target a 33% rate of women participation.
Sourjya Bhowmick looks at the Second Annual Employment Report, 2011 by the Ministry of Labour and Employment, released in July 2012 but for the referencing year 2009-10, and finds that there has also been a 2% decline in the number of Current Daily Status (a person working for the entire day if working for four hours or more on any day of the reference period) of women workers.
On the other hand, while overall employment (principal+subsidiary+ current daily status) increased during the period, Current Daily Status of male employment has increased by 2%.
There is a decline in rural women employment in principal (working for major part of the reference year) as well subsidiary (working for only a few days in the year) workforce by 10 million and 9 million, respectively. Similarly, there is a decline of 8 million in the Current Daily Status of rural women employment.
The report says that an improvement in agricultural economy is causing women to pull out of rural workforce. The decline is also attributed to the 'income' and 'education' effect.
The growth in rural economy has led women to stop agricultural work. But they are not alone. With rising household incomes, children, women and aging persons are all withdrawing from the labour market. Second, the increasing young population of rural India is pursuing education rather than looking for jobs. Government schemes like Sarva Shiksha Abhiyan (SSA) and Right to Education have played a role here.
Jobs Increase But Not For Women
The period 1999-2000 to 2004-05 witnessed an employment growth of 2.9% per annum in India. Participation of women also increased in this period in both urban and rural areas. Interestingly, post 2004-05, even though the economy was hit by a slowdown, there was no loss of employment. In fact, 6.4 million people were added to the workforce during 2004-10. The figure rose from 459.1 million in 2004-05 to 465.5 million in 2009-10 (an increase of 0.28%).
Figure 1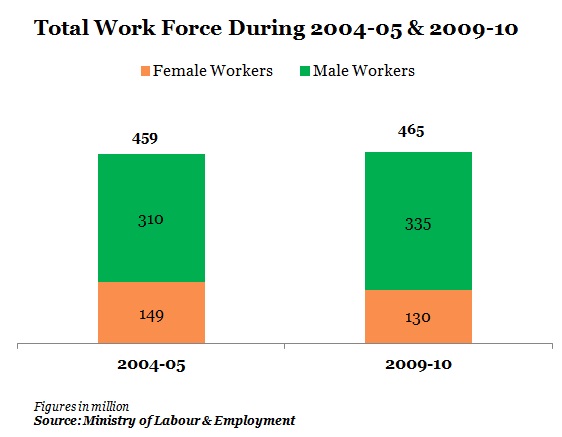 While the 6-year period (2004-2010) saw jobs being added, the period also saw a major decline in female employment. It declined by approximately 1 million in urban areas and 19 million in rural areas.
Figure 2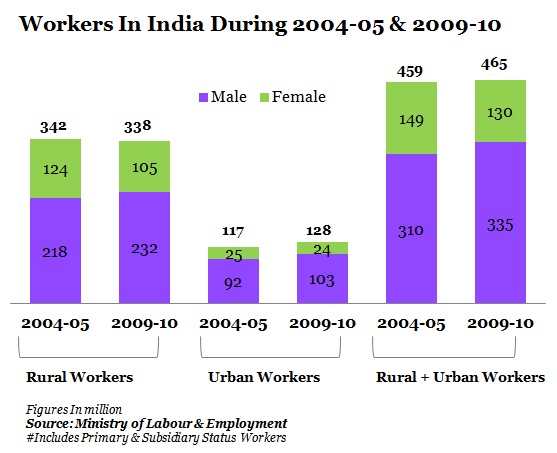 Table 1 gives the details:
Table 1: Women Drop Out of Jobs In Rural Areas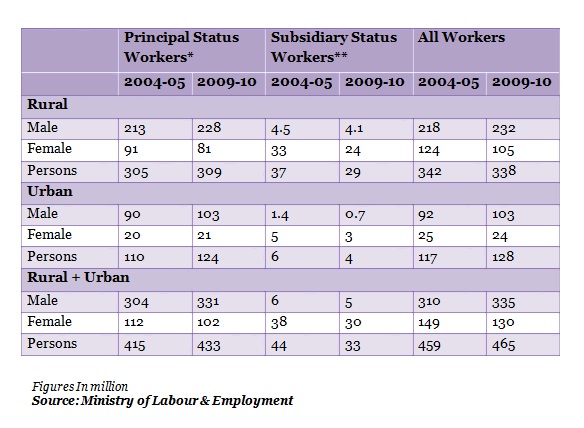 (*Principal status: workers reported to have worked for a major part in reference year; **Subsidiary status: workers reported to have worked for only a few days in reference year.)
While female employment among the rural workforce declined 3% during the period,urban women employment increased by 1 million under the principal status.
Male employment has increased in totality as well as in the number of people working for a major part of the year i.e. principal status. However, it declined in the category of people who worked for only a few days. As per the report, the main reason for the decline is people going for education after leaving their jobs. As many as 176 million men and 137 million women opted not to work to continue education in 2009-10.
The growth of female employment in rural areas is negative on the Current Daily basis too, but marginally positive for women in urban areas:
Figure 3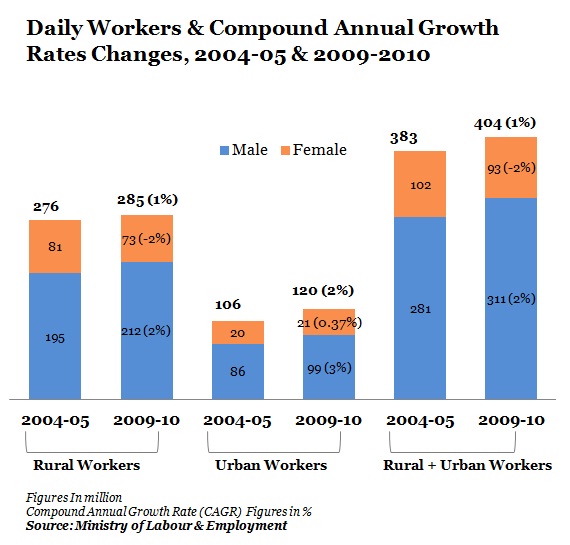 The report also suggests a few measures like inclusion of women by providing them required skills and training and targeting regions with high concentration of women to rectify the problem of reduction in rural women employment.