Here's Your Rs 200 Crore Tab For A Non-Functioning Lok Sabha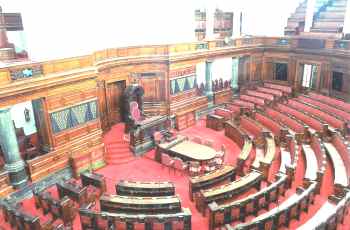 The Parliament was adjourned once again today. This time, it was due to an uproar over a number of issues including Telangana's statehood demand (from Andhra Pradesh).
A report in The New Indian Express says each hour of running Parliament costs the exchequer Rs25 lakh.
The Lok Sabha had put out an overview of the 14thsession of the current (15th) Lok Sabha (5th August To 6th September, 2013)during which about 73 hours and 28 minutes werelost due to disruptions and forced adjournments.
This was about 17 minutes more than the actual time the Members of Parliament spent doing constructive work, which was about 73 hours and 11 minutes.
The graph below shows the time lost during the 14 sessions of the 15thLok Sabha.
From the data provided by the Lok Sabha, about 800 hours were wasted due to disruptions and forced adjournments during the 15th Lok Sabha (these figures apply for sessions 1 to 14). Our calculations show that till the 14th session, delays and adjournments cost the exchequer about Rs 199.9 crore.
M R Madhavan, president, PRS Legislative Research, a think tank that does research on India's Parliament says: "Given the number of regional parties, each with its own set of priorities, such disruptions have increased. This pattern is unlikely to change in the near future unless Parliamentary procedures are changed to allow more scope for dissenters."