Have Maharashtra Elections Also Finished Independents?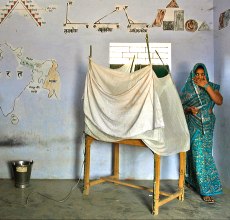 Independent candidates have always been the "fun" part of the Indian elections, and the recently concluded Maharashtra assembly elections were no different. 1,699 independents contested the elections this time as against 1,820 candidates during the 2009 elections.
While 24 independents were successful last time (i.e. a success ratio of 8% when compared with the total of 288 assembly seats), only 7 were successful this time (i.e. a success ratio of a measly 2%).
Let us now look at the 24 successful independent candidates in the 2009 assembly elections:
So, independents were able to hold five seats during the 2014 elections that they held after the 2009 polls. They were Achalpur, Amalner, Badnera, Bhosari and Kalyan (East). The new entrants to the group are Jadhv Patil from Ahmadpur and Fad Mohan from Pathri.
What happened to the other seats? Independents had won by beating the maximum NCP candidates (8) followed by Congress (6), Shiv Sena (4) and BJP (4).
(* AIMEM - All India Majlis-E-Ittehadul Muslimeen; ** BBM - Bharipa Bahujan Mahasangh; ***RSP - Rashtriya Samaj Paksha; ****BVA - Bahujan Vikas Aaghadi)
BJP could win nine seats held by independents in the last assembly followed by NCP (4) and Congress (2). Clearly, the saffron wave did work across Maharashtra and the Modi-Shah magic did deliver the results for the saffron party.
BJP also had a good record in winning over independents. While 4 candidates who had won as independents last time won this year's elections as BJP candiates, one lost the election. BJP was followed by Congress (2 wins, 2 losses), NCP (2 wins, 3 losses) and Shiv Sena (1 loss).
IndiaSpend had earlier reported that this could be the best chance for independents. And we had analysed how they had won two seats with low margins – Bhosari and Balapur. After the 2014 elections, Bhosari continues to be held by an independent while Balapur will now be represented by Baliam Siraskar of Bharipa Bahujan Mahasangh. He had won the 2009 election as an independent candidate!
And now here is an interesting question by Praveen Chakravarty, founder trustee of IndiaSpend: Is it merely a coincidence that the number of independent candidates is growing rapidly despite their odds of winning reducing dramatically? Unlikely!
(Image credit: Flickr)
"Liked this story? Indiaspend.org is a non-profit, and we depend on readers like you to drive our public-interest journalism efforts. Donate Rs 500; Rs 1,000, Rs 2,000."