Half of India's Homeless Children are Labourers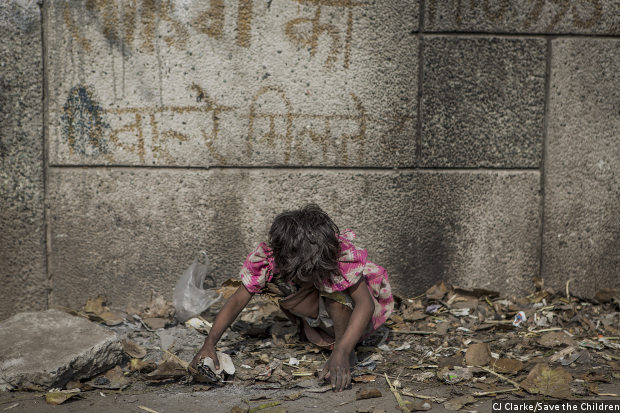 Sanjana, five, collects rubbish to be sold for recycling in an informal slum on the outskirts of New Delhi, India.
Half of all children living on the street or from homeless families work for a living--at construction sites, hotels--and do not study, reveal data from surveys conducted across five Indian cities.
As many as 37% of street children counted were girls, and about 5% were orphans who fended for themselves, according to a joint study by Save the Children India, New Delhi, an international NGO, Rainbow Homes, a nation-wide project for homeless, currently working in eight states, and UK Aid , a UK-based NGO.
Children below 18 years were surveyed in Lucknow and Mughalsarai in Uttar Pradesh; Patna, Bihar; Hyderabad, the shared capital of Telangana and Andhra Pradesh; and the twin cities of Kolkata and Howrah in West Bengal.
As much as 6.8% (or 26,000) of India's homeless families live in just these cities, according to IndiaSpend calculations using census 2011 data.
Over 46% homeless children are between eight and 14 years old in all cities.
The proportion of girls on the streets was highest (43%) in Patna.
Only 11 of all the street children surveyed in these cities were transgender.
More homeless girls than on Delhi's streets
The latest study reported a higher proportion of girls on the streets (36.8%) in these five cities, as compared to Delhi (21%) in a similar 2012 study.
Among street children living with their families, 38-45% are girls; 83% of the children on their own were boys.
This could be because girls find a companion or get married, and those doing domestic work are not seen on the streets.
Incentives help school enrolment--attendance is another matter
Overall, about 63% of street children are illiterate. The proportion of illiteracy was highest in Lucknow (82%) and lowest in Kolkata-Howrah (52%).
In two of five cities, illiteracy was highest among working street children, which shows that earning money adversely impacts learning opportunities.
Children who work are 70% less likely to complete 10th grade, IndiaSpend has reported.
Source: Life on the streets, Save the Children
Incentives for education, such as scholarships and mid-day meals, encourage street children to enroll, the study showed. But children reported that since attendance was not compulsory, they work during school hours on most days.
Rag-picking is the leading occupation
Rag-picking (16%) is the leading occupation for children living on the streets. About 8% boys and 14% girls are beggars; 31% girls do not work but take care of younger siblings and help with domestic chores.
Most working children earn less than Rs 200 per day.
There are more boys than girls in the highest income-group of Rs 200 to Rs 300 per day. Children who earn more than Rs 400 a week are street vendors or construction labour. In Patna, more than half of child rag-pickers earn less than Rs 100 daily.
Food is the main expenditure
Street children spend most of their money on food, followed by clothes/cosmetics and drugs.
Kolkata (35.4%), Lucknow (32.7%) and Mughalsarai (30.8%) are cities where street children spend the most on clothes, cosmetics and personal care. Nearly 15% of income was spent on drugs--used to overcome exhaustion--in these cities.
Boys and girls spend money differently. In Lucknow, Mughalsarai and Kolkata-Howrah, girls spend most of their money on healthcare, sanitation, and education; boys on clothes, cosmetics, personal care items, drugs and intoxicants and entertainment.
Violence, beating a way of life
Working conditions are made worse by employer behaviour. Across cities, children reported being physically abused, made to work more than seven hours a day and beaten while at work. In Lucknow, Mughalsarai and Kolkata-Howrah, 39% children worked seven days a week.
Girls are more vulnerable to verbal and physical abuse in Lucknow, Mughalsarai and Kolkata- Howrah. Older children extract money and often--sexual--favours in return for "permission" to work in their areas.
Update: The story has been updated to change the description of Rainbow Homes from 'a Kolkata-based NGO' to 'a nation-wide project for homeless, currently working in eight states'.
(Salve and Tewari are analysts with IndiaSpend.)
We welcome feedback. Please write to respond@indiaspend.org. We reserve the right to edit responses for language and grammar.
__________________________________________________________________
Liked this story? Indiaspend.org is a non-profit, and we depend on readers like you to drive our public-interest journalism efforts. Donate Rs 500; Rs 1,000, Rs 2,000.