"Half a Billion Rising"—The Age of India's Women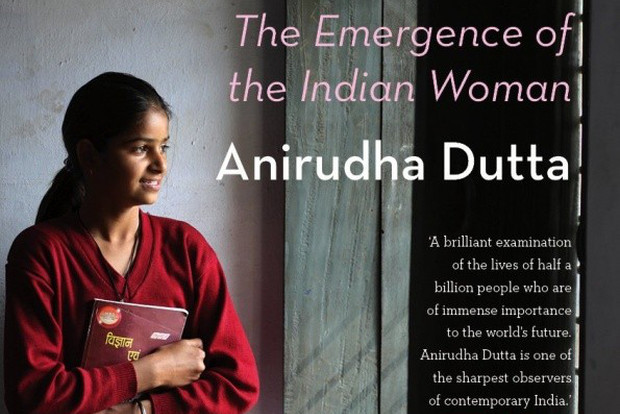 "Half a Billion Rising: The Emergence of the Indian Woman" chronicles the wave of the rise in women's education, and empowerment that is sweeping India and talks about the change drivers, the socio-economic impact (both good and bad) and the changes needed, particularly socio-attitudinal, to embrace the wave sweeping us. The book tells us this story and its impact through a series of interviews primarily with girls and women, predominantly among disadvantaged groups and then ties it up with relevant data, research and observations from popular culture including Hindi films, TV soap operas and advertisements.
Edited excerpts:
Within two or three years of Chandra's marriage, her youngest sister was also married. This was a very different India. The overall literacy level during the first Census in 1951 was 18.33 per cent and among women it was a much lower 8.86 per cent; average life expectancy for Indians in 1951 was thirty-one years. Marriages happened at a very early age and child marriages were fairly common...
Have the laws helped? Going by anecdotal evidence they most certainly have. Enforcement of the laws and education too has helped. Equally importantly, social consciousness against child marriages has grown, but the problem has not yet been eradicated. Incidence of child marriages has come down but still continues to be very high. While the problem of child marriages is not limited to India, the problem is most widespread in India where an estimated 40 per cent of child marriages in the world takes place. Today, India ranks a low thirteenth in the world in child marriages, with 47 per cent of girls getting married before the age of eighteen.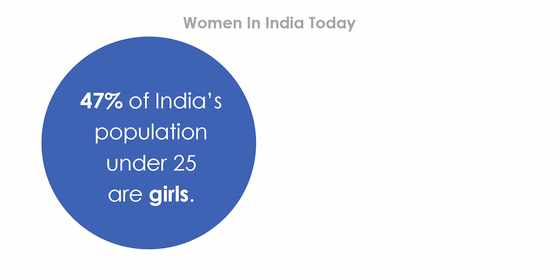 At that young age, neither the boy nor the girl are mature enough to know their rights, duties and responsibilities. Young brides are particularly vulnerable with [child marriage having] devastating consequences in terms of maternal mortality, fertility outcomes, domestic violence and infant health and well-being. Pregnancy-related deaths are a major cause of mortality in young married girls in the 15–19 age group and they are twice as likely to die during childbirth compared to girls in the 20–24 years age bracket. Girls under fifteen are five times as likely to die in childbirth. Young illiterate or semi-literate girls are more likely to experience domestic violence and harassment, and have virtually no power within their family circles.
---
I asked Saira what inspired her mother to support her when she, Saira, wanted to continue her school education. "In my mom's generation they did not study much. But now we are studying more. My bua (father's sister) studied till Class VII but she wants her daughters to study a lot. My mother is also influenced by my aunt's daughters. She says that if they can do this (graduation) then you can also do it; but sometimes she does get influenced by people around her." Saira added the last bit as an afterthought. This underscores the importance of having the right role models and continuous grassroots intervention of NGOs...
Saira's story is fascinating at multiple levels. Her story is also not typical because unlike many families where boys' education is always given priority, in Saira's home, Saira seems to be getting ahead of her brothers. Saira's older brother failed in Class IX and is now working as a mechanic repairing television sets and other electronic gadgets. He studied in an Urdu-medium school. "We are Muslims, na," she tells me as if that is the most natural thing to do for Muslims. Her younger brother is also studying in the same Urdu school and it is difficult to envisage that his future will be very different from that of his elder brother...
Not surprisingly Saira is already emerging as a role model. Once in a while, her brothers ask her to teach them English. Recently, a boy living in the neighbourhood and studying in Class VI approached her to help him with his studies.
---
Meghna's choice of finance as a career has been influenced by the fact that her dad is a finance professional and also by the fact that she has seen or read about many successful female finance professionals in India. She specifically mentioned Shikha Sharma, CEO and Managing Director of Axis Bank and a career banker with the ICICI group before that, during our conversation. "She has done so well for herself in spite of being a woman and without ignoring her kids. I really admire her."
I was intrigued by her choice of the phrase 'in spite of'. I asked her to explain it. Do you think there is discrimination even today? "It is not that. There is pressure from the family to look after kids so what I have seen is that women tend to take off for a year or so after their kids are born. After that ...like my mom—she was working and then she stopped when I was born. Then Malini was born. She started working quite a few years after that. In Shikha aunty's case a mid-career break did not happen. What helped her was the support she had from her parents and her in-laws who were staying with her. That was a plus. Usually it is expected that the mom will look after the kids and not the dad. So it puts women at a disadvantage when it comes to career and work."
Is that changing or will it change in your generation?
"I think, yeah (and she broke into a big smile and laughed as if almost amused at her own articulation of what many boys of her generation will do). I think more guys will be staying at home. I am sure."...
In the previous chapters, I discussed how and why women's participation in the workforce is going to increase. Appropriate policies and a conducive environment can further accelerate women's participation in the workforce. While a reasonable amount of discussion is beginning to take place on how to harness India's demographic dividend, there is hardly any discussion on how to increase women's participation in the workforce. This is an urgent requirement. Policymakers, the government, NGOs and institutions working for issues related to women have to think of how to work with the new generation of girls and women who are better educated, aspirational and better informed.
---
Tanvi studied to become a doctor at Patna Medical College & Hospital (PMCH) and then specialised in pathology. What or who inspired Tanvi to study in a district where even today the literacy level for women is just 26.9 per cent as against the national average of 65.5 per cent? Who were her role models? "It was my mother," said Tanvi. From Kolkata to Bhavnagar to Forbesgunge, the story was the same...
Tanvi belongs to a very prominent family in Bihar. She told me, "...We had a lot of landed property. We have three 'sisters' (female cousins) in the family—my first cousin is eight years older to me. And they would say, 'Arre, if a girl is born in this house, then it is very good and there is nothing to worry as there is enough property and wealth for her marriage.' My cousin was married off at the age of 17. But by the time I came of age, my parents told me that I was good in studies and they did not want to marry me off early. 'Do well in studies and you will study further. We will give you a certain timeframe, otherwise we will get you married off early,' they told me. I started studying hard with the fear that otherwise I will be married off."...
I asked Tanvi how things had changed within her extended family after her marriage. Tanvi became a doctor and after marriage came to Mumbai to work. She is financially independent and has gotten married to a person who is very supportive of her work and profession. Therefore, Tanvi is a role model for many in her family and immediate social network in Bihar. Or so I thought. But like many other things in life, the law of unintended consequences works here too and although she is a role model, she is one for very different reasons.
When Tanvi got married, her parents did not have to pay any dowry. She got married to a very accomplished person who was one of the top rankers in the extremely tough entrance exams to the Indian Institutes of Technology (IITs) and who now works for a global investment bank...
Tanvi told me, "All my uncles and aunts thought that once a girl studies then there is no tension about marriage. So now they want their daughters to study even if they have to pay donations to get them admission. This is driving the education of girls." This is something that I heard in other towns and cities as well.
---
I asked Roy about the girls of his age. "Around me, girls are studying more. Boys get influenced by friends and do not study much... I have friends who drink and smoke. None of the girls drink or smoke..." As we finished the interview and got into our car, Tina told me, "Girls would eat him alive. Did you see he asked us for some advice, none of the girls we have met ever asked us for that? All the girls asked was what have you studied, where do you work, what work do you do, why are you asking us these questions, what does your husband do etc. etc." Tina is right.
This is a recurring pattern—the boys watch more TV, buy more expensive things (Roy's most expensive purchase was a branded suit for a friend's marriage), spend more time playing outdoors with friends and study less. Girls are the exact reverse. I asked about these issues and more to Ranjana Guha, who has been a high-school teacher in Mumbai for over two decades and teaches English...
'In my school, the boys come from a very different background—mothers are maidservants, fathers are drivers, cooks etc. Mostly lower middle class. There are some boys—very few—from well-to-do families. How have they changed? I feel they have changed for the worse...'
She continued, 'A large part of the problem is the education system—continuous promotion up to Class IX without failing anyone. They literally do not know anything... Now the youngsters think that we will get to do something with or without education—there is confidence about them. The political parties also tell these youngsters that you are local boys. Who will not give you a job… thus, ethics are getting destroyed. They are encouraged to participate in political activity. Local-level political activity and community engagement in sports and religious activities are a big distraction for the boys and divert their attention from pursuit of education or vocational training.
Girls have a greater urge to get educated. Why do you say so, I asked Ranjana? 'Looking at the state of society, girls are a little desperate to get established. They have seen women who are not financially independent, they have seen their mothers being mistreated...I see that all girls want to have a career and financial independence.'...
Throughout the interviews that I conducted across cities and across socio-economic strata, the message was very consistent. Girls have an urge to excel and are getting ahead. This is also reflected in the results of school board exams year after year when newspaper headlines scream how girls have performed better than boys...
This is not to say that boys do not do well at all. Meghna, for one, doesn't see any difference in the attitude of boys and girls in her class towards academics or achieving excellence. According to her, boys got serious a little late in her class but they started performing at par and often better than the girls. I think part of the explanation lies in family background, immediate influences and the fact that Meghna and her friends study in very good private schools in Mumbai. But, overall, the trend of better performance by girls is clear.
The impact of being more educated and smarter is already being felt when it comes to marriage. Indian parents are almost obsessed with the marriage of their children, girls and boys alike. With girls getting more educated and more ambitious, many of them will find it harder to find partners within their present socio-economic communities. Men will find it harder to handle a confident young woman who knows her mind and is unwilling to live by the earlier tenet of an adarsh bhartiya naari (ideal Indian woman). In many of the stories that I have chronicled, I saw that girls were getting married to men who were less qualified. Give it another few years and many girls will not be willing to do so. ¦
(Dutta holds a degree in engineering from IIT, Kharagpur, and a postgraduate diploma in business management from XLRI, Jamshedpur).
Half a Billion Rising: The Emergence of the Indian Woman is published by Rupa Publications; length: 258 pages; price: Rs 395
____________________________________________________________________
"Liked this story? IndiaSpend.org is a non-profit, and we depend on readers like you to drive our public-interest journalism efforts. Donate Rs 500; Rs 1,000, Rs 2,000."