Govt's Big Solar Park Push Could Run Into Land Hurdle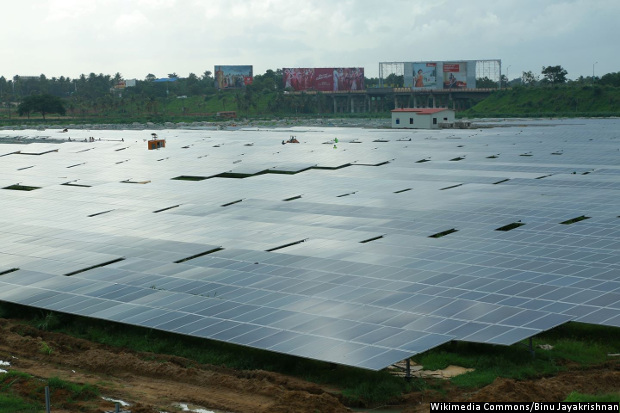 The union cabinet decided last month to double India's solar power generation capacity, from 20 GW to 40 GW, by setting up 50 solar parks, which are solar projects with a capacity of 500 MW or more concentrated in one area. But this additional 20 GW would mean acquisition of at least 80,000 acres of land, thrice Jaipur's area, and possibly a problematic move in a land-starved country, as IndiaSpend has reported in January 2017, when talking about canal-top solar installations, where solar panels are installed atop lengths of canal, to save on the cost and conflict involved in land acquisition.
Cabinet approves capacity hike from 20GW to 40GW & additional 50 solar parks will be set up in the country to encourage use of solar power. pic.twitter.com/VqAYuVQipS

— Piyush Goyal (@PiyushGoyal) February 22, 2017
There are already signs of trouble with three recorded conflicts related to land acquisition for renewable energy projects. One of these involves the ultra-mega solar park--that is, one with a capacity of 500 MW or more--in Anantapur district in western Andhra Pradesh, according to Land Conflict Watch, a mapped online repository of land conflicts across India. Delays in land acquisition add to the cost of the project, also making developers wary of investment.
India's record with solar power generation does not offer reasons to be optimistic either. With less than a month left for end of financial year 2016-17, India still has over 70% of its target to achieve, while the targets for upcoming years are even higher.
The latest plan now is to generate 40% of India's solar renewable target of 100 GW by 2022 from solar parks and ultra-mega solar power projects. The augmented solar capacity, when operating at full capacity, will generate 64 billion units of electricity annually, cutting 55 million tonnes of CO2 per year over its life cycle, according to this statement of the ministry of new and renewable energy (MNRE).
For the sake of comparison, 64 billion units of electricity per year would be enough to power two Delhis, which required 31.1 billion units of electricity during 2016-17, according to the Load Generation Balance Report. This power ministry report records energy requirement and availability in the country for the upcoming year.
India currently has one of the largest renewables expansion programmes in the world, aiming as it does to install 175 GW of capacity by 2022--over thrice the current capacity of 50 GW--in line with its Intended Nationally Determined Contribution (INDC). INDC refers to the promise of alternate energy generation made by countries in the 2015 Paris Agreement with a view to cooling a rapidly warming planet.
One month to go, 2016-17 achievement is 70% below target
As of January 2017, India's cumulative installed solar capacity from all sources was just over 9 GW, and crossed 10 GW in March. To achieve targets, the country will therefore have to install about 90 GW more in the coming five years, a target that might not be achievable, as IndiaSpend reported in February 2017.
At present, there is a marked gap between the targets and achievements. For example, against the target of installing 12,000 MW of solar capacity in 2016-17, by January 2017, only 2,472 MW had been installed.
Source: Ministry of New and Renewable Energy
Rooftop installations still struggling to take off
The largest contributors to solar energy in India will now be rooftop solar installations (40%) and large solar parks (40%). The last 20% will come from utility scale solar projects, with a very small percentage coming from off-grid solar installations.
Capacity addition of rooftop solar has been slow to take off, as IndiaSpend reported in January 2017. By November 2016, only 0.5 MW of solar rooftop capacity was installed, while 3 GW was sanctioned and under installation, according to this December 2016 MNRE update.
"The decentralised nature of rooftop installations makes progress difficult, because you need to engage about 500 consumers on average (on the assumption that one household installs a 2-kW capacity on average) to reach 1 MW, so the administrative process is far more expensive," said Abhishek Jain, senior programme lead at the Council on Energy Environment and Water (CEEW), a research institution based in New Delhi.
Rooftop solar installations to make up 40% of India's 100 GW solar target for 2022; only 0.2% currently installed. pic.twitter.com/TjZTZwCXVr

— IndiaSpend (@IndiaSpend) January 23, 2017
Why solar parks are a good idea: Clearances plus infrastructure
Large solar parks come with several benefits for individual producers such as land clearances, development of infrastructure such as roads and transmission systems, and water access.
By mid-2016, a total of 34 solar parks spread over 21 states were given approvals. These had an aggregate capacity of 20 GW. Details of state-wise division for the parks show that Andhra Pradesh, Madhya Pradesh, Gujarat and Karnataka had the most commissioned projects, as IndiaSpend tweeted on December 1, 2016.
Being part of a solar park also means that it is easier to raise finance at a lower cost for individual producers within the park. It also ensures that off-take is guaranteed, or else underwritten, which again reduces risk.
Centre plans 20,000 MW installed capacity of #solarpower power parks by 2020, over 18,000 MW approved. pic.twitter.com/xhhRaqn6Wh

— IndiaSpend (@IndiaSpend) December 1, 2016
With the additional 20 GW, the number of solar parks is estimated to increase to 83. Information about areas where these additional parks will be installed, or how the installation mix will change, is not yet available.
Solar tariffs falling, but land acquisition and off-take still hurdles
Solar tariffs in India have been falling since 2010--from Rs 10.95 per kWh in December 2010 to a level tariff of Rs 3.30 per kWh achieved last month by the 750-MW Rewa solar park project in Madhya Pradesh, according to this Business Standard report.
However, risks due to transmission uncertainties, when produced renewable power cannot be sold, delayed payments, and curtailment of renewable power along with weak enforcements of renewable purchase obligations remain problem areas, according to the report.
Solar parks are perhaps currently the best way to produce renewable energy because they take care of problems faced by smaller producers, which include non-reliability with off-take of produced power, and problems of land acquisition, which is becoming increasingly problematic.
"Land acquisition poses a challenge for developers but solar parks enable developers easy access to land, clearances, and evacuation infrastructure. As seen in the recent Rewa solar park bid, the risk of curtailment has also been eased by a 100% payment guarantee offered by the state government," Kanika Chawla, senior programme lead at CEEW, told IndiaSpend.
As a general rule, one MW of ground-mounted solar installations require about four acres of land, down from five acres due to advancements in solar cell technology, as IndiaSpend reported.
"Whether the capacity is added under utility scale projects or large solar parks, their land footprint would be similar. Solar parks result in economies of scale being realised for land, evacuation infrastructure, and the balance of system, which results in the per unit cost of solar power coming down," Chawla said.
Correction: An earlier version of the story said that one household installs a 2-W capacity, on average. The correct figure is 2 kW. We regret the error.
(Patil is an analyst with IndiaSpend.)
We welcome feedback. Please write to respond@indiaspend.org. We reserve the right to edit responses for language and grammar.
__________________________________________________________________
"Liked this story? Indiaspend.org is a non-profit, and we depend on readers like you to drive our public-interest journalism efforts. Donate Rs 500; Rs 1,000, Rs 2,000."