Govt Incentives For Girls Appear To Work—Somewhat
When the then Women and Child Development Minister Renuka Chowdhury launched the Dhanalakshmi scheme in 2008, she hoped it would encourage families to educate girls. The scheme encouraged families to delay marriage, offering Rs 100,000 as insurance, if the girl child was not married by 18.
However, more than two-thirds--69%--of those asked by a United Nations-funded survey said they would use such an incentive to meet marriage costs, while no more than 26% said they would use it for the girl's education.
As many as 47% of Indian girls below 18 are married, according to UN data. Girls are also killed before birth through sex-selective abortions, and at a higher rate among educated families, IndiaSpend reported.
Despite the misuse of Dhanalakshmi, schemes that incentivise families could be a solution to the Indian antipathy to girls, the report from United Nations Population Fund (UNFPA) India indicated. The preference of marriage over education was the only dismal trend in the survey, released last month, which found more progressive attitudes among those parents who had used the now-defunct scheme.
"The study illustrates that financial incentives play an enabling role in removing the existing gender barriers and denting the parental perception of daughters as 'liability'," the report said.
The survey was conducted by International Institute of Population Studies, Mumbai, with support from UNFPA. Dhanalakshmi, a conditional cash transfer (CCT) scheme, was launched in March 2008 by the Indian government as a pilot in 11 backward blocks in seven states. It was discontinued from the financial year 2013-14, in favour of "more attractive" schemes for girls by state governments.
Some of the state government schemes include Bhagyalakshmi in Karnataka, which caters to girls in families below the poverty line, and Laadli in Delhi, which incentivises girl education. According to the government of Karnataka, Bhagyalakshmi benefitted 183,000 girls in the financial year 2015-16.
Dhanalakshmi offered families of girls enrolled cash benefits at different stages of life: Rs 5,000 after birth registration, Rs 1,250 after immunisation, Rs 3,500 through primary school, and so on—incentives together worth Rs 13,500 until completion of class eight.
More progressive mindsets about girls in families that used Dhanalakshmi
A 2010 study done for the Planning Commission highlighted operational challenges in CCT schemes, but said it was "not clear how far CCTs have led to a change in parental preferences and attitudes towards their daughters".
The UNFPA survey was carried out between September 2013 and February 2014, involving 2,150 beneficiary and 1,806 non-beneficiary families in Punjab, Bihar, Odisha, Andhra Pradesh and Jharkhand.
A family with at least one girl enrolled in the Dhanalakshmi scheme was defined as a "beneficiary", and a non-beneficiary household was one with an eligible girl not enrolled in the scheme.
Beneficiary families (23%) were 1.7 times more likely to strongly advocate gender equality than others (13%). This is based on a set of seven statements about gender equality and girl education. The number of parents who strongly agreed to the statements was recorded.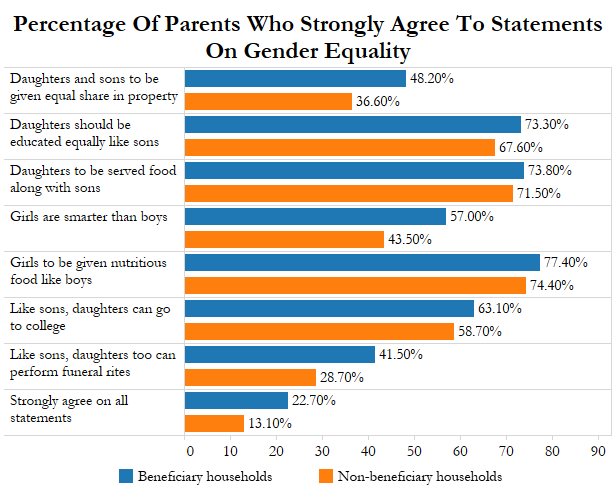 Source: United Nations Population Fund (UNFPA)
The "strongly agree" figures for the seven statements about girls' education were 29% for non-beneficiaries and 33% for beneficiary families.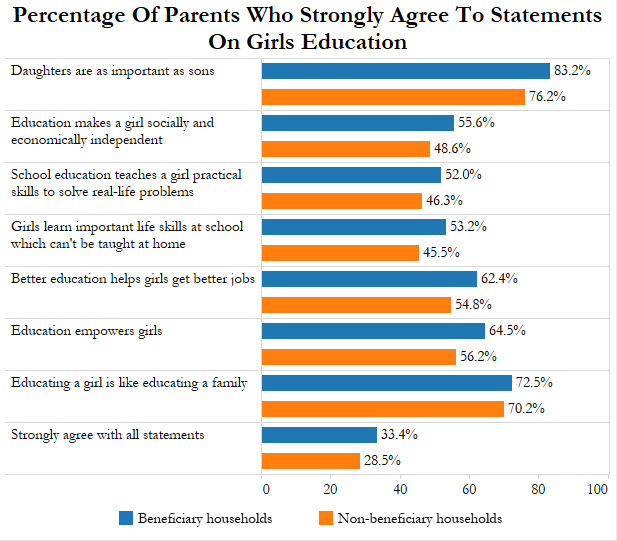 Source: United Nations Population Fund (UNFPA)
Also, the difference between the two categories of families was seven percentage points for the statement, "A girl can decide who to marry", and 11 percentage points for the statement "A girl can decide when to marry"--both in favour of the beneficiary families.

Source: United Nations Population Fund (UNFPA)
"Though evidence from the study does not allow us to confidently or conclusively say that cash transfers motivate parents to 'have' or 'willingly accept' daughters, incentives do play an important role in the early years of a girl's life by positively influencing attitudes of the parents," the study said.
Child sex ratios remain poor in India after the 2011 census: 919 girls per 1,000 boys, lower than the average sex ratio of 943. However, in Punjab's Sirhind, one of the 11 blocks where Dhanalakshmi was piloted, the child sex ratio improved from 766 in 2001 to 843 in 2011. Fatehgarh Sahib district, in which Sirhind is located, had recorded India's worst child sex ratio in the 2001 census.
Still a long way to go
The difference in attitudes of beneficiary and non-beneficiary families is evident, but the absolute numbers are not particularly significant. Among beneficiaries too, nearly 80% parents chose not to "strongly agree" to the statement that a girl can decide who to marry. And, 74% were not sure enough to say that a girl has the choice to decide when to marry.
The lowest numbers were observed for the question about girls performing funeral rites: 42% of beneficiary parents and 29% of non-beneficiary parents strongly felt they could.
(Sukumar is a freelance journalist, who earlier founded an award-winning satirical website.)
Note: All figures in this story have been rounded off.
We welcome feedback. Please write to respond@indiaspend.org. We reserve the right to edit responses for language and grammar.
__________________________________________________________________
Liked this story? Indiaspend.org is a non-profit, and we depend on readers like you to drive our public-interest journalism efforts. Donate Rs 500; Rs 1,000, Rs 2,000.