Going Strong But Only 28% Indians Have Aadhaar Numbers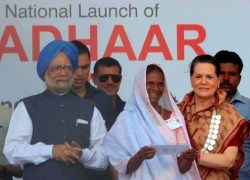 The UPA Government led by Prime Minister Manmohan Singh completed nine years in power recently.
Among many claims the UPA Government has made, one could be crucial for its agenda of social inclusion and direct transfer of cash benefits to eligible citizens.
The bet, further, is on Aadhaar, the 12-digit biometric unique identity number issued by Unique Identity Authority of India (UIDAI). Aadhaar, whose primary purpose is to create authenticatable proof of identity for all Indian residents, will also be the crucial link for cash transfers to the bank accounts of all those eligible for subsidies.
The number of Aadhaar's issues currently stands at above the 343 million mark. IndiaSpend had earlier reported that about 260 million Aadhaar cards had been issued in January 2013. So, there has been a 31% increase in the number of Aadhaars generated in the last four months.
Figure 1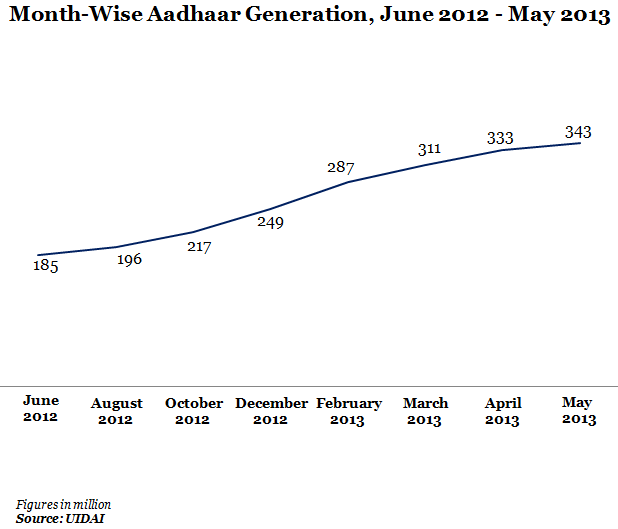 What's interesting to note here is that even though there has been a 31% increase in cards generated, only about 28% of the country's 1.2 billion people have actually enrolled for the cards. The map below shows the Aadhaar enrolments as a percentage of population.
Figure 2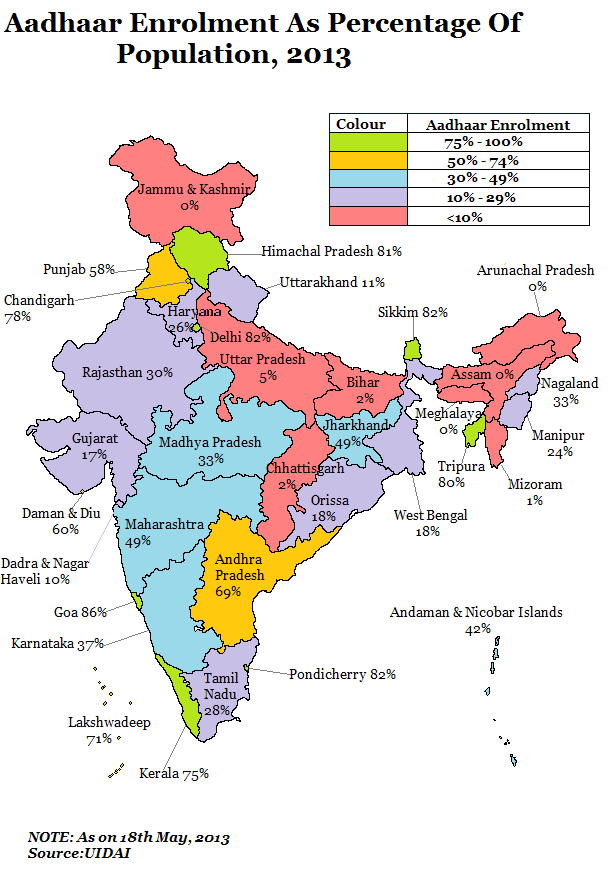 As you can see, Goa, Sikkim, Tripura and Himachal Pradesh lead in terms of Aadhaar enrolments as a percentage of the state's population.States like Uttar Pradesh, Bihar, Chhattisgarh, Mizoram, Arunachal Pradesh, Assam and Meghalaya have a long way to go with numbers falling in the 0-5% category.
UIDAI has cumulatively spent over Rs 2,370 crore, as on January 2013, on implementing the project. In May 2013, the Government approved Rs 3,436 crore for Phase IV of Aadhaar to cover 400 million people.