Goa: In 2nd Term, BJP Govt Faces Illegal Mining, Crime Against Tourists, Unemployment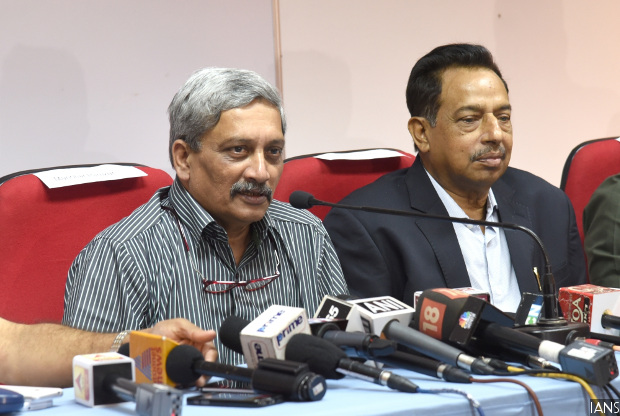 Goa Chief Minister Manohar Parrikar talks to the press following a floor test to prove his government's majority on March 16, 2017. The Bharatiya Janata Party government resuming charge must deal with challenges on the unemployment, law and order, pollution, illegal mining and public health fronts.
Verdant Goa has been a tourist magnet for decades. With mining having stalled, tourism has become Goa's largest employer--one in 10 Goans works in this sector.
However, lately Goa has been in the news for frighteningly violent crimes against tourists, including rape and murder. India's smallest state reported 26 crimes against foreign tourists in 2015, the fourth-highest after Delhi (113), Maharashtra (36) and Uttar Pradesh (32). Crimes against tourists remain high even as the state recorded a 9.4% drop in rape cases and 8% in murder cases overall in 2015, according to data from the National Crime Records Bureau.
This is just one of Goa's many pressing challenges, which the Bharatiya Janata Party (BJP) government must face as it resumes power over the state following the recent assembly elections.
The party has its task cut out for the next five years: Improve oversight of its mining industry, spruce up infrastructure particularly with a view to managing burgeoning tourism and generating employment, enhance public health performance, and support all of these by restoring growth to pre-mining ban times.
Here's a closer look at the challenges and what the BJP has promised in its manifesto.
Mining ban and its fallout
One of India's most prosperous states, Goa had India's highest per capita income (Rs 2,62,124) in 2014-15.
However, Goa has struggled to tackle the fallout of a two-year mining ban which ended in 2014, after the Supreme Court (SC) made regulation tighter and iron ore prices dropped internationally, causing the sector to stall.
Before the ban, during 2010-11 and 2011-12, Goa's gross state domestic product (GSDP) had grown at 16.9% and 20.2%, respectively, helped by peak iron ore prices. Before this, between 2008-09 and 2009-10, Goa's GSDP had been stable at 10%.
After the ban was imposed in 2012, Goa's GSDP grew 4.2% in 2012-13, though it recovered to 7.7% in 2013-14 and 7.4% in 2014-15 (quarter ending March 2015).
Source: Goa Economic Survey 2015-16Note: At constant (2004-05) prices; P: Provisional, Q: Quarter ending March 2015
In 2014-15, the primary sector contributed 9.13% to the GSDP--less than half of what it had in 2007-08 (20.15%), the 2015-16 economic survey showed.
Prior to the ban, Goa's iron ore mining industry, wholly focused on exports, was responsible for 18% of the state's revenue, according to this February 2015 report in the Economic and Political Weekly (EPW). However, it also exacted a heavy environmental and social price as explained in this 2017 EPW report.
A 2012 report by the Justice MB Shah Commission uncovered widespread illegal practices, leading the SC to halt all mining activity here. The Commission observed that Goa's iron ore made a few persons--those holding mining leases--billionaires, while the tribals and villagers from mining areas suffered adverse environmental effects. "...their drinking water remains polluted and roads remains badly damaged/congested. Nobody has bothered remedying their difficulties," the report said.
It pegged the mining industry's debt to the state at Rs 34,935 crore, and estimated that mines were encroaching on 500 hectares of community forests and ecologically-sensitive areas.
In an ongoing public interest litigation filed by the Goa Foundation, a non-governmental organisation, the SC is examining how to implement intergenerational equity, the principle that future generations must inherit at least as much as the present inherited, this February 2017 EPW report noted.
Illegal activities include mining without requisite permissions, fraudulent Environment Impact Assessment reports, and violating conditions of environmental clearance, according to this 2012 Western Ghats Ecology Expert Panel report for the Ministry of Environment, Forests and Climate Change (MoEF&CC) chaired by ecologist Madhav Gadgil.
This committee made two crucial recommendations: Banning all mining activity in the Western Ghats, and controlling extraction, even closing mines that are extracting beyond limits. MoEF&CC has banned mining in parts of the Western Ghats, which Goa and other states must enforce.
Goa's record of enforcement, however, has been sketchy. In January 2015, after the SC-imposed ban was lifted to allow partial resumption, the state issued an ordinance amending its mining laws as per SC recommendations. Before this could come into effect, however, the state renewed 87 leases of 90 mines operational in 2012 that included some red-flagged by the Shah Commission, according to this February 2015 EPW report.
During its new tenure, the BJP government must build on the successes of its first, when it set up a special team to investigate illegalities, began an audit of mining leases, and formed a 'Goa Mineral Ore Permanent Fund Scheme' with a provision of Rs 66 crore towards ensuring intergenerational equity.
The state must also implement reforms to restore community ownership and custodianship of minerals, the Goenchi Mati Movement, a group advocating responsible mining practices, demanded. This would entail acquiring the full value of the minerals extracted for citizens; setting up a permanent fund for future generations; and distributing real income from the fund equally among the people as a "citizens' dividend".
What the manifesto said: The party largely skirted the mining issue in its manifesto, merely mentioning "sustainable eco-friendly mining with exclusive transport corridors" as a priority. The party has also said it will aggressively promote non-polluting and employment-generating industries such as pharmaceuticals, manufacturing electronic goods, and the IT sector.
Unemployment
Ever since the SC placed tighter conditions on mining, Goa's rural unemployment rate has risen from 11.3% in 2013-14 to 15% in 2015-16, according to the annual employment-unemployment survey reports.
At 15%, Goa's unemployment rate in 2015-16 is nearly thrice the all-India unemployment rate of 5%. Among Goan women, the rural unemployment rate is even higher at 26.9%, nearly 10 percentage points more than the statewide female unemployment rate of 17.2%, according to the 2015-16 annual employment-unemployment survey report.
Goa has also fallen in an India-wide assessment of implementation of business reforms, sliding down from 19th of 29 states and seven Union Territories in 2015 to 21st in 2016 in the assessment of ease of doing business, replacing Bihar, which has jumped five places to rank 16.
What the manifesto said: It proposes incentives to industries and startups to generate employment. To spur entrepreneurship and job creation, the party said it will revitalise the Chief Minister's Rozgar Yojana (employment scheme) to include start-ups; seek private-sector participation to set up a venture capital fund and an angel financing fund; and provide uninterrupted power and high-speed broadband internet.
The BJP also promises to handhold industries through a separate policy for implementing the Goods and Services Tax, once approved by Parliament.
To spur job creation through infrastructure, the party has put its weight behind construction of an airport at Mopa in North Goa. It also plans to set up IT Parks and an Electronic City at Tuem, and Chimbel, in the north and Verna in the south and introduce licensing and town planning regulations for industrial zones based on the needs of the industry.
It also proposes to set up cooperatives and umbrella organisations for NGOs and self-help groups in the food industry, and to provide them with marketing aid.
Tourism
With mining activity stalled, tourism has become Goa's top employer--currently engaging 10.2% of the state's workforce.
Even as the state recorded a drop of 9.4% in rape cases and 8% in murder cases in 2015, as we said, Goa had the fourth-highest crimes against foreign tourists.
As a labour-intensive sector, tourism creates 78 jobs for every Rs 1 million invested, according to data from the Union Ministry of Tourism, with more opportunities for women, youth, and low- and semi-skilled workers. In comparison, the agricultural sector creates 45 jobs for the same investment, and manufacturing, only 18.
In 2016, Goa recorded 6.3 million tourist arrivals, a number that has more than doubled in the six years since 2010. In the same year, the state reported an 11% lodging capacity with 3,358 hotels offering 56,595 beds.
Source: Department of Tourism, Goa; *Provisional
In addition to a high crime rate against tourists, Goa is also battling local opposition to casinos, which are popular among tourists but accused of promoting the "ill-practice" of gambling and polluting the Mandovi river, on which they ply.
The Aam Aadmi Party, which contested the elections, and the opposition Congress, had both promised to close down floating casinos in their election manifestos.
During its last tenure, the BJP had banned Goans from entering casinos in 2014 after protests by local activists. It may have to face the issue head-on in its current term.
"Casinos should be allowed to exist but must be run as per rules and regulations. One can't shut them down since a lot of tourists and visitors frequent them," Goa Governor Mridula Sinha had said in this March 16, 2017, Mumbai Mirror interview.
Another problem exacerbated by expanding tourism is pollution: About 4.5 tonnes of plastic waste is disposed every day, for which there is no proper disposal infrastructure. Improper garbage management in rural areas has led to burning of plastic, and disposal on roads and other open areas, adding to the pollution problem.
Lack of awareness and enforcement, of buy-back policies or incentives, of a green tax, and of organised rag-pickers impede collection and disposal of plastics, according to this Goa State Pollution Control Board document.
What the manifesto said: To curb crime, the manifesto said the government will install CCTV cameras at all tourist destinations and ensure these spaces are well illuminated, while also improving public transport for better connectivity to popular spots.
For tourist facilities, the BJP has promised changing rooms and toilets at all tourist locations while promising to encourage tourism of all sorts--ecological, event, medical, heritage, religious, adventure and village. The party has also promised to make Goa a "preferred destination" for "mega events" such as a defence expo, during the lean monsoon season.
With respect to garbage management, the manifesto said it will "ensure" a clean, green and garbage-free Goa, and phase out the use of plastics in designated tourist spots--without providing any details on implementation or timelines.
Health
Goa has among the best health indicators in the country: 99.5% of births take place in hospitals against the Indian average of 79%, and its infant mortality rate is the lowest in the country, as IndiaSpend reported in March 2017. Yet its performance on some indicators is beginning to decline, as IndiaSpend noted in February, 2017.
Goa's public spending on health is almost four times the national average, and public health centres are fully equipped with doctors, lab technicians, and nursing staff, according to the Rural Health Statistics, 2016. However, the state falls short of specialists–surgeons, obstetricians, gynaecologists, physicians and paediatricians–at community health centres.
This leaves Goan households having to spend more on private healthcare. The average medical expenditure per hospitalisation in rural parts (Rs 32,503) is nearly twice the average for all states and union territories in India (Rs 16,956). The average expenditure for delivery care in rural Goa is almost three times rural India's average, while that of urban Goa is 70% more than the average for urban India.
Goa's proportion of children under five who were stunted--had low-height-for-age--fell from 26% in 2005-06 to 20% in 2015-16. However, in the same period, the proportion of children wasted--had low weight-for-height--rose from 14% to 22%.
The state also reported a rise in cases of obesity and lifestyle diseases. Urban North Goa reported the largest proportion of overweight or obese men and women in the state, at 36% and 39%, respectively.
What the manifesto said: The party has promised to extend a national insurance programme to government employees and strengthen government healthcare facilities. The Goa Medical College and Hospital will also introduce additional super-speciality facilities for cancer treatment, it said. The party did not specifically address the growing number of wasted children or the rising incidence of lifestyle diseases.
(Saldanha is an assistant editor and Patil is an analyst with IndiaSpend.)
We welcome feedback. Please write to respond@indiaspend.org. We reserve the right to edit responses for language and grammar.
__________________________________________________________________
"Liked this story? Indiaspend.org is a non-profit, and we depend on readers like you to drive our public-interest journalism efforts. Donate Rs 500; Rs 1,000, Rs 2,000."