Global Worries Help Arun Jaitley Pay Big Bills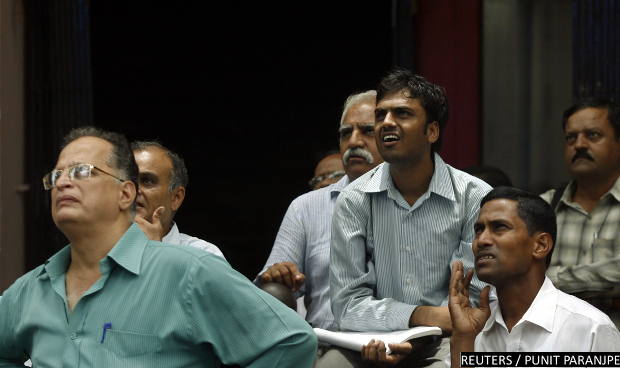 People watch a telecast of the annual budget, on the facade of the Bombay Stock Exchange (BSE). Budget remains the key turning point in the financial year, for everyone.
India is expected to save Rs 1.2 lakh crore ($17.6 billion) because of reduced oil prices and increased excise duties.
This is likely to help Finance Minister Arun Jaitley achieve the fiscal deficit (government spending minus earnings) target of Rs 5.56 lakh crore ($81.8 billion), or 3.9% of the gross domestic product (GDP), even with reduced prospects of direct tax revenue.
It will also help the government achieve the current account deficit (imports of goods, services and investment minus exports) target of 1.3% of GDP for the current financial year, which was 1.4% of GDP in the first half, April to September 2015-16.
This is what's happening around the world:
* Oil prices have plummeted to an 11-year low of less than $30 per barrel.
* China's economic growth has dropped below 7%.
* The rupee is down to 68.10 per dollar, the lowest in two years.
* The Baltic Dry Index--a measure of the price of shipping major raw materials such as metals, grains, and fossil fuels by sea--is at a 30-year low.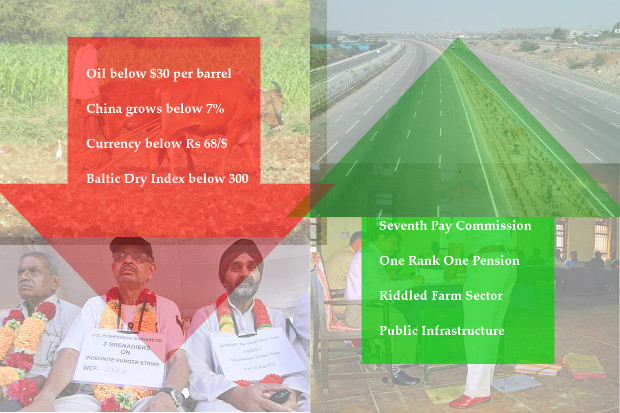 The dip in oil prices has given India a $18 billion bonanza
Reduced oil prices would save the government Rs 2.7 lakh crore ($39.7 billion), although falling exports will take away Rs 1.7 lakh crore ($25 billion)— a net gain of Rs 1 lakh crore ($14.7 billion) for the government.
Raised excise duties will earn another Rs 20,000 crore ($3 billion), if the excise collection in December stays the same over the last three months of the fiscal year 2015-16.
This Rs 1.2 lakh crore windfall will pay for raises to 10 million government employees--under the Seventh Pay Commission--and three million ex-servicemen and war widows, as part of the One-Rank-One-Pension demand. The two schemes together demand Rs 1.1 lakh crore from the government exchequer, according to this finance ministry document.
Without the global oil-price drop, Jaitley would have been hard-pressed to find the money to pay for these pay hikes to 13 million soldiers and government employees.
Oil (Brent crude) has dropped to below $30 per barrel, a price last seen in 2004 and during the 2008 financial crisis.
The price of the Indian basket of crude oil (a proportional mix of sour grade Dubai and Oman oil and sweet grade Brent crude oil) has fallen from $110 per barrel in 2013 to $26 per barrel in January 2016.
The current crash in oil prices is due to a steep decline in demand from the developed markets and China while the initial drop from $100 to $60 per barrel was due to a supply glut, Saugata Bhattacharya, chief economist at Axis Bank, said in this Rajya Sabha TV discussion.
The fall in oil prices during the 2008 crisis was steep; so was the recovery.
"The 2008 financial crisis led to a sharp spike—a sharp downturn and a sharp climb back up," said Bhattacharya. "That is not going to happen this time. 2016 will see sustained slowdown, much like a J-curve rather than the steep V–curve that we saw in 2008."
World trade slows, so does Indian trade, but India grows--for now
The Baltic Dry Index (BDI), previously known as Baltic Freight Index, touched an all-time low of 290 in February 2016. The BDI at its nadir indicates trouble for the global economy, according to shipping industry experts quoted in a Mint article.
India's exports and imports have fallen, as a consequence, but whether this is a precursor to domestic economic woes is unclear, with many predicting a reduced but still robust 7% GDP growth for India, now the world's fastest-growing economy.
A sudden and sharp decline in BDI is likely to foretell a recession since producers have substantially curtailed their demand, leaving shippers to substantially reduce their rates in an attempt to attract cargo, wrote Jean-Paul Rodrigue of the Department of Global Studies and Geography, Hofstra University, New York.
The all-time high of BDI was 11,793, just before the financial crisis of 2008.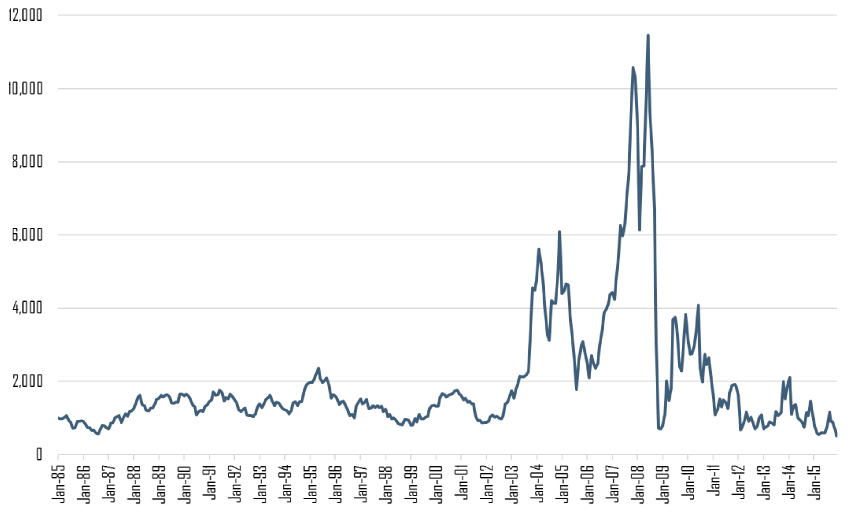 Rodrigue, J-P et al. (2013) The Geography of Transport Systems, Hofstra University, Department of Global Studies & Geography.
China slows down, the world shivers. Will India get the chills?
China's economy is now growing at 6.8%, the slowest over the last two decades, and there has been huge capital outflow from China. India is unlikely to be unaffected. About $2.3 billion was withdrawn by foreign institutional investors in the first two months of 2015-16, as IndiaSpend reported.
People's Bank of China devalued the Chinese Yuan 6% in 2015. From April 1 2015, the Indian rupee has weakened 6.62%.
Weakening Rupee may hurt foreign investment
The rupee has been sliding for a year, affecting investor sentiment, increasing the import bill and triggering inflation, although it has helped exports, said this research paper in the International Journal of Commerce Business and Management.
Oil, trade, China and the dollar set stage for India's budget
India needs to be aware of a weakening China, since it affects India more than it does a weakening western economy, Harish Damodaran and Shaji Vikraman wrote in this Indian Express column.
The contagion effect on closely-knit Asian emerging markets is also described in this paper.
Other warning signs:
* In this Economic Times poll and elsewhere, experts predict that the dollar could breach the Rs 70 mark.
* Revenue collection through direct taxes and disinvestment in public sector enterprises is estimated to fall short of budget estimates by Rs 70,000 crore.
However, as we said, the government does stand to benefit from the slowdown. It gave the government room to increase excise duty on petrol and finance the fiscal deficit, while savings due to low oil prices has brought down the current account deficit in 2015-16 (April – December) to 1.4% of Gross Domestic Product, from 1.8% in 2015-16.
Whether the government will use this money to balance its debt to reduce the fiscal deficit or will it expand the fiscal deficit to build public infrastructure, or provide subsidies to the troubled farm sector remains to be seen.
Reserve Bank of India (RBI) Governor Dr. Raghuram Rajan has cautioned against fiscal expansion (increased spending by borrowing) and advocated fiscal consolidation (spending with restraint).
"The Indian economy is currently being viewed as a beacon of stability because of the steady disinflation, a modest current account deficit and commitment to fiscal rectitude,"said this RBI statement.

*Note: All Indian Rupee to US $ calculations done with an exchange rate of 1 USD to 68 INR
(Waghmare is an analyst with IndiaSpend.)
We welcome feedback. Please write to respond@indiaspend.org. We reserve the right to edit responses for language and grammar.
__________________________________________________________________
"Liked this story? Indiaspend.org is a non-profit, and we depend on readers like you to drive our public-interest journalism efforts. Donate Rs 500; Rs 1,000, Rs 2,000."