Global Terror Death Toll Surges 9-Fold Over 15 Years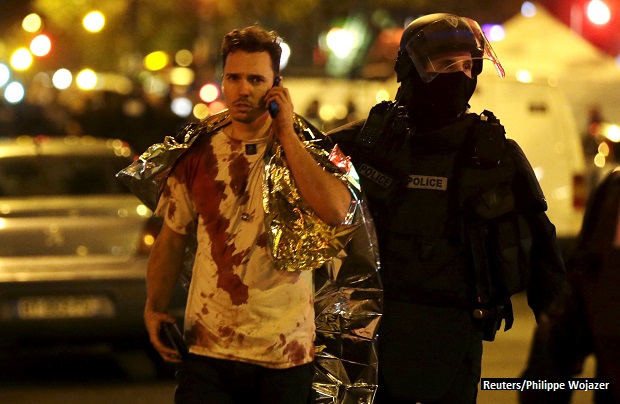 A French policeman assists a victim near the Bataclan concert hall following attacks in Paris, France on November 14, 2015.
There has been a nine-fold increase in deaths due to terrorism globally, rising from 3,329 in 2000 to 32,685 in 2014, according to the Global Terrorism Index 2015 report by the Institute for Economics & Peace, a think-tank based in Sydney, Australia.
The global economic cost of terrorism was $283 billion over the past 15 years, reaching a record high of $53 billion in 2014.
The prime targets of terrorist attacks have been citizens and private property. Deaths of private citizens increased 172% in 2014 over the previous year.
Nigeria-based Boko Haram and the Islamic State of Iraq and Syria (ISIS) accounted for 51% of total deaths attributed to terrorist groups in 2014.
Boko Haram has emerged as the deadliest terror outfit in 2014, killing over 6,664 people, an increase of 317% over the previous year.
Boko Haram pledged its allegiance to ISIS, renaming itself as Islamic State's West Africa Province in March 2015.
Another terrorist group, Fulani militants, has emerged in Nigeria that killed 1,229 people in 2014. The top five terrorist groups were responsible for 74% of all terrorist-related deaths.
The ISIS claimed 6,073 deaths in 2014, the most after Boko Haram.
The Global Terrorism report highlights that ISIS inflicts more deaths on the battlefield (20,000) than through terrorism (6,073) attributed to the group.
Source: Global Terrorism Index 2015
Baghdad (43) has the highest fatality rate per 100,000, followed by Maiuguri (39), Mosul (29), Peshawar (25) and Donetsk (10).
The French capital of Paris saw a series of terrorist attacks on November 13, killing 129 people and leaving over 300 injured, the worst violence in France post World War II.
ISIS, also known as the Islamic State of Iraq and the Levant (ISIL), has claimed responsibility for the Paris attack.
The attacks in Paris were carried out by eight terrorists, of whom seven killed themselves in suicide bombings.
As many as 705 bombing attacks by ISIS were reported in 2014. As many as 117 instances were of suicide bombings, resulting in 1,101 deaths with an average of nine people killed per attack.
Five countries, 78% terror deaths
Almost 78% killed in terror incidents are from five countries: Iraq, Nigeria, Afghanistan, Pakistan and Syria. These five countries also account for 57% of all terror attacks in 2014, while Iraq and Nigeria alone account for 53% of all deaths.
Global Terrorism Index 2015, Top 10 Countries
Source: Global Terrorism Index; Figures are for 2014
Deaths due to extremist incidents increased by 80% in 2014 over the previous year. These top ten countries accounted for 88% of all deaths in 2014.
Iraq tops (10) the index, heading a list of 162 nations. The country is one of the worst affected by terrorism, reporting 9,929 deaths in 2014, an increase of 55% over 2013. Iraq also accounted for 30% of all deaths in 2014.
Nigeria recorded a four-fold increase in deaths (7,512) from terrorist attacks, the largest increase ever witnessed by any country, moving up to second position from fifth in 2013.
Terrorism-related activities and incidents led to a global economic loss of nearly $53 billion in 2014 with an economic impact of $106 billion.
The cost of counter-terror operations, led by United States against ISIS in Iraq and Syria, is estimated to be $5 billion from August 8th, 2014 to October 31st, 2015, with an average daily cost of $11 million for 450 days, according to the United States Department of Defense.
Maoists cause most terror deaths in India, Bodo terrorists are second
India reported 416 fatalities, accounting for 1.2% of deaths, in 2014. The report said that India, for the first time, did not feature among the top 10 countries with fatalities from terrorism.
The majority of attacks in India were low intensity and 70% were non-lethal. As many as 50 terrorist groups have been identified behind the attacks and categorised into three groups: Islamists, separatists and communists.
Communist organisations are the main cause of terror deaths in India, says the report.
Two Maoist (Communist) outfits claimed responsibility for 172 deaths in 2014, 41% of all deaths from terrorism, while Islamic terrorist groups were responsible for (14%) 57 deaths.
Pakistan-based Lashkar-e-Taiba and Hizb-ul-Mujahideen were responsible for 24 and 11 deaths respectively, in 2014.
The National Democratic Front of Bodoland, a separatist terror organisation in the north-east and the second-deadliest group in India in 2014, killed as many as 80 people. The region in and around Assam reported 106 deaths (25%) in 2014.
Private citizens, property prime targets
Private citizens and property constituted 31% of all global terror attacks in 2014, resulting in the loss of 15,380 lives.
(Mallapur is a policy analyst with IndiaSpend.)
_________________________________________________________________
"Liked this story? Indiaspend.org is a non-profit, and we depend on readers like you to drive our public-interest journalism efforts. Donate Rs 500; Rs 1,000, Rs 2,000."