Free Petrol To Free Wifi: Big Promises In Little Goa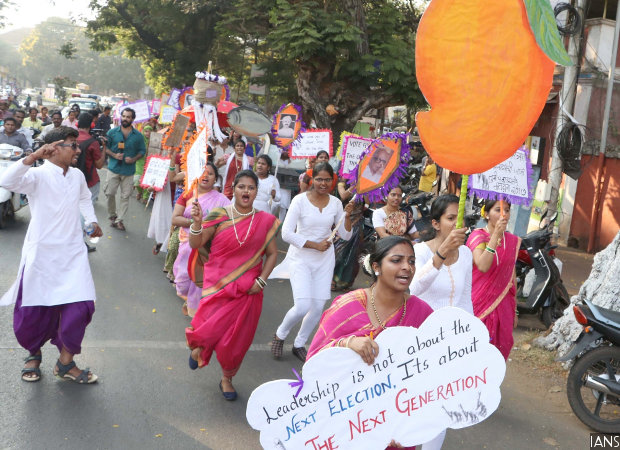 People participate in a voters' awareness campaign ahead of Goa assembly polls in Panaji. Our examination of party manifestos in the state's first three-cornered election provides an insight into the intensity of the battle.
The Congress has promised students five litres of free petrol per month (if they hold a valid driver's license), the Aam Aadmi Party (AAP) has promised free Wi-Fi across the state and the ruling Bharatiya Janata Party (BJP) has promised 24x7 uninterrupted power and high-speed broadband internet as Goa prepares for its first three-cornered electoral battle.
Over one million voters will either choose to vote in the incumbent BJP or opt for change. Our examination of party manifestos provides an insight into the intensity of the battle for one of India's most prosperous states, ranked first in terms of per capita income (in 2014-15), and the country's fourth-most literate state.
The BJP, in a video distributed over social media, declared it had kept its promises and, if elected, will improve the state's transport infrastructure, including construction of a new international airport at Mopa in North Goa, a project that, it claims, will help tackle youth unemployment.
Other parties have raised concerns about the location--as both the Congress and the AAP said that the land was acquired through land fraud from the local tribals. As one of its big promises, the AAP said it will halt all plans at Mopa until further investigation.
Rural unemployment big concern, parties offer no clear solutions
Since 2014, when the Supreme Court lifted a two-year ban on mining--allowing it under tighter conditions--Goa's rural unemployment rate has risen from 11.3% to 13.8% in 2015-16.
The manifestos do not offer viable solutions to address the problem that coincides with Goa's slipping rank in the ease of doing business from 19 in 2015 to 21 in 2016.
The AAP manifesto has promised to create 50,000 jobs in five years by supporting existing and new industries and entrepreneurship. The party has said it will introduce a "single-window clearance" and tax breaks for companies that set up "eco-friendly" businesses in Goa and hire locals.
The Congress manifesto promises to reserve jobs for Goans in all private enterprises and government jobs and offer skill training and incentives to industries and investors willing to hire young Goans.
The BJP also said it would create employment by boosting the tourism sector.
Source: Aam Aadmi Party, Bharatiya Janata Party and Congress manifestos
Can Goa again become India's largest exporter of iron ore and stay clean?
While the BJP made no mention of helping Goa's ailing mining industry--the state's primary employer--both the AAP and the Congress have proposed to restart mining operations as soon as possible, promising to introduce an eco-friendly law-abiding mining industry for the state.
Goa was India's largest exporter of iron ore, before the Supreme Court imposed a ban on activity in 2012 after this report uncovered rampant illegal mining. The ban left many unemployed because the state lacks other mass-employment opportunities--save tourism--or because its citizens do not have the educational qualifications for other jobs.
The AAP has proposed to turn Goa into India's first "corruption-free and pollution-free" mining state and promises to recover Rs 36,000 crore from the mining mafia. The party said it would employ drones to check illegal mining.
To help those affected by mining ban--particularly truck drivers, machine-owners, and farmers--the AAP has promised a corpus of Rs 400 crore to fund compensation. The first instalment of this will be disbursed as compensation packages in the first two years of governance, the party's manifesto said.
The Congress has also promised to restore mining by acceding to the Supreme Court's recommendations. For those affected by the ban, the party--which lost the previous state assembly elections in 2012 after illegal mining practices valued at Rs 2,747 crore, according to a 2012 report--has proposed a permanent mining fund and scrapping the hire of contractors for mining trucks and equipment. Many Congress leaders, including then chief minister Digambar Kamat, were named as being complicit in illegal mining.
With mining uncertain, a slew of promises around tourism, currently Goa's top employer
With mining activity stalled, tourism has become Goa's top employer--currently engaging 10.2% of the state's workforce.
The AAP has proposed a "single-window clearance" system to issue licences for shacks on Goa's beaches over the next six months, new toilets and CCTVs.
The Congress has promised to offer licences for a five-year term. The BJP has promised changing rooms and toilets at all tourist locations--apart from promises to encourage ecological, event, medical, heritage, religious, adventure and village tourism. The party has also promised to make Goa a "preferred destination" for "mega events", such as a defence expo, during the lean monsoon season.
Both the AAP and the Congress have promised to end floating casinos--set up over 24 years--while the ruling BJP has avoided the controversial issue as it has banned locals from entering casinos after protest from local activists on the ill-effects of gambling. Casinos are now accused of promoting gambling and polluting the Mandovi river, where they are situated.
Both parties have also promised to clean up beaches and garbage--within a year of taking office, said the AAP manifesto--statewide.
Lots of promises for healthcare in a state where health is faltering
To counter the AAP's promise of setting up 400 vaddo (village block) clinics across Goa with free diagnosis and treatment, the Congress has promised to offer universal healthcare to all Goans with a refurbished medi-claim scheme that allows treatment at listed private hospitals and government healthcare centres.
While Goa has more public-health centres, by proportion, than any other state, and no shortage of doctors, a fifth of Goan children under the age of five are stunted, according to the latest government data. Nutritional issues coexist with rising obesity, especially lifestyle diseases.
The Congress has promised "state-of-the-art" services for dialysis, physiotherapy, rapid diagnostics and pathology labs at every taluka-level hospitals and pharmacies at all primary health centres. It also promises support services, treatment and therapy for people with special needs (such as autism, Asperger's, Down syndrome etc), differently-abled persons and senior citizens.
The BJP has promised to extend a national insurance programme to government employees and strengthen government healthcare facilities.
Wooing women: Everyone promises something
The AAP manifesto has promised to set up five women-only police stations, women-only wings at all hospitals and fast-track courts to deal with crimes against women. It has also promised to double allowances for single or married women, widows and senior citizens.
Also offering to increase these allowances, the Congress manifesto mentioned financial assistance of Rs 50,000 for self-help groups.
The BJP has promised to link payments made by all social sector programmes aimed at women and children to inflation, which means more money to beneficiaries.
The Congress has also promised to link all welfare schemes to the wholesale price index or cost of living index.
English, Konkani or Marathi: The tricky issue of language
The party manifestos discussed what has become a hot-button issue: The medium of instruction in state schools.
The Congress has promised to address the controversy by changing the law to leave the decision to parents, offering incentives for those who choose the regional language, Konkani.
The AAP has promised to set up a committee of experts to resolve the issue.
The BJP manifesto said nothing. A faction of the Maharashtrawadi Gomantak Party--a Marathi-first Hindu outfit that supported the BJP--left the ruling coalition in January 2017 when its demand to withdraw government funding to English-medium schools was ignored.
(Salve is an analyst with IndiaSpend. Saldanha is an assistant editor with IndiaSpend.)
We welcome feedback. Please write to respond@indiaspend.org. We reserve the right to edit responses for language and grammar.
__________________________________________________________________
"Liked this story? Indiaspend.org is a non-profit, and we depend on readers like you to drive our public-interest journalism efforts. Donate Rs 500; Rs 1,000, Rs 2,000."