Why A Flower Farmer Cannot Join The Cashless Economy, A Year After Demonetisation
Keshu Patel and his son Kantilal pluck marigold flowers in his field in Mirjapur, Madhya Pradesh. Post notebandi, the unpredictability of getting cash, which he needs for all his transactions--groceries, payment to labourers, transporters--has left him anxious.
Mirjapur and Indore (Madhya Pradesh): Keshu Singh Patel, 56, was nowhere to be seen at Indore's flower market on November 7, 2017, 364 days after the government's decision to invalidate Rs 500 and Rs 1,000 notes. Repeated calls to his cell phone by this reporter were answered with the message: "The number you are dialling is switched off."
On the morning of November 8, 2017, IndiaSpend found Patel plucking marigold flowers on his farm in Mirjapur, near Indore, the commercial capital of Madhya Pradesh. "The phone isn't working since the past 20 days," said Patel. "It can't be repaired and we don't have the money to buy a new one right now."
Patel's predicament underscores the difficulty small farmers face in moving to digital payments, which have increased overall over the past year.
Though, farmers and traders said the move to demonetise notes did not have a lasting effect on prices in the flower market, the shift to payments by cheque for large transactions had delayed when farmers would get cash in hand, impacting household purchase decisions, particularly as small farmers and traders struggle with the banking system, and low financial and digital literacy.
Many farmers do not own a smartphone--1 billion people across India do not--so they cannot access mobile banking services or internet-based payment systems.
Last year, IndiaSpend had spent a day with Patel to understand the impact of demonetisation or, notebandi as it is locally known. Because of lack of cash in the market, flower prices stayed low even in the wedding season, leading to a loss of 70% of Patel's usual income between the months of October and January.
One year after the decision to invalidate overnight Rs 14 lakh crore--or 86% by value of Indian currency in circulation--IndiaSpend visited Patel and the Indore flower market to know whether there were any lasting effects of the move.
Cash still most important, don't use cards or cheques for payments
Patel is one of 118.6 million Indian farmers, as the Census recorded in 2011--equivalent to the population of the Philippines. As many as 9.8 million farmers live and work in Madhya Pradesh, one of India's poorest states. Patel is a "small farmer", as he has about 2.5 acres of land, less than the average land held by an Indian farmer (2.84 acres), according to the agricultural census of 2010-11, as IndiaSpend reported in December 2016.
This year, Patel first sold onions, which he said sold at a rate lower than what he had expected. But the main problem he faced, he said, was that traders would insist they pay him via cheque, some of them post dated. "It would take 4-5 days for the money to come into the bank account, and then we would have to go and withdraw from the bank," he said. For everyday transactions which would barely amount to Rs 500-1,000, including paying for the transport of produce, engaging with the banking system was more trouble than it was worth.
"First you go to the bank to deposit the cheque," said Patel. "When you go back to withdraw money, they will sometimes tell you the signature doesn't match, sometimes you will be asked to get the Aadhaar card." He said his older brother who lives in the same village sold about 25 quintal of soyabean at Rs 2,300-2,400 per quintal about five days ago, but the money hasn't reflected in his account yet.
The Madhya Pradesh government had said farmers could be paid upto Rs 50,000 in cash, but reports said farmers were still being paid by cheque.
"We need money immediately if some disease attacks our crops. If we don't spray the davai (insecticide or fungicide) immediately, it causes us a loss," said Patel. This year, a part of Patel's marigold crop withered due to a disease he calls "kapadia", similar to blight, which blackens leaves and withers flowers.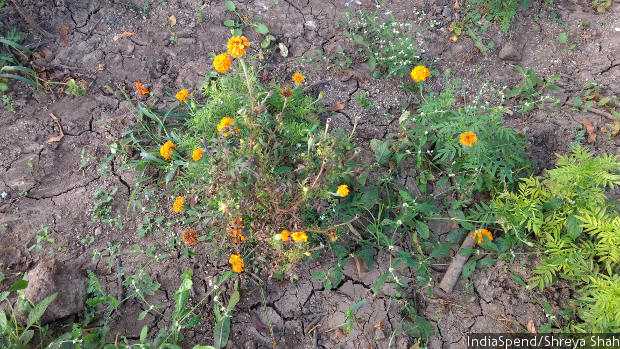 A diseased marigold plant in Keshu Singh Patel's farm. This year, a part of his crop was spoilt because of disease.
When asked whether he uses a card to make payments at the local grocery store, Patel is at a loss. He said grocery shops don't have a card, that his bank doesn't give him a card--only cash--and then that he only has a bank account. His son, Kantilal, explains that he owns a card he uses only to withdraw money from the ATM, but right now they have no money in the bank.
Prices currently low in the market, but not because of notebandi
It is a period of low prices at the mandi (market), not because of any lasting effects of notebandi, but because of the usual ups and downs in the market, said Shabbir Abbasi, 52, a worker at Bharat flowers at the Indore mandi. "Prices should go up in some days as the wedding season begins," he said.
Patel hasn't started regularly selling his produce of marigold and chrysanthemums at the market--he said he will start in a couple of days as his produce matures and prices go up.
"There is no money in the market. I don't know why," said Champalal Kehlewad, 47, a farmer who sells his produce--flowers, soyabean, potatoes, other vegetables--at the Indore market. "It's like even nature isn't supporting the current government," he said, giving the example of poor monsoons this year.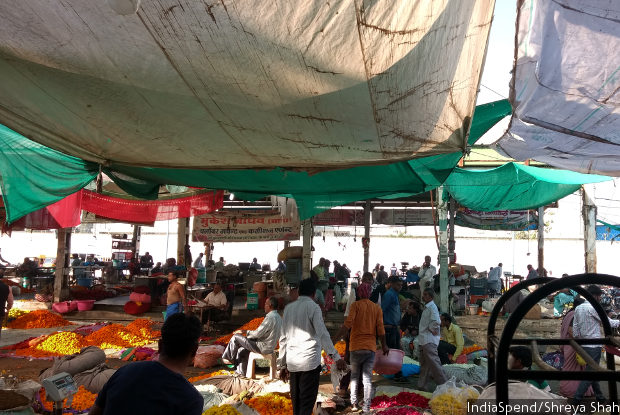 The flower market in Indore, Madhya Pradesh. Last year, the month after notebandi, flower prices had stayed low even in the wedding season. But there hasn't been a lasting impact of notebandi on prices, traders and farmers said.
Small transactions by cash, only big traders use cheques
"I still don't have a bank account," said Jagganath Mahadeo Bhuyyer, who goes by the name Bhausahab, and owns a flower shop in the mandi. He had told IndiaSpend last year that it was too much trouble to start and operate a bank account. "But I am going to open an account tomorrow, on Wednesday, which is an auspicious day," he said. He said he was selling his house, and he would put money from the sale into the account.
Overall, India has high bank account ownership with 63% Indians owning a financial account of some kind. But only 12% used an advanced bank account service such as bill payments, insurance and loan payments in 2016, as IndiaSpend reported in October 2017.
Mukesh Mukati, a farmer who sells at the market, has a bank account, but he doesn't use it regularly. "There has to be enough money in the bank to use it," he said, explaining that he has also taken a loan from the bank. He said he runs the household on the the cash he receives at the flower market everyday.
For everyday transactions at the market, Bhuyyer said bank accounts were of no use. "Why would anyone who pays us Rs 200, 500, 1,000 use an account for it? Why would we pay the farmer such small amounts by cheque?"
It is the big traders in the flower market who receive payments by cheque.
Pankaj Parod, 37, a trader, has been working in the market for 15-20 years. Before notebandi, there were some payments by cheque or direct bank transfers, but most of the transactions were still in cash, he said. "Now people who buy in bulk, pay by cheque or transfer the money to the bank, but farmers still want us to pay them cash because the amounts are too small, and this delays payments," he explained.
"Now there is no certainty when we will be paid," said Gajanand, a farmer who has been selling in the market for 30 years. "But we understand that it's not the traders fault."
No one in the mandi has a credit or debit card machine for payments.
'Ask the government to let traders pay farmers in cash'
Last year, the Patel family had about Rs 30,000-40,000 in the bank account, but they used the money for seeds for the next year, and household expenses. This summer, they spent Rs 50,000-60,000 to dig a new borewell because the old one dried in the scanty monsoon. "We borrowed money from someone we know in the village, and are now paying that money back."
"Earlier we used to buy groceries--oil, sugar--in bulk but now we only buy a 1 kg of oil or ½ kg of sugar at one go," Patel, the farmer, told IndiaSpend. "We are uncertain when the next cash payment will reach us. I've never been so anxious about all this in my life. But now I am," he said.
"The government should say farmers can be paid in cash. We are small farmers, we don't have black money to hide."
"The good thing is that they still pay us in cash at the flower market for small transactions."
(Shah is a writer/editor with IndiaSpend.)
We welcome feedback. Please write to respond@indiaspend.org. We reserve the right to edit responses for language and grammar.