First Time In 5 Years, PSU Profits Fell In 2015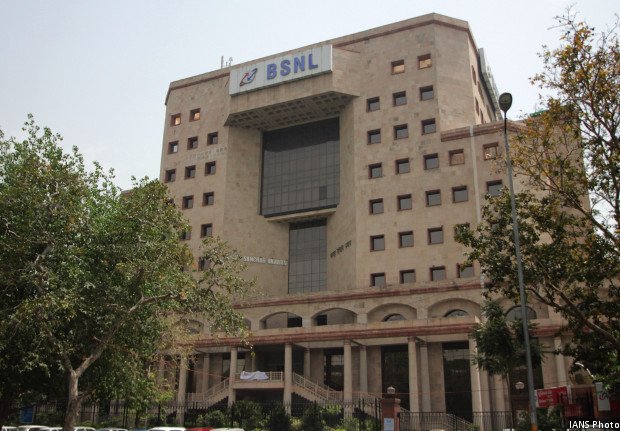 The headquarters of Bharat Sanchar Nigam Limited (BSNL) in New Delhi. BSNL accounted for more than a third of the losses incurred by public sector units (PSUs) in 2014-15--the year when PSU profits fell for the first time in five years.
For the first time in five years, the profits of India's state-owned companies shrank, by about 20% in 2015, with 77 public-sector units (PSUs) reporting losses and contribution to the exchequer dropping Rs 20,000 crore over the previous year, according to the latest government data available.
The drop in profits--from Rs 1.28 lakh crore ($22 billion) to Rs 1.03 lakh crore ($17 billion)--over 2013-14 comes in the backdrop of Prime Minister Narendra Modi's 2016 Independence-day declaration that a "new culture" had helped Air India, an airline, and Bharat Sachar Nigam Limited (BSNL), a telecom company, improve performance.
As many as 235 PSUs--companies in which the central government or other government companies held at least 51% of shares--surveyed by the ministry of heavy industries and public enterprises saw profits drop in a year that India's economy grew 7.3% over 4.7% in 2013-14.
Source: Department of Public Enterprises, Ministry of Heavy Industries & Public Enterprises
"In the past, government companies accounted for a large share of the country's gross domestic product (GDP), today they don't," said P Rameshan, former director of the Indian Institute of Management, Rohtak.
India had 298 PSUs in 2015-16--of which 63 have not yet started operations--in sectors that include mining (Coal India Ltd, Oil and Natural Gas Corporation), manufacturing (Indian Oil Corporation, Bharat Petroleum), services (BSNL, Air India), electricity (National Thermal Power Corporation) and agriculture (National Seeds Corporation).
Except electricity, PSUs in other sectors reported a fall in profits or a rise in losses during 2014-15 compared with the previous year.
PSU contribution to the exchequer dropped Rs 20,000 crore in 2014-15
The government's companies contributed Rs 20,000 crore less to the public exchequer in 2014-15 than they did the previous year, when they generated Rs 2.2 lakh crore.
Even the top profit-making PSUs--companies such as ONGC, Coal India Ltd, Indian Oil and NTPC-- saw a 13% dip in profits.
Source: Department of Public Enterprises, Ministry of Heavy Industries & Public Enterprises
Hover to see percentage share in total profits
A leading reason for the decline in profits was the global slowdown and weakening of international oil prices, leading to a 29% fall in export earnings and affecting manufacturing companies.
"The steel industry, one of the biggest in terms of turnover, suffered because of the fall in oil prices," said Anand Kumar, former director of Indian Oil Corporation, India's largest company by revenue in 2014. Nearly 10% of steel industry's demand comes from the petroleum industry, which is facing a slump due to fall in crude oil prices.
As the world gradually recovered in 2014-15 from an economic slowdown, demand for major commodities from India, such as coal and metal, also fell.
Ten at the bottom account for 85% of losses
In 2014-15, 10 loss-making PSUs accounted for 85% of all PSU losses: Rs 27,000 crore, or Rs 4,000 crore more than the previous year. BSNL, Air India and Mahanagar Telephone Nigam Ltd were the biggest losers.
Source: Department of Public Enterprises, Ministry of Heavy Industries & Public Enterprises
Hover to see percentage share in total losses
These companies could not cope with competition, said Rameshan. "BSNL is but a mere fringe player in the telecom industry today," he said. "Air India, which lost its status as the market leader long ago, is no different."
Modi said that Air India had made an operating profit of Rs 100 crore in the financial year 2015-16, but as FactChecker.in reported in August 2016, that is 0.0023 times the airline's accumulated losses, now more than Rs 44,000 crore ($7.3 billion)–equal to India's annual health budget–and borrowing has grown to more than Rs 38,000 crore ($6.3 billion), IndiaSpend reported in September 2015.
PSUs had also fallen behind on technology, said Hareendran Bhaskaran, dean of Bhavan's Royal Institute of Management, Kochi.
PSU workforce dropped by 50,000, but employees were paid more
The PSU workforce was trimmed by nearly 50,000 over the last one year, but the per capita expense on employees rose 10% over the same period.
Source: Department of Public Enterprises, Ministry of Heavy Industries & Public Enterprises
Figures for salaries are total emoluments
After economic reforms in 1991, private-sector competition, it was hoped, would goad PSUs to reform and improve. But most old problems continue.
"There is a lot of backseat driving by the government," said Alok Perti, former secretary, ministry of coal. "Public sector companies that have government directors are likely to see them dictating what course of action should be taken. In many cases, the ministry dictates."
In 2011, the SK Roongta Committee, to suggest PSU reforms, said: "Over-governance promotes conservative, cautious and risk-averse organisational culture, with procedures being paramount and outcomes secondary."
The committee recommended a fixed tenure of three years for PSU heads and suggested that 50 more companies be listed on the stock exchanges over the next five years. Not a single company was listed since the recommendation was made.
"That (Roongta report) must be now gathering dust in the corridors of bureaucracy," said Kumar. "Nobody wants to antagonise the master, the politician."
The divestment plan is revived, but 2015-16 target falls short by 66%
Earlier this year, India's finance minister, Arun Jaitley, said the government should "leverage the assets"--meaning, sell stakes, land and manufacturing units--of PSUs to raise money for infrastructure.
However, a little more than a third of the Rs 69,500-crore target for 2015-16--to be achieved by selling stakes or closing loss-making PSUs--was achieved.
Perti said the government's plan to sell stakes would make little difference to the companies. "These will remain government companies, and these companies have the drawback of being run as government departments, rather than companies," he said.
(Sood is a Bangalore based independent journalist and a member of 101Reporters.com, a pan-India network of grassroots reporters.)
We welcome feedback. Please write to respond@indiaspend.org. We reserve the right to edit responses for language and grammar.
__________________________________________________________________
"Liked this story? Indiaspend.org is a non-profit, and we depend on readers like you to drive our public-interest journalism efforts. Donate Rs 500; Rs 1,000, Rs 2,000."