First Time in 20 Years, Indian Mobile-Phone Sales Drop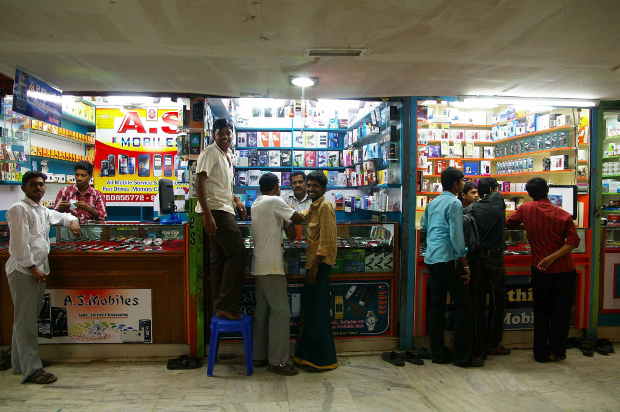 Indian mobile-phone sales have dropped for the first time in 20 years, raising the question: Is a slowdown at hand for the world's fastest-growing smartphone market?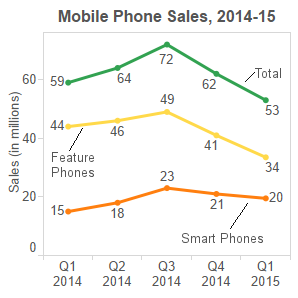 Source:
CyberMedia Research
Mobile sales dropped 14.5% in Q1 (January to March) 2015, on a quarter-to-quarter basis, compared to Q4 (October to December) 2014; from 62 million handsets in Q4 2014 to 53 million handsets in Q1 2015, according to a recent press release from CyberMedia Research, a consultancy.
The decline in smartphone sales from quarter-to-quarter was 7.14%. Cheaper "feature" phones performed worse, with an 18.3% sales decline over the same period.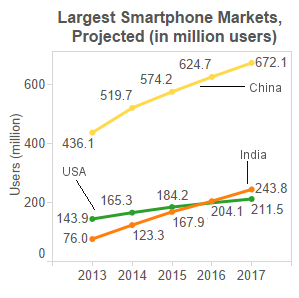 Source:
eMarketer
India became the fastest-growing market for smartphones in Asia-Pacific in 2014, and is supposed to overtake US as the second-largest smartphone market globally, with 204 million smartphone users by 2016, according to a study by eMarketer, a research firm.
Cyclical issues or a larger problem?
So, do these data indicate that India's mobile-phone growth is topping out?
Experts believe cyclical glitches account for the downturn in mobile-phone sales: unexciting phones, tax issues, increased competition and even extended Chinese new-year festivities.
"With major announcements of new handsets and entry of some new brands happening in a big way in Q4 2014, there wasn't really something very exciting in the market for customers that could push up sales in Q1 2015," said Faisal Kawoosa, Lead Analyst, Telecom Research at CyberMedia. "At the same time, a change in duty structure and the longer continuation of Chinese new year festivities which generally conclude by mid-February each year, affected the supply chain and inventories."
In an attempt to push local manufacturing, the government, in a budget announcement, increased the excise duty on mobile handsets to 12.5% from 6%, pushing the cost of handsets by around 4%.
Experts said there were two more reasons: First, sales have fluctuated for vendors, with one vendor dominant in one quarter and another in the next. Second, as Kawoosa put it, "a maniacal focus" on online flash sales.
Marketing is hard work
"Though there is an Internet revolution in India and brands do need to focus on building their online base, it only works well for new brands (for example, Xiaomi) willing to enter the Indian market," said Kawoosa. "Established brands, such as Micromax and Samsung, should focus on their existing legacy. The differentiating strength of these brands lies in their distribution network, built and invested in over the years across India, which they should leverage to increase sales."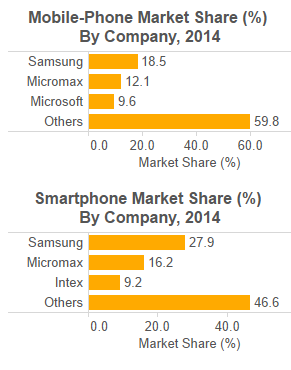 Source:
CyberMedia Research
Overall, the industry will get used to changes (such as the increase in excise duty) and pick up again, he said.
The year 2014 saw the entry of many new players in the mobile market, especially Chinese firms. With an 18.5% market share, Samsung continues to occupy the top spot, followed by India's Micromax with 12.1% and Microsoft with 9.6%.
Within the smartphone segment, Samsung has an even bigger lead, a market share of 27.9%, followed by Micromax with 16.2% and Intex, an Indian brand, with 9.2%.
Clarification: This story is based on data from Cyber Media, and the fact that mobile phone sales have dipped in 20 years is based on IndiaSpend research.
(Saha is Data Editor at The Political Indian.)
Image Credit: Flickr/Andrea Kirkby
---
"Liked this story? Indiaspend.com is a non-profit, and we depend on readers like you to drive our public-interest journalism efforts. Donate Rs 500; Rs 1,000, Rs 2,000."