Fire Accidents Kill 54 Every Day, Yet Deaths Have Declined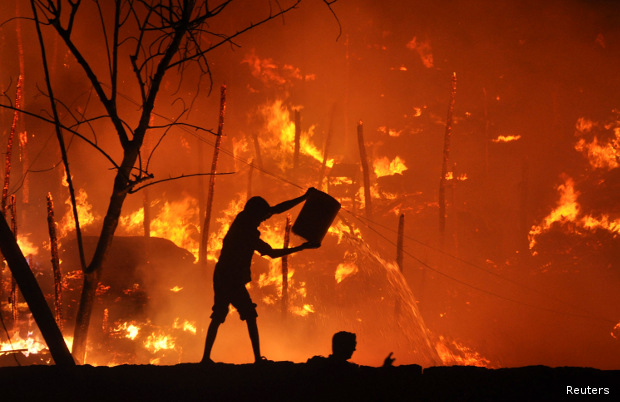 The death of at least 89 people in a massive explosion at a restaurant in Petlawad town in Madhya Pradesh's Jhabua district spotlights the risk posed by fire accidents, which killed 113,961 people between 2010 and 2014.
That means 54 people die every day, but injuries and deaths from fire accidents are consistently falling, the data indicate.
The Madhya Pradesh blast was caused by the accidental detonation of gelatin sticks and other explosives stored illegally in a warehouse owned by local businessman Rajendra Kaswa, according to a Reuters report.
Madhya Pradesh is the second-worst state when it comes to fire safety, with 2,291 accidental fires kiling 2,305 people in 2014, according to NCRB data.
Accidental fires caused 6% of all unnatural deaths in India, third-highest after car accidents (53%) and drowning (9%), as IndiaSpend has reported.
As many as 121,325 accidental fires injured 13,721 people over the past five years.
Eight times more people die than are injured, testimony to the danger posed by accidental fires. However, there has been a steady decline in fires, injuries and deaths. Fires have fallen by a fifth, injuries and deaths have declined by around 40% and 25%, respectively, between 2010 and 2014.
Dangerous LPG cylinders and cooking stoves
Exploding cooking gas cylinders and stoves accounted for nearly one-sixth of all deaths from accidental fires between 2010 and 2014, with a total of 19,491 deaths.
Electrical short circuits killed 7,743 people over the same period.
Nearly a fifth of all accidental fires in 2014 were in residential buildings, killing 3,794 people and injuring 139.
Maharashtra had more fires and deaths, giving India's second-most populous state the distinction of being most unsafe for fire incidents.
Maharashtra recorded nearly a quarter of all accidental fires and a fifth of all deaths in 2014, more than twice as many fires and 70% more deaths than second placed Madhya Pradesh.
(Sethi is a policy analyst with IndiaSpend)
__________________________________________________________________
"Liked this story? Indiaspend.org is a non-profit, and we depend on readers like you to drive our public-interest journalism efforts. Donate Rs 500; Rs 1,000, Rs 2,000."