Financial Inclusion Seems To Be Working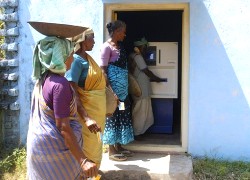 A stated goal of financial inclusion seems to be working for the Government as well as the Reserve Bank of India.
Banking services reached 211,324 villages at the end of December 31, 2012, up from 67,694 villages in 2010 – an increase of 211%. As per Census 2011, there are 641,000 villages across the country. According to data released by Reserve Bank of India, 5,694 rural branches have been opened during the Financial Inclusion Plan period (2010-13). And the number of business correspondents, the interface between banks and the rural populace, has increased from 34,532 to 152,328.
Figure 1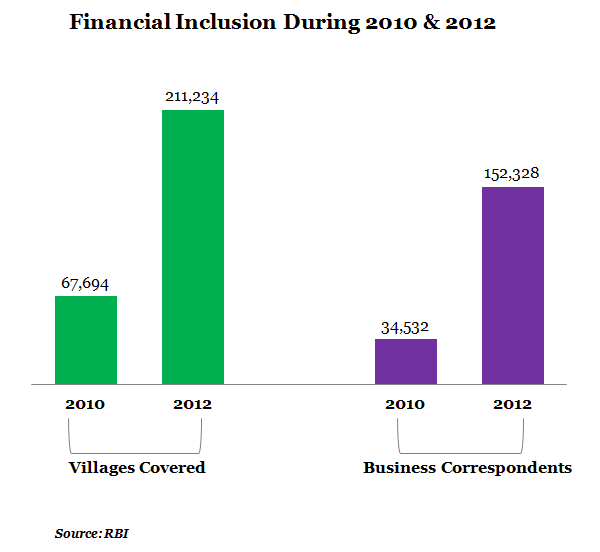 So, what is financial inclusion?
Financial inclusion is the process of ensuring access to appropriate financial products and services needed by all sections of the society, particularly weaker sections and low income groups at an affordable cost in a fair and transparent manner by institutional players.
And here is the quantum jump in inclusion: the total number of basic savings bank deposit accounts has increased 133% from 73.45 million to 171.43 million till December 31, 2012. Even while the total number of savings bank accounts is over 600 million, just about 40% of the population across the country has bank accounts.
While the number of outstanding kisan credit cards (credit cards to provide affordable credit for farmers) increased from 24.31 million to 31.73 million, general credit cards increased to 3.11 million from 1.39 million.
Figure 2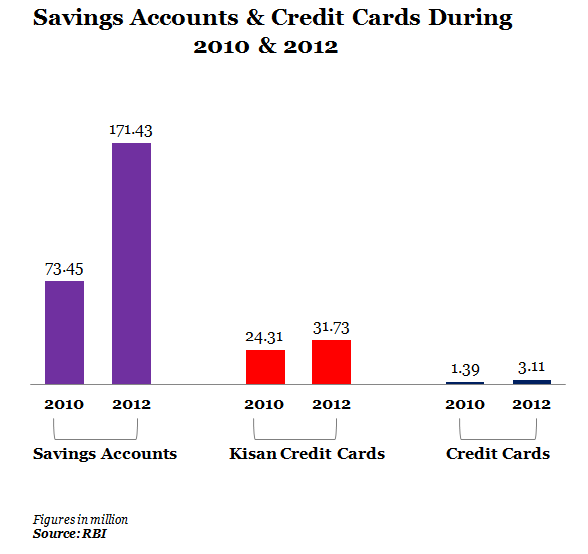 The challenge is, indeed, daunting for the banks. A roadmap prepared by the central bank has asked banks to open branches/provide banking correspondents in 484,000 villages with population less than 2,000 in the next three years.
The central bank states that the key challenge for banks is to capture the banking business of over 50% population of the country's 1.2 billion people. And as IndiaSpend had earlier reported, with smaller farm sizes affecting reach and access to finance, a large section is still dependent on non-institutional sources i.e. money lenders and private sources for fund requirements.