Fear Of Losing Citizenship Is Driving People To Suicide In Assam
Dimlarpar (Bodoland Territorial Council), Assam: It was a rainy September afternoon in this remote village in Baksa, a district of the Bodoland Territorial Council (BTC) in western Assam. Outside a small tin-roofed mud house, Santi Rani Chand, a frail 72-year-old clad in a white saree, sat on a wooden bench recalling her youngest son's suicide.
Binay Chand, 32, had hanged himself from a mango tree in a neighbour's backyard in September 2018. "Are you from Guwahati?" she asked this reporter, tears streaming down her face. "There is a lawyer there. Can you take me to him? My son sacrificed his life because I am a D voter."
In Assam, 'D' or 'doubtful' voter is a descriptor for those with questionable electoral credentials, suspected of being illegal Bangladeshi immigrants. It is an idea unique to Assam, a state which has been roiled by the issue of illegal migration from bordering Bangladesh. An inquiry initiated by the Election Commission or a "reference" made by the Assam Border Police Organisation--both can end in a D voter stamp.
There were 4,85,640 D voters in Assam as of March 2018, according to official data. The foreigners' tribunals--quasi-judicial bodies that decide on citizenship issues in the state--have declared over 92,000 people "foreigners" and of these, 1,000 are in detention camps located in six jails across Assam. There were four such tribunals in Assam in 1964; now there are 100.
Santi has been to the foreigners' tribunal in Baksa, where she was asked to report, seven times in five months. She still has no idea why her credentials as a citizen are suspect. The anxiety could have pushed Binay Chand to suicide, the family said.
There have been 21 such suicides in Assam since 2015 when the process of updating the National Register for Citizens to weed out illegal immigrants from the state began, according to a database collated by Assam-based researcher Abdul Kalam Azad.
The NRC lists those who can prove that they or their ancestors entered Assam on or before March 24, 1971--the start of the Bangladesh Liberation War. The latest draft of the NRC published on July 30, 2018, has left out around 4 million of 32.9 million applicants from the list of citizens.
IndiaSpend met four families in three districts of Assam where exclusion from the NRC, the fear of being declared "foreigner" and being sent to detention centers drove people to suicide. The victims we met were mostly poor, illiterate and marginalised, lacking in resources to clear their names at foreigner tribunals or appeal in higher courts.
The latest tragedy was reported on October 28, 2018, when Deepak Debnath, 49, was found dead in the backyard of his home in Udalguri in western Assam. Debnath was allegedly depressed after a recent notice issued by a foreigner's tribunal asked him to prove his citizenship.
Seven days before Debanath's death, Nirod Baran Das, 74, a teacher-turned-lawyer in central Assam's Mangaldoi village, had hanged himself. Das's name had been left out of the NRC and he could not cope with the humiliation of being declared a "foreigner", said his family.
Authorities have questioned the links between these deaths and citizenship issues but victims' families are emphatic that the fear of deportation--and eventually being stateless--was the reason.
"The process of identifying illegal immigrants has created an anomic situation in Assam for hundreds and thousands of people across communities," said Azad, who has written on the trauma of being questioned about identity in Assam. "People who are excluded from the NRC, or (have been) branded as doubtful citizens, have found their lives taking such a bad turn that sometimes taking their own lives seems rational."
The indigenous vs foreigner debate
Why is the denial of citizenship resulting in suicides? An identity crisis is both a cultural and social phenomenon, said Lakshmi Vijayakumar, psychiatrist and founder of Sneha, a suicide helpline, and a consultant with the World Health Organization.
"Suicide happens due to a lot of factors such as biological, psychological, social and environmental," she said. "If you're an uneducated and poor family, the factors could be associated with an immediate trigger. Suddenly you're worried that you may lose your status, it's definitely a trigger."
Assam has had of a long history of migration. During British rule, the state was merged with Bengal Presidency for administrative purpose. Migrant workers, willing to settle for low wages, were brought into work on Assam's tea plantations between 1826 and 1947.
After Independence, there were two massive waves of refugee influx into Assam from across the border--first after India-Pakistan Partition, and then, in the run-up to the 1971 Bangladesh Liberation War.
The entire debate over citizenship in the state is underlined by the fear that "foreigners" will reduce Assam's indigenous, multi-ethnic population to a minority. Communities fear the loss of local cultures.
This fear pushed the movement, popularly known as the Assam Agitation, led by the All Assam Students' Union (AASU) between 1979 to 1985. It ended with the signing of the Assam Accord between the then Prime Minister Rajiv Gandhi and the AASU. The accord fixed March 24, 1971, as the cut-off date for people entering Assam to claim Indian citizenship.
In September 2018, Bharatiya Janata Party president Amit Shah had vowed to expel all illegal immigrants from Assam. At the same time he pushed for the Citizenship Amendment Bill that seeks to provide citizenship only to Hindus, Buddhists, Christians and other minorities who have crossed over to India fleeing religious persecution. The bill, which excludes Muslims, has been opposed by BJP ally Asom Gana Parishad, which does not want to link the issue of illegal migration with communal identity.
The response to the bill has been geographically divided: It is opposed in the Assamese-dominated Brahmaputra valley but supported in southern Assam's Bengali-dominated Barak Valley. The bill is pending with a Joint Parliamentary Committee.
Poor, illiterate, and helpless--why the citizenship issue is causing suicidal despair
In the suicide cases we investigated, the victims had felt themselves helpless against the state's power to determine their fate.
Santi, declared a D voter in 2009, got a notice for appearance before the Baksa foreigners' tribunal on April 26, 2018. The Assam Border Police Organisation, the only state with a force dedicated to stopping illegal migration, had made a "reference" about her which needed verification. But multiple visits to the tribunal did not help.
"Sometimes, we waited for long hours, and on a couple of occasions they even told us to go back," she said. "We never had enough money to commute. The last we went was on August 30 and exactly nine days after that my son hung himself."
D voters have the option of filing a writ petition in the high court and the Supreme Court but that is not an option for someone like Santi who can't even afford basic legal aid. The NRC website says that D voters can apply for inclusion of their names in the updated register. However, this can only happen after a foreigners' tribunal clears their names.
In a recent article, "They came late at night demanding our fingerprints: Three Sisters of Tubuki" published on October 20, 2018, human rights group Citizens for Justice and Peace (CJP) reported on Assam border police visits to homes in Tubuki village in Kampur tehsil of Nagaon district. The police personnel demanded that residents provide fingerprints, three women told CJP.
These visits were sometimes conducted late night, said the article, part of a series titled 'The Making and Re-Making of Indians as Citizens in Assam'. "The men from the Border Police knocked at my door on the night of June 8 and said that my name had been rejected from the NRC," Jamila, 29 and a mother of two, told CJP. "I wondered how this was possible as I had submitted school leaving certificate, voter ID, my father's voter ID, as well as my Panchayat certificate." The men asked her for the names of her children and then took her fingerprints, she added.
Women form almost 50% of applicants who haven't made it to the NRC and most of them are from "socio-economically backward communities", said the report.
Meanwhile, families are struggling to come to terms with what it could mean to be without a home or a country. These are some of the stories of those who committed suicide because they could not cope with this anxiety.
BINAY CHAND
Dimlarpar village, Baksa district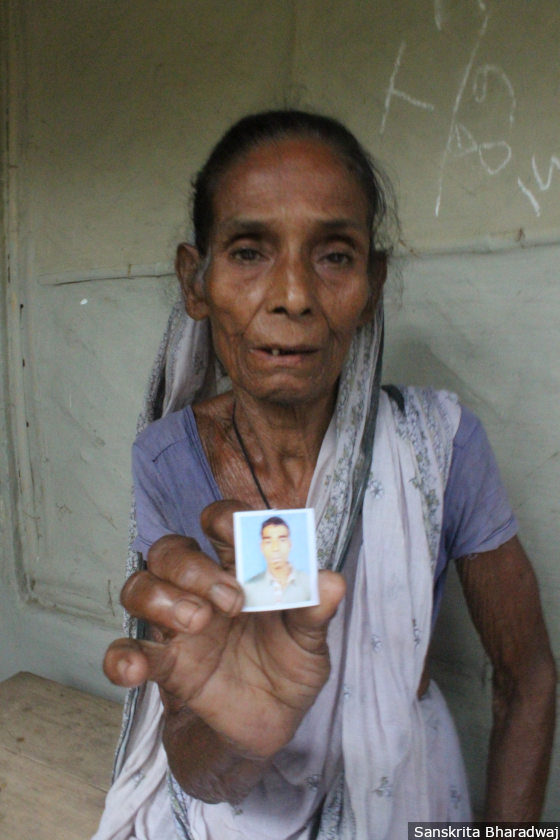 Santi Rani Chand, 72, holds up a photo of her dead son Binay Chand, 32. Santi was declared a D or doubtful voter. Her case was sent as a 'reference' to a foreigner's tribunal in 2016.
In the months before Binay hung himself, he ran from pillar to post to prove his mother's citizenship. This meant proving that she had been present in Assam on or before March 24, 1971.
"He was stressed--he needed money, which he didn't have because he was a daily wage laborer," said a neighbour. Binay would often talk about going to a lawyer in Guwahati but he had no idea how he would pay for the trip or the counsel, his mother recalled. The youngest in the family, Binay had three elder brothers and all of them worked as daily wage laborers.
Twenty days before he committed suicide, a son had been born to Binay and his wife, their first child. "This had increased his responsibilities," Santi said.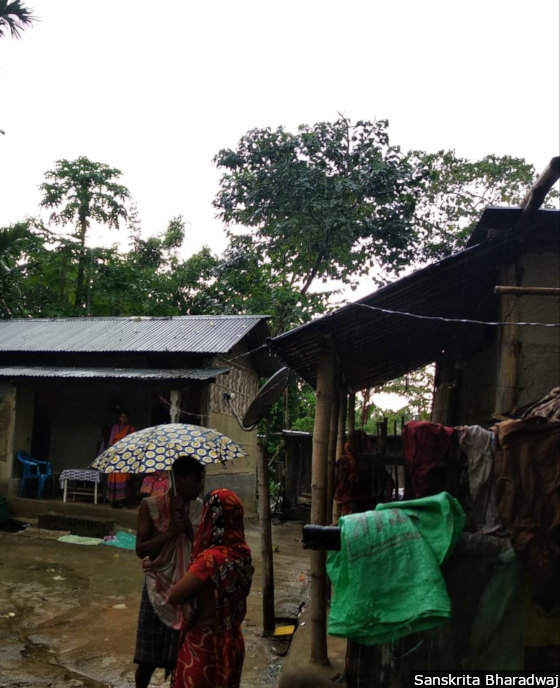 Outside Santi Rani Chand's house in Dimlarpar village, Baksa, Assam.
Santi's worn but painstakingly laminated refugee registration certificate issued in 1964 by the government of India states that she was 18 and her husband 25 when they fled Bangladesh (then East Pakistan) and entered Assam to escape communal violence. They then took refuge at a refugee camp in Harimura, a village in the Goalpara district of lower Assam, and lived there for about 7-8 years. The refugee registration certificate is Santi's main source document to prove her citizenship.
On September 5, 2018, NRC coordinator Prateek Hajela proposed to the SC that the list of documents acceptable be reduced from 15 to 10. The refugee registration certificate is one of five documents to be left out, along with the 1951 NRC, citizenship certificate, pre-1971 voters' list and ration card. However, the SC on November 1, 2018, rejected Hajela's proposal and have allowed claimants to rely on these five documents.
Inhabited mostly by Bengali Hindus, Dimlarpar has many D voters and those who have not made it to the NRC. Omar Choudhury, Santi's lawyer, traced this to the tribunal member overseeing D voter trials in Baksa who has so far handled about 265 cases. Of these cases, only seven were declared "non-foreigners" after trials. "He has declared many foreigners from this region and the people here are really scared of him," Choudhury said.
Binay was not a D-voter but one of his elder brothers was and had used Santi's documents to clear his case. Meanwhile, the entire family's names remain out of the NRC.
DEBEN BARMAN
Golakgang, Dhubri district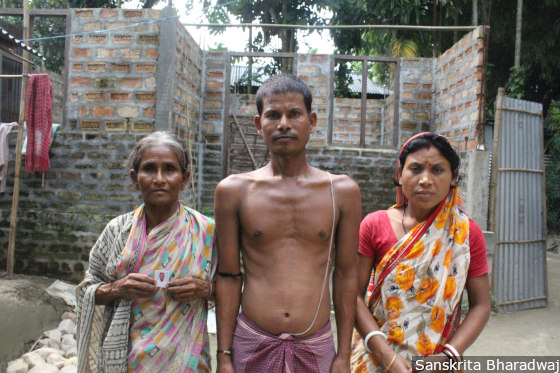 Mahendra Barman, 30, (centre) with his mother and wife. Mahendra's father, Deben Barman, 70, hung himself from a tree on August 7, 2018.
In this remote village in Assam's Golakganj along the Bangladesh border, Deben Barman, 70, a marginal farmer, had hanged himself from a tree near the banks of the river Gangadhar about two months ago. His son, Mahendra Barman, 30, was out of town that day.
"My cousin called me the next day to inform that something terrible has happened," he said wiping the sweat off his face. Deben, who belonged to the Koch Rajbongshi community, committed suicide on August 7, 2018, after the names of Mahendra and his two grandchildren Kishan, 16, and Mousomi, 12 were not included in the NRC.
On the evening of August 6, Deben walked out of his house--nobody knew where he was going. "At 2.30 in the night, his daughter-in-law and wife informed us that he hasn't returned," Bishnu Pad Roy, their neighbor, said. "I took my cycle and went around looking for him but couldn't find him."
At about five in the morning, when it was still dark, family members found him hanging from a tree by the river. "People in the village are superstitious so we had to cut the tree down," Mahendra said.
Family members recalled how Deben was upset when he came to know that the names of his son and grandchildren were missing from the NRC. "The NRC Seva Kendra had called us for a hearing before the final draft was out--I had my voter ID card, school-leaving certificate and my grandfather's name was on the 1958 voters' list, but they said it won't work," Mahendra recounted.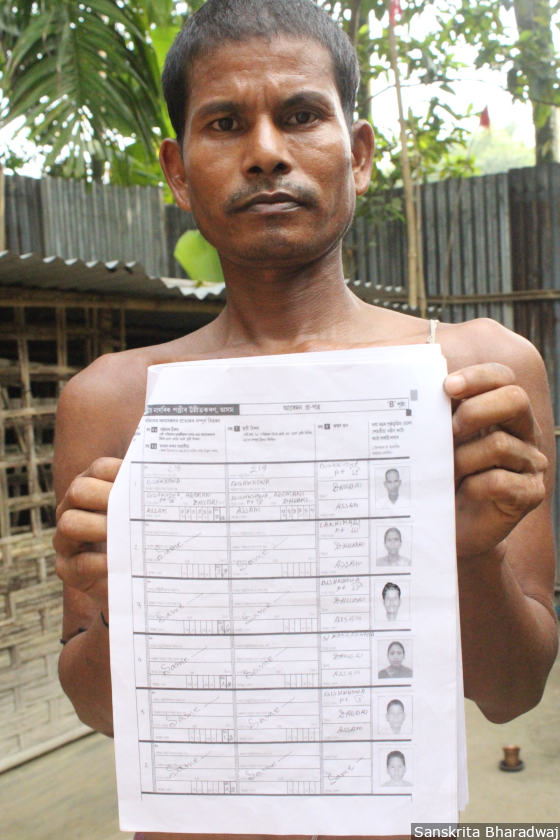 Mahendra Barman holds up his family's NRC application form.
A news report that about 39 Bangladeshis had been deported in the last two years had been doing the rounds of the village in the days preceding Deben's death, said Dwaipayan Barma Satsangi, a local masterji (teacher) from whom Deben often sought advice. "That could have triggered his paranoia too. The regional channels flash news like that all the time and it scares people," he said.
There were 135,585 suicides in 2011 in India, according to the National Crime Records Bureau (NCRB). Rural rates are higher than urban and "family problems" was a big reason, accounting for 27.6% of total suicides in 2015. In the same year, 70% of suicide victims earned less than a Rs 100,000 a year. The maximum numbers of victims (21.7%) were educated only up to matriculation/secondary level.
At the Golakganj police station, officer-in-charge Biswajit Bhadra declared that Deben was "mentally weak".
"He hadn't been declared a foreigner, no one in his family was," he said. "May be there was something that was not right with the documents but it could have been addressed during the claims process."
ANGAD SUTRADHAR
Pakriguri village, Baksa district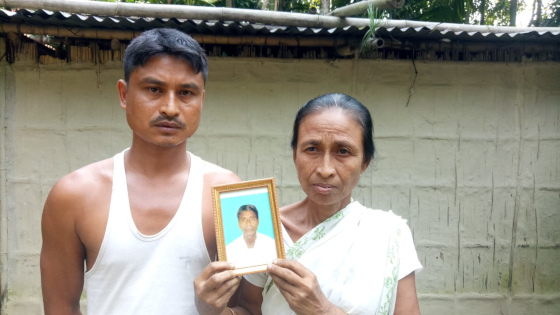 Jyotish, 35, with his mother Bhanita Sutradhar--son and wife of Angad Sutradhar, who committed suicide in 2015. He may have panicked because he was unable to trace his legacy back to his grandfather, said his family. Photo by special arrangement.
"We cut the tree down but kept the murha (a stool made of woven bamboo)," said 35-year-old Jyotish Sutradhar, whose father Angad hung himself from a tree near their home in this distant village in Baksa district of western Assam on July 8, 2015.
Bhanita, his widow, stood quietly beside her son. When asked how old she is, she laughed and said she did not remember. "My mother doesn't know anything, she is illiterate, and so was my father," Jyotish said.
Jyotish had dropped out of school after his Class 10 because he couldn't afford to study further and had to take up work to support his family. "Our situation was bad, I have a younger brother, a sister," he said. "I am a carpenter and my father was a daily wage labourer."
Back in 2015, when they had to fill and submit their NRC forms, no one in the family knew how to go about it. "We're Khilonjiya (Indigenous). My great grandfather's name was on the 1951 NRC but my father didn't have the document to prove it. He panicked," Jyotish said.
Following his father's death, under the supervision of the superintendent of police and on the orders of the district commissioner of Baksa, an inquiry committee was set up.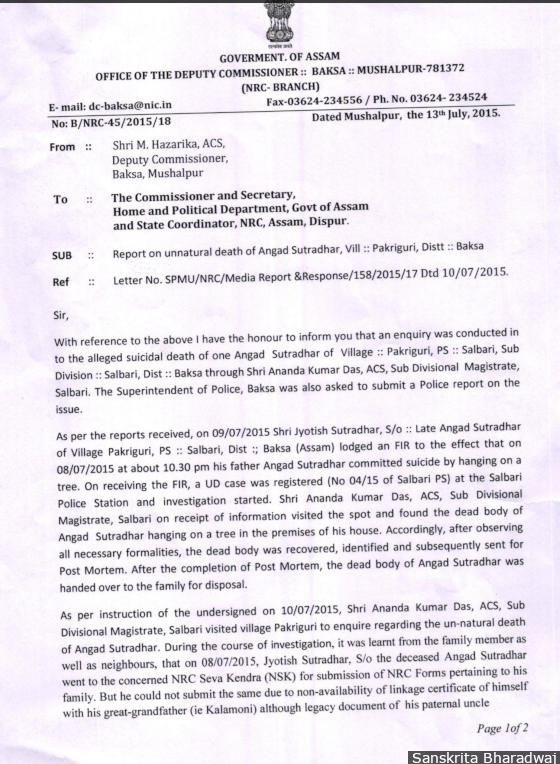 Report of the inquiry set up by the district commissioner of Baksa district
The inquiry showed that the day of his father's suicide, Jyotish had gone to the NRC Seva Kendra located in a market called Ananda Bazaar, about 12 km away from their home, to submit his family's NRC form. Even after waiting for hours, he could not submit the form because he did not have the linkage certificate to his great-grandfather.
Jyotish returned home and later in the evening the family discussed the issue. Soon after, Angad was seen going out. "Like every evening, he went out and sat near the culvert close to our house," Bhanita recalled. When he did not return home until 10.30 pm, the family went looking for him but could not find him. "Later that night, we found him hanging from a tree at our backyard," she said.
Did Angad kill himself over the NRC issue? There is no definite proof but he was clearly upset by the events of the day, said his family. "He was an introvert," said Jyotish.
No officials ever came to their village to educate them about the procedure, said Bhanita. "For suggestions, we would have to go to the district commissioner whose office is 60 km away from here," she said. "Even if we go, there's no guarantee that he will speak to us."
But, sometime after Angad Sutradhar's death, his family submitted their NRC forms and the legacy data of the family was traced back to Jyotish's great-grandfather through his great paternal uncle in the legacy data code 110-4029-9255 (E/Roll 1966). Three years after the incident, the entire family has entered the NRC.
AKLIMA BEWA
Dankinamari village, Bongaigaon district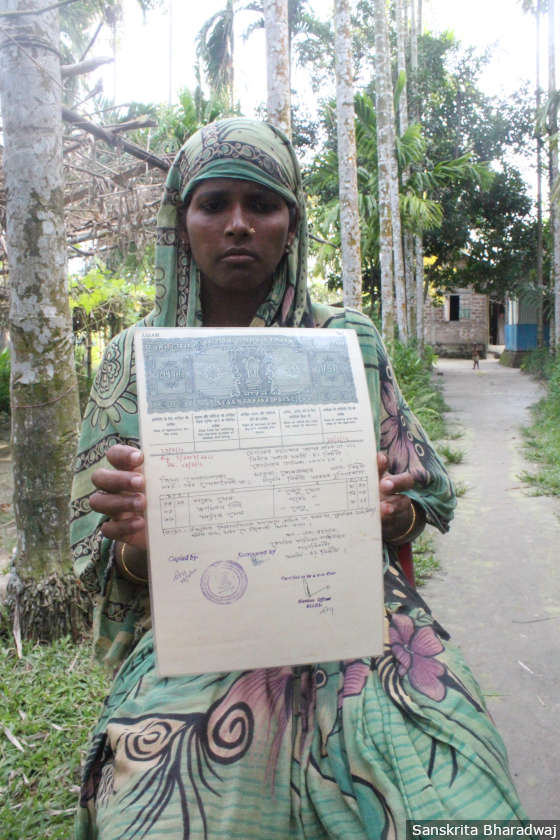 Moriam Begum, 33, with a certificate copy of the 1966 electoral rolls with her grandfather's name. She received a notice in 2015 from the Assam Border Police Organisation, asking her to prove her citizenship at the foreigner's tribunal in Bongaigaon. Aklima Bewa, 62, Moriam's mother, killed herself in 2016 fearing for her daughter's citizenship, said the family.
Aklima Bewa's body was found 300 metres from her home in Dankinamari, a village in the Bongaigaon district of lower Assam. It was September 8, 2016, and Moriam Begum, her daughter, still can't shake off the suspicion that her 62-year-old mother might have killed herself. A few months before the suicide, Moriam had been declared a D voter.
"When my mother's body was found, it bore no injury but little blood was oozing out of her mouth," she said.
Moriam, who lives with her husband, had received a notice from the Assam Border Police Organisation in 2015, asking her to prove her citizenship at the foreigners' tribunal in Bongaigaon. "She had valid documents, no one in her family was ever a D voter," Mofizuddin Ahmed, Moriam's brother-in-law, said. "Before 2015, she had no D against her name."
The family hired a lawyer in Bongaigaon and was asked to show up at the foreigners' tribunal once or twice every month. "They would give us a date according to their convenience. We were called numerous times," Mofizuddin recalled. On average, they spent around Rs 1,000 a day on these trips, including the lawyer's fees.
Aklima, who went along on these trips to town with her daughter, seemed to grow increasingly anxious. "She would go to different houses, different people and ask what she could do about it," Moriam recalled. "Nanan kotha bokisile (She kept rambling about my status)."
Aklima had lost her husband Sattar Sekh, a daily wage earner, when all her three children--Akram, Saleha and Moriam--were very young. "Her mother is from this village but she used to live with her son, about 1.5 km from our house," said Mohammad Rasuluddin Ahmed, Moriam's husband. "She was very poor, had a bigha of land which is hardly anything, and worked as a daily wage labourer."
Moriam had appeared before the FT in Bongaigaon at least 25 times to prove her Indian citizenship but she was not acquitted of the charge back when her mother was alive. Now, however, she has been declared an Indian.
When this reporter tried to get in touch with the Bongaigaon superintendent of police regarding Aklima's death, she was told to speak to the Bongaigaon border police instead. The border police refused to speak about the case citing disclosure rules. "If Moriam has now been declared Indian, what's the problem?" said one officer who did not wish to be identified. "Her mother died two years ago, how is it even relevant (to the case)?"
Even though Moriam has been declared Indian, her name is not included in the NRC. "She has only cleared the first examination," her husband said. "Now, it's going to be the final one."
(Sanskrita Bharadwaj is an Assam-based independent journalist.)
We welcome feedback. Please write to respond@indiaspend.org. We reserve the right to edit responses for language and grammar.