Fatima's Story: Why Kashmir's Orphanages Need To Rethink Caregiving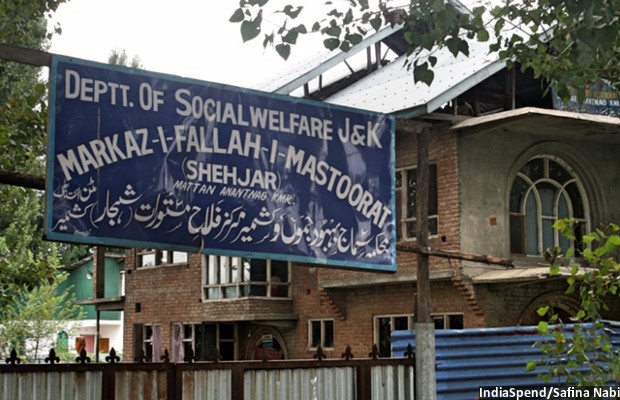 Markazi Falahi Masturat; A foster home only for girl orphans in Mutton area of district Anantnag.
On a rainy afternoon in April 2017, 25 girls filled a medium-sized room at Markazi Falahi Masturat, an orphanage for girls in Anantnag, 56 km south-east of Srinagar, Jammu and Kashmir's capital.
Shafts of light entered the room through two rectangular windows and the girls were in a hurry to finish their homework before the light faded.
Fatima, 11, dressed in a salwar kameez and a head scarf, watched as I chatted with the other girls but seemed hesitant to join in. When she finally opened up, I realised why her voice cheers and inspires the children and staff at the orphanage.
"Can you sing for us?" I asked Fatima and the home warden, Latiefa Akhter, too nodded encouragement. "When she sings, others sing along," Akhter said. "It turns into a chorus every night."
There were children aged between four and 16 at the institution and Fatima has the finest singing voice among them. She knows a lot of Kashmiri folk songs, including rare ones, by heart.
Not all the songs are happy. Some are melancholy and reflect the tragedies of their young lives: Meaal wajan meal che yewan nazare/Yess ne aasan sue che rozan nazare (Fathers come visiting their daughters, those who lost fathers, remain waiting).
Despite a troubled childhood, Fatima is a spirited child. It was cold, but Fatima refused to wear a pheran. "I love the wind touching my body and face. It makes me fresh and happy," she said.
"What else makes you happy?" I asked. "Playing cricket and singing," she answered.
Fatima came to this orphanage three years ago after her father, a Hizb-ul-Mujahideen militant, was killed in a gun-battle. She had to be brought to the institution because her mother could not afford to care for her.
In the first few weeks after her arrival at the orphanage, Fatima cried every evening, her classmates recalled. Saima Jan, 16, an orphan who lost her father to violence, recalled that Fatima would cry herself to sleep.
"I love humming and one day when Fatima was sobbing, I took her in my lap and started humming to her. She calmed down," said Saima, the eldest among the orphans here. "With time, she got used to all of us and started liking it here."
Kashmir has 214,000 orphans, according to a 2012 research paper A Sociological Study of Widows and Orphans in Kashmir by Bashir Ahmad Dabla, a noted sociologist. The scholar who passed away in 2015 had set up the department of sociology in University of Kashmir in 1989 and his paper has been quoted in the book Kashmir: Orphans, Nurture and Challenges by Kashmiri social entrepreneur and scholar Rao Farman Ali. But the state government estimated the number of orphans at over 100,000.
Twenty-six years of armed conflict in Kashmir has resulted in 70,000 deaths, according to an estimate by the Jammu Kashmir Coalition of Civil Society. It has also left many children orphaned.
Why Kashmir's orphans need more than food, shelter
The J&K government's department of social welfare runs welfare institutions for the state's orphans--Markaz-e-Falah-i-Itfaal (MFI) or Bal Ashrams for boys and Markaz-e-Falah-i Mastooraat (MFM) or Nari Niketans for girls.
There are 17 such orphanages--six for girls and 11 for boys--the first of which was set up in 1996. Inmates are entitled to free board, lodge, diet, and medicine. In addition, they are given free books, uniform, tuitions and a monthly pocket money of Rs 25. Orphanages are typically run by four or five employees.
Source: Department of Social Welfare Government of J&K
When these were set up, the Valley had been dealing with armed violence for about seven years, and old-style orphanages designed to keep children safe, well-fed and comfortable seemed enough.
But the role of a traditional orphanage might be limited given the kind of trauma these children have suffered over the years of escalating violence, said experts.
"The orphanages might have been the need of the hour. Things happened so fast in Kashmir that we never thought of it and we actually had to have these structures," said Arshad Hussain, associate professor at the department of psychiatry, University of Kashmir. It is time to evaluate if these orphanages "are making the life of the orphans better--both physically and psychologically", said Hussain.
There are other problems as well. Not a single medical examination has been conducted in this orphanage since 2013. The children are taken to a local hospital by the orphanage authorities only in case of an illness. IndiaSpend got no response from the state's director of social welfare, Hashmat Ali Yatoo, on why the children were not put through periodic health checks.
The bigger challenge is to offer counselling and therapy to children who lose a parent--or both parents--in violent circumstances. Most of them suffer from psychological issues that need special attention, something that the orphanages run by the government are not equipped to provide.
"Among the orphans of armed conflict, there is classically a different fear which later turns into hate," Ali wrote in his book. "It needs urgent attention--like group therapies, and community engagement. Sports activities are required in these orphanages to engage and help these children to come out of these fears."
"These kids are suffering from different phobias--fear of darkness is the most common. It comes from the idea that their parents are in a dark place, the grave," Ali told IndiaSpend.
Children here complain of other fears--of heights, loud noises and so on.
Struggling to cope with studies
Although these children are admitted in different private and government schools, almost all of them need tutoring--even the brightest among them, like Fatima.
Fatima is good at mathematics and science, "but at times she has difficulties", said Saima, the only person who teaches Fatima after school hours or when she needs help.
"Both of us love science and mathematics," Fatima said. "But when Saima is unable to help, there is no one else to go to."
The state's department of social welfare had deputed two tutors to the orphanage, but they had stopped coming to work since the 2016 uprising in the wake of militant commander Burhan Wani's killing. "They used to come here from the nearby village and teach these kids art and help them in homework," said warden Akhter.
Experts now suggest that old-fashioned orphanages be converted to modern boarding schools where the young are offered education, medical care as well as therapy and counselling to help them cope with scars from the past.
As we were winding up at the orphanage, Fatima touched my face. She missed her mother, she said, but there is Saima: "We are all friends, but I am close to Saima and Shabnum."
(Nabi is a Delhi-based freelance writer. She writes about gender, culture, human rights and development.)
We welcome feedback. Please write to respond@indiaspend.org. We reserve the right to edit responses for language and grammar.
__________________________________________________________________
"Liked this story? Indiaspend.org is a non-profit, and we depend on readers like you to drive our public-interest journalism efforts. Donate Rs 500; Rs 1,000, Rs 2,000."