Falling Global Gas Prices Bonanza For India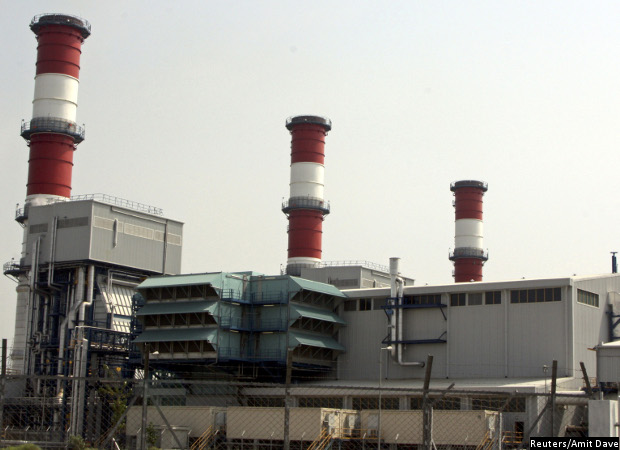 Falling global gas prices have brought achche din (good days) for India's beleaguered power-from-gas sector, ridden with unused power plants and struggling banks that have loaned billions to these projects.
Almost 18 months after it shut down due to a lack of liquefied natural gas (LNG), the Dabhol power plant in Maharashtra started generating electricity again for the Indian Railways on November 26, 2015.
The Railway Ministry, in this release, said it has started buying 300 mega watt (MW) of electricity from the project, which will later increase to 500 MW. This electricity will be Rs 4/unit cheaper than the rate the Railways pays to power utilities and will result in an annual saving of Rs 1,000 crore, according to the ministry.
Ratnagiri Gas and Power, which owns the 1,980 MW Dabhol power plant and the associated natural gas import terminal, owes Rs 8,500 crore to banks--money which now has a chance of being repaid.
The revival of the Dabhol project has been made possible by the sharp fall in international gas prices, IndiaSpend reported previously.
Low fuel price cheers
The drop in price of liquefied natural gas (LNG) by almost 60% over the last 18 months is evident elsewhere across India.
Private-sector power companies, such as Torrent Power, GMR, GVK and Lanco, own 9,773 MW of gas-fuelled power plants. All of these plants have either been idle or operating at low capacity for the past several years. Cheap domestically produced gas was not available, while imported gas at international prices was too expensive to use.
This is now changing. During October 2015, these plants generated 2.5 times (or 150% more) the electricity they produced in October 2014. Between April and October, the total electricity generation of these power plants increased 76%.
The extra electricity generation has come without adding a mega watt of generation capacity; the improvement has come from better capacity utilisation.
Source: Performance reports of central, state, and private sector power projects, Central Electricity Authority.
The improvement in the operating health of gas power plants will also bring cheer to Indian banks that have lent large sums to corporate groups, such as GMR, GVK and Lanco. These three business houses have a gross debt of Rs 1.29 lakh crore ($19.4 billion), according to a recent report by brokerage Credit Suisse. Only a part of this debt is because of gas-fired power plants, which are just one of the many businesses these groups run.
During financial year 2015 (FY15), the interest rate cover – the ratio of pre-tax earnings to the interest payments owed by these groups – was less than one. This means the three groups did not make sufficient pre-tax profits to pay the interest they owed to the banks, let alone the principal.
Government companies need reform?
However, not everyone has been able to cash in on the drop in fuel prices. Public-sector companies owned by the central and state governments, which own a total of 14,465 MW of gas-based power capacity, have actually seen operating performance deteriorate in 2015 (Tables 1 & 2).
Over a period where private sector plants generated 76% extra electricity, the government-owned plants actually generated less electricity compared to the previous year.
Two factors may account for this. First, government-owned power companies haven't been as quick as their private-sector counterparts in buying cheap gas internationally and bringing it to India. For instance, the Dabhol project was finally restarted only by end-November – months after private-sector plants ramped up operations.
The second problem may have to do with failing state power utilities, as IndiaSpend has reported.
Most of these utilities incur heavy losses from power theft, transmission losses and subsidies. Poor financial health means many of them can afford electricity only from the cheapest sources – in this case, coal.
State power utilities are so badly off that they cannot cash in on these falling gas prices. It may be better to sell their plants to profitable public-sector companies, such as NTPC, which can run them better.
India is and will remain short of natural gas, and only imports can meet this shortfall. But the price of gas is likely to remain low for some time, as new gas supplies from Australia and the US will be available over the next few years.
India, a large energy consumer, is in a strong bargaining position, well poised to sign long-term gas supply agreements at today's low rates.
(Bhandari, is a media, research and finance professional. He holds a B-Tech from IIT-BHU and an MBA from IIM-Ahmedabad.)
__________________________________________________________________
"Liked this story? Indiaspend.org is a non-profit, and we depend on readers like you to drive our public-interest journalism efforts. Donate Rs 500; Rs 1,000, Rs 2,000."