Fact Check: Rahul Gandhi's Claim That Rajasthan Added 7,000 MW in 5 Years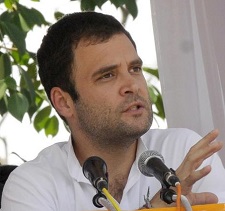 At an election rally in Rajasthan recently, Congress vice president Rahul Gandhi claimed the Congress-led Government in the state added 7,200 megawatts of power capacity over a five-year period compared with 1,500 megawatts during the previous BJP administration headed by Vasundhara Raje.
How do the facts stack up ? According to Economic Review 2012-13 released by the Government of Rajasthan, the installed capacity of the state, as on December 2012, is 10,615.73 MW.
Here are the figures from 2002-03 to 2012-13 i.e up to Dec 2012:
According to the Load Generation Balancing Report 2013-14 of the Government's Central Electricity Authority (CEA), Rajasthan faced a 5% deficit in peak demand in 2012-13.
As against demand of 8,940 MW, availability was 8,515 MW with a deficit of 425 MW (4.8%). And the situation was projected to weaken further in 2013-14 with an expected deficit of 12% (1,165 MW) – peak requirement of 9,300 MW and availability of 8,135 MW.
Let us now compare Rajasthan to its neighbouring states like Gujarat, Madhya Pradesh and Maharashtra. The installed capacity of Gujarat, for example, increased from 9,864 MW to 15,306 MW between 2009 and 2012, an increase of 5,442 MW.
Gujarat had a deficit of only 0.3% in 2012-13 (demand of 11,999 MW against supply of 11,960 MW) while Madhya Pradesh and Maharashtra both had deficits of over 6%. For 2013-14, Gujarat is expected to have a deficit of only 0.2% while Madhya Pradesh will see it jump to over 20% and Maharashtra will have a deficit of over 8%.
The Planning Commission had set a capacity addition target of 78,700 MW for 11th Plan (2007-2012) including 15,627MW hydro, 59,693 MW thermal and 3,380 MW nuclear. As per the mid-term appraisal of the Planning Commission, a revised target of 62,374 MW was set for 11th Plan. The likely capacity addition during the 11th Plan was expected to be only about 52,063 MW.
Let's return to Rajasthan. The state had an installed capacity of 4,097 MW at the end of December 31, 2012 which was split into 85% thermal (3,490 MW), 4% hydel (164 MW) and 11% gas (443 MW). The state also gets 2,356 MW from central sector projects including 557 MW of atomic power.
Let's go further back. The BJP Government in Rajasthan, led by Vasundhara Raje, was in power from 2003 till 2008. The installed power capacity in the state increased from 5,167 MW to 7,019 MW– an increase of 1,852 MW.
The Congress-led Government came to power in Rajasthan in 2008 when the state had an installed capacity of 7,019 MW. And the state had an installed capacity of only 10,616 MW at the end of December 2012 – an increase of 3,600 MW.
From the two sets of figures, it would appear that the present Government added or saw more capacity addition than the previous one.
This, of course, is a 'cold-fact' observation and does not take into account the prevailing conditions in terms of project clearances or projects begun earlier which fructified later.
The Survey does speak of wind energy potential of 5,400 MW and other potential sources like biomass energy and solar energy. And the central Government has announced plans to set up the world's largest solar power project with a total generation capacity of 4,000 MW in Rajasthan.
However, the claim of Congress vice president Rahul Gandhi that the Rajasthan Government added 7,200 MW, particularly if the reference was to capacity already running, might not be accurate.