Fact Check: Narendra Modi on Decline in Tourists to Rajasthan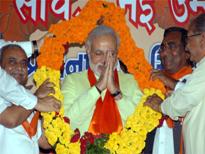 Gujarat Chief Minister and Bharatiya Janata Party's Prime Ministerial candidate Narendra Modi, while campaigning in Rajasthan recently, claimed that tourist arrivals in the state have declined.
We looked at data from the Ministry of Tourism.
Both domestic as well as foreign tourists visiting Rajasthan has increased over the last three years. Domestic tourists increased from over 25 million in 2010 to around 29 million in 2012 while foreign tourists increased to 1.45 million in 2012 from 1.28 million in 2010.
Neighbouring states like Gujarat, Maharashtra and Madhya Pradesh have also seen increasing visits by tourists. Domestic visitors in Gujarat increased from 19 million in 2010 to 24 million in 2012, from 48 million to 66 million in Maharashtra and from 38 million to 53 million in Madhya Pradesh. Visits by foreign tourists, however, was nearly stagnant in most neighbouring states of Rajasthan.
Total domestic tourists visiting various states increased from 748 million in 2010 to 1,036 million in 2012. The visits by foreign tourists increased from 17.91 million to 20.73 million in 2012.
Foreign exchange earnings (FEE) from tourism have also been increasing for India. FEE increased from Rs 64,889 crore in 2010 to Rs 94,487 crore in 2012. The provisional estimate for the first six months of the current year (January-June) is Rs 50,448 crore.