Fact Check: Modi Exposes Worrying Data On Bengal Schools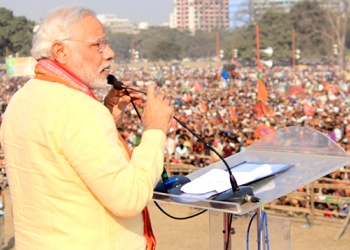 While speaking at a rally in Kolkata recently, Bharatiya Janata Party's Prime Ministerial candidate Narendra Modi said that only 60% schools in West Bengal have toilets for girls while many schools are not even electrified. His question was: how would kids learn computers then?
The West Bengal Government was quick to respond to the charges, and the state's education department put out a statement where they claimed that 82% schools had separate toilets for girls. The statement also mentioned that there are more than 6,446 schools in the state with more than four computers.
But Modi's statement and our Fact Check throws up a data point, which, if true, is far more worrying than his general point. Which is that less than 10% of 94,572 schools in West Bengal have computers. A number that is less than half the national average of 22%.
Let's look at the key heads of Modi's claims i.e. percentage of schools with girls' toilets and schools with electricity and computers. We also looked at functioning toilets in schools in the state with data from District Information System for Education (DISE), a central data collection set up of the Ministry of Education.
So, Modi was off on the mark on schools with girls' toilets but there were only 59% schools with functioning toilets – very near the claim made by Modi. And only 35% of the schools have electricity and 9.6% have computers. Here, Modi seems to have got the numbers right.
It can be seen from the graphic above that Gujarat does better compared to West Bengal. For example, 97% schools in Gujarat have toilets for girls and all of 97% are actually functioning toilets. In fact, Gujarat is among the few states that have done better than the national average on various factors.
West Bengal has one of the lowest percentage of schools with computers along with other states like Chhattisgarh (8.2%) and Jharkhand (8.2%).
The national average for schools with computers is 22% while it is 71% for Gujarat. Almost 90% schools in Kerala have computers, which is the highest in the country, followed by Gujarat. IndiaSpend had earlier reported on the state of school amenities across the country.
The ruling Trinamool Congress in West Bengal issued a statement after Modi's comments: "The research team, which provided him with these figures, clearly depended on an old report. According to the report of a review committee, 98% schools in West Bengal have toilets while most primary, upper primary, secondary and higher secondary schools have uninterrupted power supply."
The Bengal Government, however, did not refer to the number of schools with computers. Possibly there is a fair bit of truth in Modi's statement.