Is Malnutrition In Gujarat Worse Than Sub Sahara?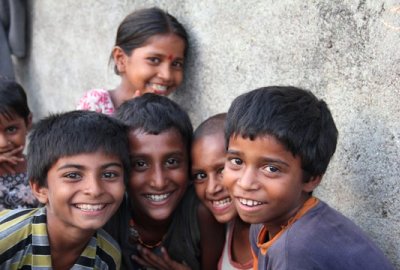 Justice Markandey Katju, Chairman of the Press Council of India & formerly a Supreme Court judge, cited several data points to highlight the issue of child malnutrition in Gujarat. This he did recently on his blog
Justice Katju wrote and we quote:
"Child malnutrition at 48 % in Gujarat is higher than the national average, far higher than the poorest African sub Saharan countries of Somalia and Ethiopia where the rate is about 33%. When Modi was confronted with this he said that girls in Gujarat do not eat or drink milk for fear of becoming fat, the people are vegetarians, etc which is all nonsense. Should the Gujarati children eat the factories, roads and electricity Modi has created "
"The infant mortality rate in Gujarat is 48 per thousand, which is the 10th worst in India."
"More than a third of Gujarat's adult men have a body mass index of less than 18.5, the 7th worst in India.(Page 269)"
"Gujarat has a high maternal mortality rate."
IndiaSpend wondered whether a large, economically strong state like Gujarat could really face malnutrition in this form ? And embarked on a fact checking exercise. To find that the numbers are somewhat accurate but it all depends on whether you present the whole picture. And the whole picture is worth knowing about too. Read on.
First, child malnutrition (defined by the weight-to-age ratio) in Gujarat is 44.7%, according to the Indian Human Development Report published by the Planning Commission…. and not 48% as claimed in the blog.
Also, the Ministry of Health and Family Welfare's Sample Registration System (SRS) shows that infant mortality rate in Gujarat is 44 per thousand and not 48 per thousand as claimed.
Now let's compare with Somalia and Ethiopia….
Figure 1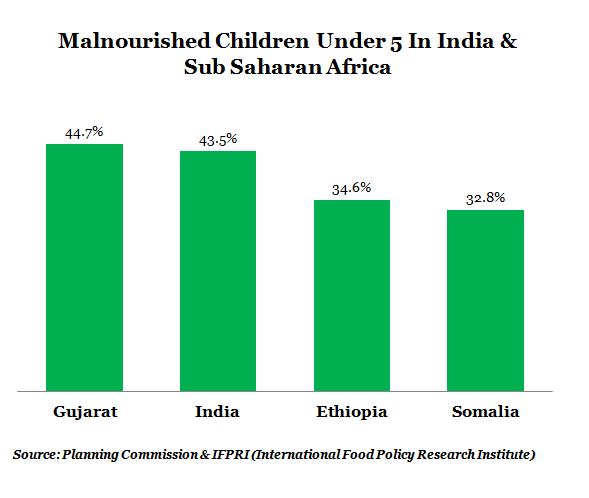 This set of figures show that Gujarat does have a higher proportion of malnourished children as compared to Somalia and Ethiopia but then so does all of India, at 43.5%. To that extent, the comparison is not quite accurate. As a matter of fact, only the states of Kerala with 22.7% and Punjab with 24% have the lowest percentage of underweight under-5 children.
These figures show the best and worst states in India.
Figure 2 (a)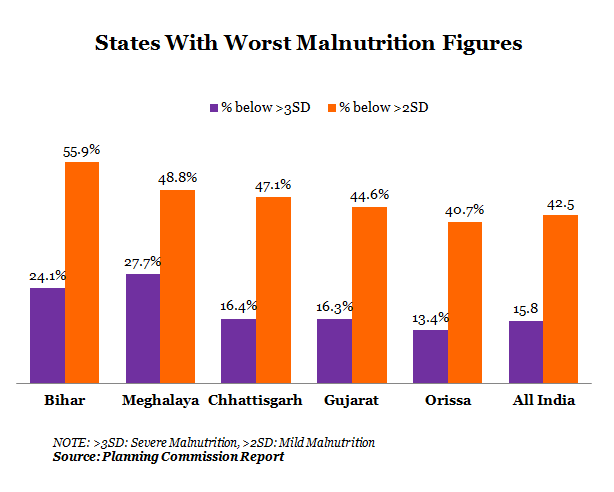 Figure 2 (b)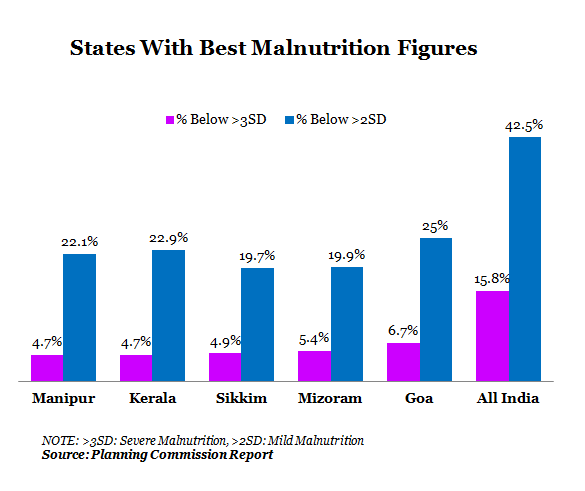 The above graphs tell us that Bihar is the worst state in India when it comes to child malnutrition. Followed by Meghalaya, Chhattisgarh and then Gujarat. Gujarat does not fare very well and is surely behind Somalia and Ethiopia but so are five other Indian states.
Justice Katju also referred to Gujarat having the high maternal mortality rate in India. That is not correct, according to IndiaSpend's findings. Uttar Pradesh and Uttarakhand leads India in maternal mortality rate at 40 per 100,000 live births while Gujarat is at 12.8 per 100,000 live births, which is slightly higher than the national average of 10.2 per 100,000 live births but definitely not among the high maternal mortality states.
Now to the last of Justice Katju's 'observations'. It is true that Gujarat is the 7th worst state in adult men having a body mass index of less than 18.5. What might surprise you, though, is that Tripura is the worst at nearly 41.7% followed by Madhya Pradesh and Rajasthan.
Figure 3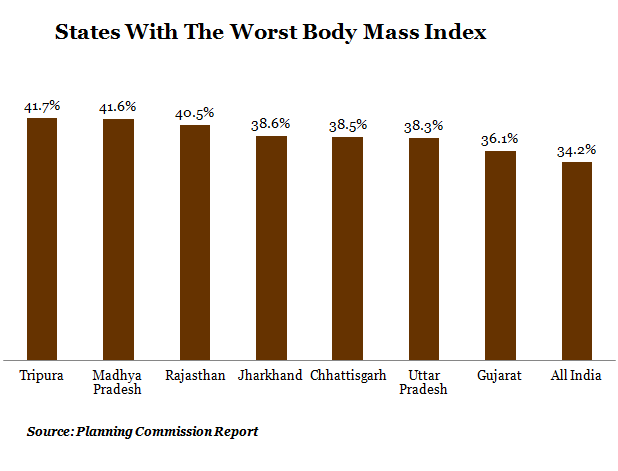 Justice Katju concludes by saying: "No doubt Modi has given huge concessions to big industrial houses, giving them cheap electricity, land, etc and has built roads, etc. But what about the standard of living of the masses? The figures given above paint a totally different picture. I am sure the people of Gujarat will one day learn the truth."
Well, that's a question only time can answer. Gujarat's economy is of course a different story as IndiaSpend had reported earlier…..